hi, this guide will tell you everything you need to know about buying dvd's on ebay. through this guide i will explain how to search fo particular items and what exactly you should look for in the item description.
first of all, when searching for dvd's on ebay you must type in exactly what you are looking for. for example, if you where looking for a dvd box set of buffy you would type in buffy dvd box set . if you searched for 'buffy' the search would turn up a lot o stuff that you have absolutely no interest in, like buffy books, or buffy figurines etc. when searching for an item be sure to be as specific as possible to make it easier to find exactly what you want.
when looking at the item description the first things you should always look for are the region code and whether it's new or used (if it's new is it sealed?). the regions codes are as follows:
Region 1: US, CA
Region 2: Europe
Region 3: Asia
Region 4: AU, NZ
Region 5: Russia
Region 6: China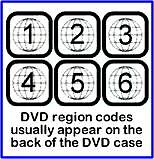 (please be aware that dvd's listed with specific region codes will only play on dvd's in that country. for example, dvd's marked as region 1 will only play on dvd players in the US and Canada, unless you have a multi-region dvd player, in which case you don't have to worry about what region the dvd is)
if the item description does not have any of these for the region it will most likely have either, all, other, or free (all of these mean that the dvd can be played on any dvd player in the world). if this is the case, the dvd probably won't be as good quality as if it had a specific region code, however, there are exceptions. usually if the item is for all regions and the it is sealed then it will probably be a good quality (although not as good as one that has a specific region) dvd. when it comes to things like this it might be wise to check to the feedback that previous buyers have left, this can often help you decide whether or not you really want to buy something of a particular seller.
another thing to look out for is whether the item is new or used. if it has been used then it might be scratched or there might be something else wrong with it so beware. the best dvd you can hope for in terms of quality, is one that has the right region code for you area/country and one that is new and sealed.
be sure to ask the seller any question that you might have about the item so that you can be sure you are buying the best quality dvd for the best price. also make sure you look at more then one listing, even if you think the first listing of your search looks perfect, don't buy it until you have looked at other listings, just to make sure you get the best deal.
i hope this guide helps you when it comes to buying the right dvd for you.