Overview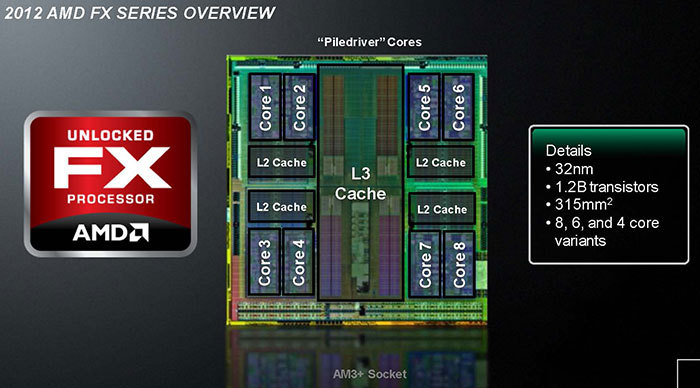 NEW PILEDRIVER MICROARCHITECTURE

Piledriver microarchitecture is the second generation of AMD Bulldozer microarchitecture. The internal core structure has been modified for higher frequencies even without any changes in the manufacturing process. Piledriver has a more precise branch predictor and a larger instruction window with ISA extensions FMA3 and F16C. The execution units acquired an enhanced scheduler and learned to process individual instructions faster, such as integer and floating-point division. And Piledriver microarchitecture delivers higher power efficiency compared with Bulldozer microarchitecture.

UNLOCKED AMD FX PROCESSOR WITH 8 PILEDRIVER CORES

The native 8-core desktop processor delivers unrivaled multitasking and pure core performance with the new Piledriver microarchitecture. 32 nanometer die shrink was designed to reduce leakage for improved efficiency, increased clock rate headroom and better thermals. The AMD unlocked technology offers more headroom for your overclocking (AMD's product warranty does not cover damage caused by overclocking even when overclocking is enabled via AMD Overdrive software.).

AMD TURBO TECHNOLOGY

The AMD FX Processors come equipped with AMD Turbo CORE Technology, a performance boosting technology that helps increase performance on the applications that need it the most.

AMAZING INSTRUCTION CAPABILITIES

Like Bulldozer, Piledriver has some amazing instruction capabilities. Advanced Vector Extensions (AVX) increase parallelism tailored for scientific and 3D applications that use heavy floating point calculations. Floating Point Vector Multiply-Accumulate improves throughput and performance on many vector functions (integer and floating point). Advanced Encryption Standard noticeably increases performance on the latest encryption applications like TrueCrypt and benchmarks like PCMark.

AMD HYPERTRANSPORT TECHNOLOGY

HyperTransport Technology (HT or HTT) is a high-speed, low latency, point-to-point link which helps reduce the number of buses in a system thus reducing system bottlenecks and enabling today's faster microprocessors to use system memory more efficiently in high-end multiprocessor systems.

INTEGRATED DRAM CONTROLLER WITH AMD MEMORY OPTIMIZER TECHNOLOGY

AMD FX Vishera Processor features a high-bandwidth, low-latency integrated memory controller that supports faster and low voltage memories and provides new Pre-Fetcher improvements and direct communications to each core in Dual-Core module (APIC registers in each core).


Specification
| | |
| --- | --- |
| Processor Type: | AMD FX 8-Core Black Edition |
| Model: | FX-8350 |
| Part Number: | FD8350FRHKBOX |
| Socket Type: | AM3+ |
| Power Wattage: | 125 |
| Frequency: | 4000 |
| Processor Bus Speed: | Not Specified |
| Processor L2 Cache Size: | 8MB |
| CMOS: | 32nm SOI |
| Stepping: | Not Specified |
| Fusion Control Hubs: | Not Specified |
| Direct X Version: | 11 |
| GPU Clock Speed: | Not Specified |
Our Contact detail:
Email: sales@ybesty.com.au Ph: 0387190807
Postal Address: 7/3 Hi-tech place, Rowville, VIC 3178
We accept Paypal payment, Bank Transfer, VISA and Master Credit Card
To use PayPal, go to https://www.paypal.com.au, and send payment to our PayPal account sales@ybesty.com.au.
Bank Account Detail
| | |
| --- | --- |
| Bank: | Westpac Bank |
| Account Name: | TOPJET AUSTRALIA PTY. LTD. |
| BSB: | 033 385 |
| Account No: | 747973 |

Important
To ensure to find your payment quickly and fast delivery, all payments made in any form should include a reference number, which is your eBay User ID (eBay User Name).
If you don't use your eBay ID as a reference when making payment, we can't guarantee prompt delivery of your order.

The buyer will be responsible for any delays of shipping out of order due to not leaving the appropriate reference number.
Pay on Pick Up
Please email or ring us before you come to let us organize the stock for you.