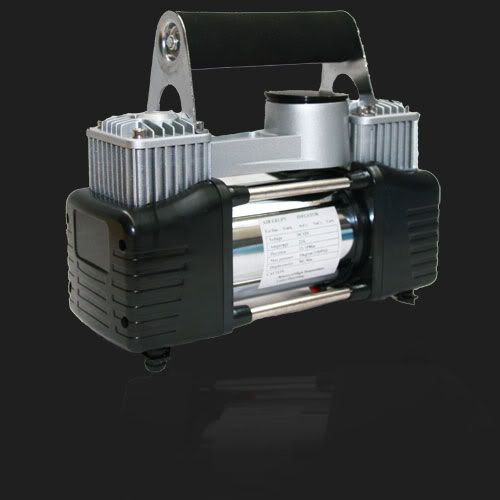 EXTRA HEAVY DUTY 12V AIR COMPRESSOR
Manufactured by one of the worlds biggest compressor factories.
The 2013 model BBT Compressors have landed, this little gem packs a massive punch, It will easily pump a 10R.15 off-road tyre from 15 psi to 32 psi in under 3 minutes, and then comfortably continue to do so for 10 of your mate's vehicles as well.
With the ability to deliver a Massive 70 Litres of Air per Minute and a pressure of 150Psi, you will even be able to do truck tyres.
This BBT compressor is equipped with direct drive copper motor with thermal safety overload, twin stainless steel cylinders, dual air filters, heavy duty clips, heavy duty cable, stainless steel bolts and a genuine 6 months warranty, making other compressors look out dated.
This will be your first and last compressor you will ever have to buy.
Genuine Commercial quality for uses such as: Beach Driving, Camping, Caravanning, Motor Bike Riding, Outdoors and the list could go on.
FEATURES INCLUDE
Carry Bag
70 Litres/Minute - Extra Volume Air Delivery
150 PSI Working Pressure - Others are only 100Psi

Silver

Colored Sleeve and Heads - Looks a Million Dollars
Direct drive copper motor
Twin Cylinder
Stainless steel valves, Stainless Steel Bolts
Auto thermal cut-out protection
Solid base for stability
Heavy Duty ON/OFF Control
7M Coil air hose included
Accurate pressure gauge
Solid Brass Fittings and connectors
Standard NPT Fittings
Twin Air Filter Elements
Extra Heavy duty 2 metre power cable with Heavy Duty Alligator Clamps for battery connection
FREE- 3 Extra fittings for pumping up Balls, Inflatable Toys, Air Mattresses etc
BBT offer genuine Australian warranties =

Integrity

BBT have been selling on Ebay since 2002, one of the first and still going strong =

Security

BBT are a Australian owned and operated company registered with Fair Trading and ASIC = Genuine
BBT have the highest feeding back rating of any machinery seller on Ebay = No 1
BBT are a engineering based company we know what we sell = Knowledge
So don't risk it with the fly by night ers, stick with a brand name you can trust and rely on - BBT