BN Portable Aluminium body Massage Table Chair Bed foot
ABOUT ITEM / DETAILS
- High Quality
- Aluminium Light weight massage table
- Adjustable Table Height
- High Quality Vinyl - Oil and waterproof
- Creative Removable Adjustable Face Cradle (Headrest)
- Face Hole ; Face Hole Plug
- Front Arm Shelf
- Side Arm
SPECIFICATIONS
This massage table is designed heavy duty and especially for professional therapy clinic, massage store and home use. The table itself weight is around 10.8 kg. If you are a professional mobile therapist who travel frequently or massage therapist who seeks lightweight but wider and stable table, please choose our tables.
This high quality professional massage table provide the best in instant and portable protection for any purpose. Typical uses include professional physical therapy, massage practice, bodywork practice, and personal home use requirements.
We've put together the perfect package. This limited edition package offers solid construction, innovative features and a great price. With this package, you'll receive extras you'd normally expect only on higher-priced tables. You will love the luxurious look and feel of the satin touch vinyl and the lacquer finish on the sturdy frame.
Our Deluxe Multi Adjustable Headrest is the best available. Reinforced metal upper frame add more strength and load ability to the table.
Features:
Adjustable Table Height - [ Accommodates users of different heights. ]
Multi-stage adjustable
Creative Removable Adjustable Face Cradle (Headrest) - [ provides both height and angle adjustments without extending > away from the table. ]
Face Hole & Face Hole Plug - [ to restore the flat table surface. ]
Front Arm Shelf - [ Allows greater access to the shoulder area while supporting > > the arms. ]
Side Armrests (Arm Supports) - [ Add extra inches width to your table. ]
Safety Lock Support System - [ Gives the table greater strength and stability. ]
High Density Foam - [ Support maximum comfort. ]
Wider Table Design 60cm x 186cm -- excluding accessories - [ Size wider than some of the tables in the market, provide large > and more comfortable loading space. Beware some sellers may > have smaller table]
Heavy Duty Frame - [ Add more strength, stability and load ability to the table. ]
High Quality Vinyl - [ Oil and waterproof, comfortable and easy to clean. ]
Easy to Set Up - [ Sets up and folds compactly in seconds. ]
Support Different weight - [ Supports up to 250KG ]
ISO 9001:2000 standard certified manufacturer
Perfect For :
Ideal for professional physical therapy clinic, massage store and home use.
As well as wellness massage practice, bodywork practice, and personal home use requirements.
Package Content :
1 Table
1 Deluxe Multi Adjustable Headrest
1 Front Armrest Shelf w/ heavy duty strap
2 Side Arm-supports
1 Face hole plug
Description:

Brand

ATI

Condition

Brand New

Extended table size

186(L) x 60(W) x 56-76(H) cm ( exclude head and arm rest)

Vinyl

High quality PU, oil and waterproof

Cover color

BLACK

Working load

250KG

Table Weight

13 kg

Package Weight
(inc. accessories)

15 kg

Package

1 box

Model

058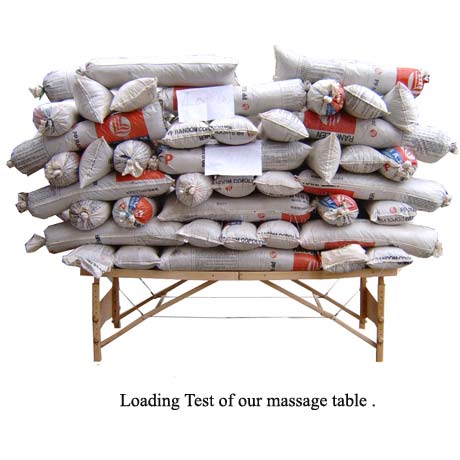 Loading Test of our massage table ..
Limited Stock. Buy it now!