DMT Mens Prisma 2.0 Carbon sole elite Performance Italian Road Race Bike Shoes
DMT Prisma 2.0 elite Performance Road Shoe

Prisma 2.0
A perfect match between technology and design. This is the new top road model DMT. Upper in microfiber extremely light combined with a mesh that give a high breathability, an anatomic external counter, the new ATOP closure, the fiber carbon NEW CARBON sole and the new "entirely italian" design. Prisma 2.0 with all these features, is the right shoe for people who want the best in comfort and technology and, at the same time, don't renounce a young and captivating look..
Carbon Super Stiff Sole
Atop Closure system
Anatomic, padded and lined tongue for a better comfort.
Closure with Anatomic cage that keeps the position of the foot in total security
High power transfer carbon sole design.
Fits road Style Cleats and pedals.
Classic Italian Styling
Ridden by the likes of Sylvain Chavanel, Philippe Gilbert, Mario Cipollini, Matteo Rabottini and the  Farnse Vini Pro Cycling team.
Please Note: Does not come with pedal Cleats.

Available in:
- Mens Fit
- Shoe Sizes: 37 through to 50 EU sizes
- Half sizes available from size 41 - 45EU
- Speedplay pedal 4 bolt cleat specific (Fluro / Black and White/Silver)
- Standard road pedal 3 bolt cleat specific
- Colours:  
~ White / Silver
~ Team Edition - Fluro Yellow / Black
~ Philippe Gilbert Edition - Belgium national colours (Black / Yellow / Red)
~ Tricolour - Italian national Colours (White / Green / Red)
- Technologies: New Carbon Sole, Speedplay Sole, ATOP closure system, ASL insole
DMT (Diamant) Technology:
NEW CARBON SOLE
The NEW CARBON sole is pretty special and different from all the other soles in the market. The sole is made from Toray MR60, this is a 40Ton High Modulus Carbon Fibre. There are 9 layers in total. The fibres are orientated at 0°, 45° and 90°.
Each degree provides different features:
0° maximum stiffness and responsiveness
45° incredible tortional rigidity allowing an ultra responsive and firm steering feel
90° strength and durability for long life and consistent high performance.
Speedplay Sole
The new Speedplay® Approved sole from DMT provides a perfectly flat platform which is directly compatible with Speedplay® four-bolt pedal systems. This new sole eliminates the need for adapter plates required when mounting the pedals on shoes with conventional three-bolt soles. Wind tunnel tests have shown the combination of the Speedplay® pedals with DMT shoes employing Speedplay® Approved soles to provide a 33 second per hour advantage over conventional shoes and pedals. Additional benefits include a lower stack height which positions the foot closer to the pedal axle and facilitates more efficient transfer of power. The absence of adaptors also makes the shoe lighter.
ATOP
ATOP can be worked loose or closed by turning the device in order to obtain the maximum comfort and performances.
Simplicity and precision to the millimetre: Atop
Atop is a unique system used exclusively in the cycling shoe sector by DMT. This type of closing, using a rotor to rewind a wire, allows for a perfect upper closing that envelops any type of foot; another strong point is the releasing system of the wire; when you want to open the shoe: just turn the rotor counter clockwise 45°.
Speed and easy in closing make Atop the best closing system.
ASL
The ASL insole is heat mouldable with an airflow system offering ventilation and comfort at high temperatures.
The 3d DMT-ASL insole is made of rigid Eva foam with a ventilated air flow system. This provides stability, comfort and increased breathability even during maximum efforts at high temperatures.
The ASL insole can be modelled in the heel and plantar arch areas through a thermoforming process. This helps stabilize the foot and provides the support necessary to prevent bending of the plantar arch while alleviating knee torsion.
The press zone allows discharging of excess pressures on the heel area.
Italian Design
Design Material Technology...DMT....re-styles its shoes collection following the spirit of its tradition: Italian, Young, Aggressive, Dynamic, Elegant.
Tongue
Drilled tongue with a large thick padding: new features that provide maximum comfort and excellent breathability. Fairlead for the ATOP closure.
Closure with Anatomic cage
Closure with Anatomic cage that keeps the position of the foot in total security.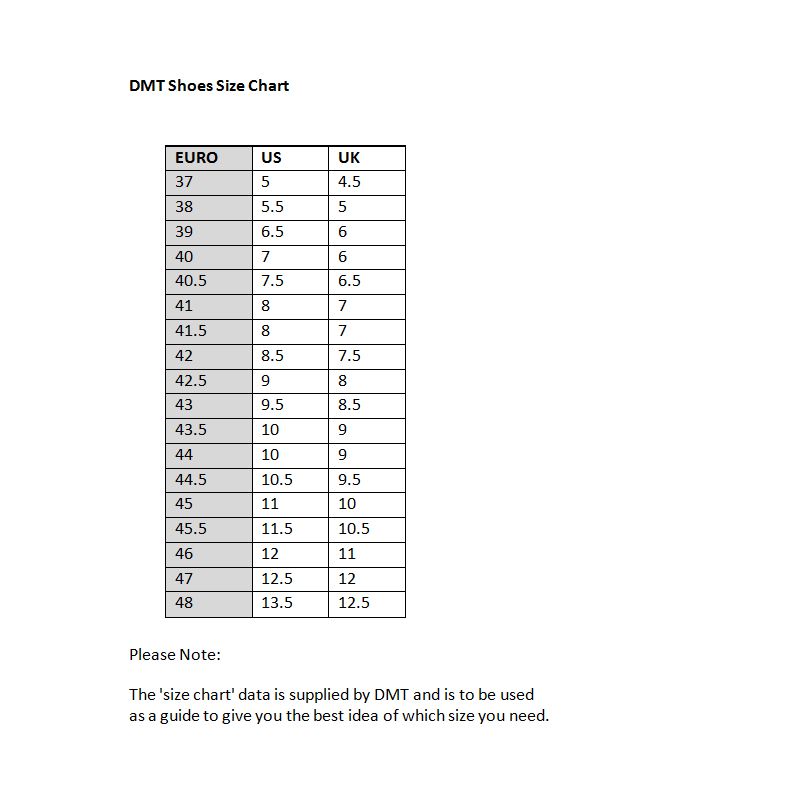 The DMT Passion
The Italian art of footwear manufacturing is one of the few
real bastions of efficiency and quality recognized around the world.
We are handmade footwear manufacturers and cycling enthusiasts.
But being a handmade footwear manufacturer doesn't mean just
performing a trade; it means feeding a passion, the passion for an object
created using good workmanship practices. This is how we combine
two passions, one for handmade shoes and one for cycling.
Diamant (DMT) is a leader factory in the sport's footwear since 1978. Design and Technology are the main goals of the company which has progressively increased his size during the years and has become a new reality currently employing approximately 1200 employees. Diamant finds its origins in the cycling field but it has been able to enlarge its productions over different fields like Football and Outdoor.
Thanks to its experience, Diamant represents the main reference point for engineering and development for Nike, one of the giant companies in the global sportswear field.
The precision instrument
The Design, the research for Materials and the Technological development are the three guidelines that have always characterised the DMT brand.
The passion for cycling and our determination to create products that always perform better and better, make of DMT shoes the reply at all levels to satisfy cyclists' demands.
About Us - One_Red_Dot
Delivering Happiness
One Red Dot is the eBay Australia persona of Koo Bikes, based in Plymouth, UK.
We are a diverse group of cycling professionals that understand the unmatchable thrill of hearing new bike bits or clothes arrive at the door. With over 10 years experience on the high street; many of our staff have been with us right since the beginning, and we're loving the opportunity to share our knowledge with the millions of you in the online world. The Koo Bikes staff have a strong team spirit and shared pride in our work which means we always deliver the very best service with the very best products.
Avid riders and lovers of all things in the bike world; we buy only the products that we would use ourselves, working with top suppliers and brands to bring you the highest quality items. Our ethos is to have the best staff, working in the best environment to produce the best standards. Our mission is to redefine what customers should expect from online retailers, to set a new standard and to have fun doing it!
We pride ourselves on happy customers, but we don't want to stop there, we want a Koo Bikes fan club!
Contact Us - One_Red_Dot
Contact Us - Koo Bikes
If there is anything we can do to help with your order, or there's anything you'd like to ask about a product before you buy, then just contact us. Our friendly team will deliver the personal, dedicated customer service you expect, and you can always speak to the same person if you need to chat to us more than once. You can send us a question through eBay. We're not here on weekends or bank holidays, so please be patient and we'll get back to you on the next working day.
Shipping - One_Red_Dot
Once we've picked your product from its home in our warehouse, one of our dedicated pack team will make sure it's safely tucked up in just the right packaging to begin its journey to you. At this moment you will be sent a time-stamped email to let you know exactly when it set off! How long its journey to you will take differs depending on the distance it travels from the U.K, but all items should be delivered within their advertised time scale. (We're not here on weekends or bank holidays, so it might take a bit longer to dispatch your order at these times.) If you can't find the answer to your query here or in the guarantee section, our friendly team are waiting to help, just call or send us a message!
Please remember when leaving feedback that your assessment should be based on our dispatch times, as once the product has left the warehouse we have no control over Royal Mail delivery times.
If you have any queries about shipping times, please don't hesitate to contact us, as they do vary but here's a general guide:
All UK deliveries are shipped via Royal Mail with a typical delivery time after dispatch of 1 - 3 working days unless faster service is selected.
Standard International Flate Rate Postage is standard Royal Mail international airmail (Not tracked). Typical delivery times after dispatch are 5 - 10 working days.
Express International Flate Rate Postage is Royal Mail international signed for airmail. Typical delivery times after dispatch are 4 - 8 working days.
Standard delivery from Outside AU is standard Royal Mail international airmail (Not tracked). Typical delivery times after dispatch are 5 - 10 working days.
Expedited delivery from Outside AU is Royal Mail international signed for airmail. Typical delivery times after dispatch are 4 - 8 working days.

All times given are estimates and all deliveries can be subject to postal delay's which are out of our control. UK postage can take a maximum of 10 working days and international mail can take a maximum of up to 20 working days. If your order has not arrived within these times then please get in contact so we can help you out.
Due to customs laws and eBay policies we cannot amend the customs forms attached to our parcels in any way.

If you require a tracking number please select 'Express Postage' as a shipping option. You will not have a tracking number unless 'Express Postage' is selected.
Please be aware that all items are shipped from the UK, so international customers may have to pay import tax. It is the customer's responsibility to be aware of and pay for this tax.
Your Guarantee - One_Red_Dot
Superfast Dispatch
We promise to get your item packed and on its way to you as soon as we possibly can. As soon as we've packed your product, you'll get an email to let you know exactly when it set off!
365 day Returns
You have a whole year to make sure that you're happy with your item. If not, you can return it in its original packaging for a refund or exchange at any time up to 365 days (yep, a whole year!) after you purchased it.
If your item is damaged/faulty, or isn't what you were expecting, let us know as soon as possible and we can sort it out right away!
International Buyers (Non UK);
If your item is damaged or faulty, we will refund you the cost of shipping the item back to us.
For all other returns the buyer is responsible for return shipping costs.
Please see 'Your Guarantee' for more detailed information.
All unwanted/ not needed product returns must be returned in a new, re-sellable condition along with original packaging and please do not attach anything to the items packaging. If unwanted items are returned used or are damaged then we reserve the right to return the item without discussion.
Troubleshooting
My item is damaged/faulty
We're always sad to hear that items haven't arrived in tip top condition, so if you feel there is a problem with your product please let us know as soon as you possibly can using the details provided under 'Contact Us'. We want you to be really happy with your purchase and we will do everything we can to resolve any problems quickly and without fuss.
I have received an incorrect item in my order
Our system is set up to make this impossible in most instances, but it you think your item might have slipped through our net, please don't hesitate to contact us so we can resolve it as soon as possible.
An item is missing from my order
Sometimes we need to split your order into different packets, which don't always arrive at the same time. Please check your delivery note or dispatch emails to see if any of your items will be arriving separately. If you think there might be a problem, don't hesitate to contact us and we will resolve this quickly for you.
My order hasn't arrived
We're sorry to hear your item didn't get to you as soon as you might have hoped! Remember to check that your order isn't being held at the local sorting office if you know it would be too large to fit through the letter box. UK postage can take a maximum of 10 working days and international mail can take a maximum of up to 20 working days. If your order has not arrived within these times then please get in contact so we can help you out.