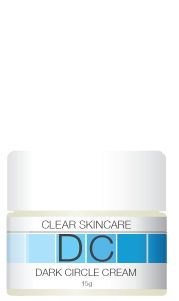 Clearskincare Dark Circle Eye Cream

eliminate dark circles around your eyes

for acne prone & all skin types
You will love your Clearskincare Dark Circle Eye Cream because -
Clearskincare products have helped 1000s of Australians smooth their lines & wrinkles

visible results in 30 days

rich & creamy leaving your skin looking & feeling smoother, brighter, more robust & youthful

uses the latest nanotechnology allowing deeper, more effective absorption into your skin

no more dark circles, uses 10% hayloxyl and chrysin to eliminate dark circles and 2 Matrikin peptides to strengthen capillaries around your eyes

plus centella asiatica, which assists capillary circulation and vegetal squalane, which helps the absoption of your cream

perfect for making the skin around your eyes look smoother, firmer & brighter

15g jar Perfect for oily, combination, normal, dry & acne prone skin

How to use:
Morning and/or evening -

Simply apply generously around the eyes in the morning and night.

How it works:
Clearskincare Dark Circle Eye Cream uses 10 % Hayloxyl and Chrysin to brighten dark circles, and two Matrikin Peptides to strengthen the capillaries around your eyes. Also Centella Asiatica is used to assist capillary circulation and Vegetal Squalane to maximise the deep penetration of all these ingredients.

The skin under the eyes is very thin, contains a comparitevly high concentration of blood vessels and is susceptible to discoloration. When this happens, unsightly dark circles can develop. The cause is not lack of sleep as many once assumed, but the leakage of hemoglobin from the fragile blood vessels under your eyes. As hemoglobin breaks down, pigmented degradation products form and accumulate in the dermis and epidermis. The violet tinge that shows through the skin is a telltale sign of their presence and creates the dark rings seen around your eyes.

The key ingredient in Clearskincare Dark Circle Eye Cream, Haloxyl, targets the underlying cause of dark circles to help prevent the excessive formation of these pigmented by-products and diminish their unsightly appearance around the eyes.

Chrysin, found naturally in the plant Passiflora Coerulea, assists enzymes to help reduce the appearance of dark under eye circles.

The 2 Matrikin Peptides, Palmitoyl Oligopeptide, and Palmitoyl Tetrapeptite 3, help strengthen the blood vessels thereby reducing the leakage of hemoglobin under the eye skin.

Centella Asiatica, is a plant widely used as a natural herb for poor circulation.

Results:
Used daily and as directed, your Clearskincare Dark Circle Eye Cream is perfect for reducing the appearance of dark circles around your eyes leaving your skin looking & feeling more even and natural, brighter & youthful.

Further Information:
Please view our eBay Guide 'Skin rejuvenation for aging skin and pigmentation' - http://reviews.ebay.com.au/Skin-rejuvenation-for-aging-skin-and-pigmentation_W0QQugidZ10000000010830386

Visit the links at the bottom of this page 'Clearskincare Acne Programme', 'Acne Scars Solutions' and our eBay Store for more information about the Clearskincare Skin Roller range, skin needling and all our other exciting Clearskincare products.
Supplementary products:
Clearskincare C'ensil

Clearskincare Teen Acne Solution

Clearskincare Acne Solution

Clearskincare Acne Scar Solution

Clearskincare 2% Salicylic Toner

Clearskincare Microdermabrasion cream with glycolic

Clearskincare Smooth Skin 8%

Clearskincare UH Cream

Clearskincare Easy Squeeze

Clearskincare Skin & Scalp Roller

Clearskincare Copper Peptide Serum

Clearskincare HydraPeel

Clearskincare BTX Serum

Clearskincare Salicylic 8% Skin Peel

Clearskincare Glycolic 8% Skin Peel
Terms and Conditions
Postage & handling
Postage & handling discounts are available for the purchase of multiple items. To receive these discounts, simply request an invoice AFTER making your purchases and BEFORE paying.
Payment methods
In Australia - we prefer Paypal, Bank Deposit Express, credit card or money order
In Australia post money orders to:
Clearskincare
27 Greenfield Road
Lennox Head NSW 2478

Worldwide - we prefer Paypal or credit card

To purchase by credit card in Australia & Worldwide (including USA) send credit card type, number, expiry date and name on credit card:
via eBay messages
email - consultation@clearskincare.com.au
fax - 612 6687 7703
Ship-to locations

Worldwide

Delivery
Most items are posted within 48 hrs of payment being cleared except on weekends and public holidays when items are posted on the Tuesday.

Australian Buyers - most items will arrive within 2-6 working days of items being dispatched.

International Buyers:
All items are posted by (RPI) Registered Post Internation, the most cost effective method of meeting PayPal requirements of supplying a tracking number. Items dispatched by RPI will be delivered in 4 to 10 business days and can be tracked on your own country's postal itemtracking service using the tracking number supplied.
Postage & Handling
Buyer pays Shipping
Shipping costs quoted are for unregistered mail in Australia & Airmail worldwide.
Buyer can specify registered post, buyer pays all additional costs.
International buyers pay for all country specific customs charges and taxes on imported goods.
Customer Service & Return Policy
Only faulty goods will be refundable. Shipping & Handlings are not refundable. Buyer pays for refunds shipping back to the seller.
Money Back Guarantees
Money back guarantees are offered by Clearskincare for certain items. The terms and conditions of these guarantees are specific to those individual items and are stipulated in their item listings.
Terms
When a buyer purchases a Clearskincare product or products from ebay they agree to and accept ALL eBay policies (follow this link to view eBay policies - http://pages.ebay.com.au/help/policies/hub.html?_trksid=m40) and the terms and policies outlined on this page and the individual terms and policies outlined in those item's listings.
Purchasing Clearskincare products/items

Clearskincare lists items on various eBay sites such as eBay Australia, eBay USA, eBay UK and eBay Ireland to maximise the global exposure of our products.

The most cost effective method of purchasing Clearskincare products are those listed in Australian dollars.

Feedback
Postive feedback for buyers will only be posted after postive feedback has been posted for Clearskincare by the buyer.

Clearskincare expects that buyers will make reasonable attempts to contact Clearskincare regarding any problems with Clearskincare products or services before officially posting feedback on ebay or opening PayPal disputes. The same courtesy will be provided to buyers from Clearskincare.
Unpaid purchases
Clearskincare will report any unpaid purchases 7 days after purchase as unpaid items via eBay's unpaid item dispute console. It is the responsibility of the buyer to pay for purchases promptly.

Postage & handling charges

Postage and handling charges vary for individual items sold by Clearskincare. Postage & handling discounts are available for the purchase of multiple items, simply enquire by requesting an invoice.

Country specific customs charges and taxes
International buyers pay for all country specific customs charges and taxes on imported goods.