Descriptions
GSM&Telephone(PSTN) Dual-network Alarm System LCD Screen
Welcome to use intelligent GSM SMS auto-dial alarm system with powerful functions. Large Color LCD screen with English menu indication function and Voice Prompt function make the operation easier. It can call 6 users' phone numbers by GSM when it alarming. Listening-in function is available for users by using mobile phone and telephone. This alarm system is widely used for security protecting, data surveying and remote monitoring in families, shops, villas, financial offices, residential estates and department of electricity, petroleum, coal, government, public security and so on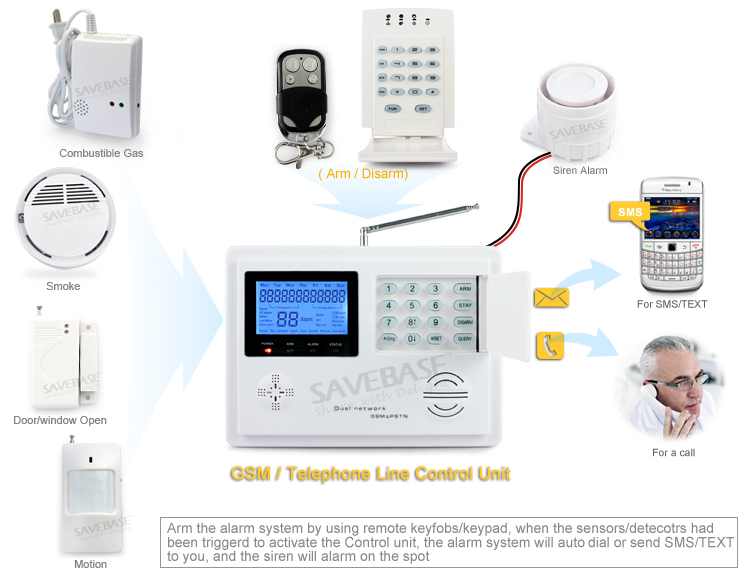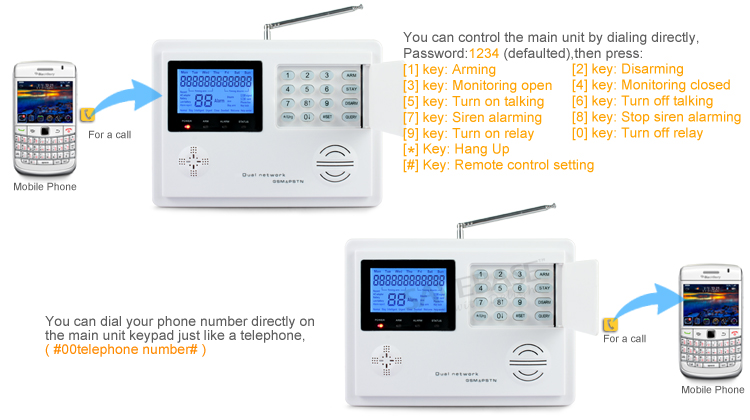 Description
Dual Network function: can be chosen either GSM Sim card (900/1800/1900MHz) or

Telephone Line (PSTN/ADSL)

4 wired and 99 wireless defense zones, can connect maximum

150 Different Wireless Sensors and 4 Wired Sensors

Can be coded maximum 150 Wireless Remote Controllers.

LCD screen with time clock/GSM Signal/Alarm Zone display

Voice prompt for all operations, easy for you to control the main unit

4 groups of intelligent timely arm and disarm setting: It will arm/disarm automatically according to the time you had set.

Can store 9 phone calling numbers when alarming, system will make alarm call to these numbers automatically

Can store 6 SMS numbers: when alarming, system will send alarming SMS automatically

Can dial on the keypad directly to make a phone call just like mobile phone

Can store 10-second automatic message recording

Built-in artificial intelligent digital voice announcer

One-key-control function: Out Arm, Home Arm, Remote Arm

SOS, fire, gas, door, hall, window, balcony, and boundary places alarm

Normal, Home, Delay, Emergency, Closed, Door Bell, Welcome, Old Man Seek Help zones programming function

Remote control Arm, Disarm, Monitor, Intercom and Home Appliance by phone or SMS.

Built-in AAA NI-HI rechargeable battery: can last 4 hours when the power off

SMS alert when Power off

The host using Triple GSM wireless industry module, which is stable and reliable.

EEPROM information protection, information will never be lost.

Both AC and DC, twenty-four-hour normal guarding and unbroken service

.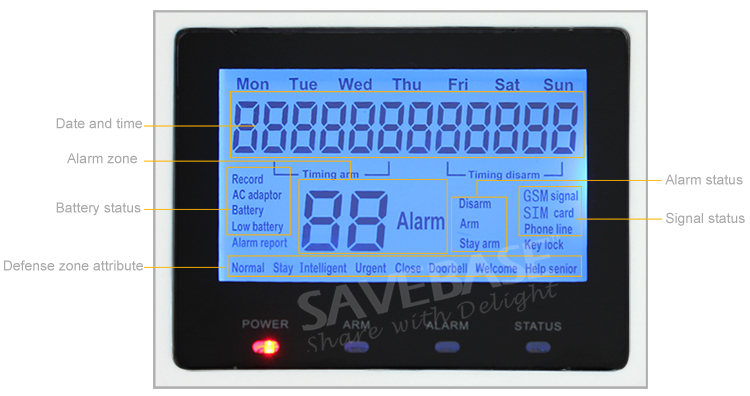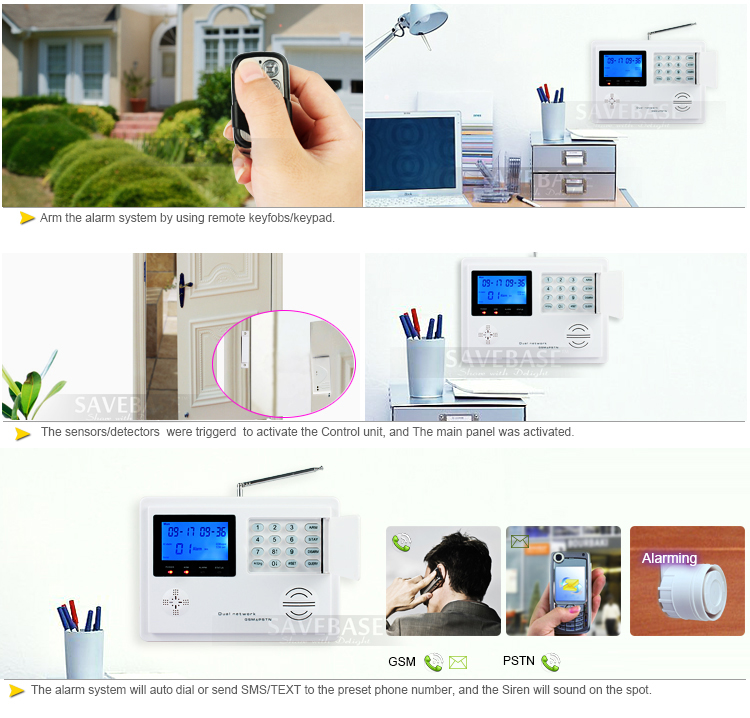 NOTE:
All of our sensors are wireless, the connection picture just for reference. If you need any wired or wireless sensor or any other needs, please feel free to contact us.
Click Here:
to download the user manual
Specifications
GSM Control Panel
Input Voltage
DC12V/1A
Standby Current
<55mA
Alarming Current
<450mA
Wireless Frequency
433MHz
GSM Frequency
850/900/1800/1900MHz
Sensors
can store Max. 150 wireless sensors
Remote Controllers
can store Max. 150 wireless remotes
Wired Sensor
can connnect Max. 4 wired sensors
Back-up Battery
can last 4 hours when power cut off
Siren
only support one wired siren and more wireles sirens but with same transmitter
Wireless Gap Detector (Door / Window Contact)
Power Supply
DC12V/23A Battery
Static Current
≤20 mA
Transmission Current
≤15mA
Transmission Frequency
433MHZ ± 0.5MHZ
Transmission Distance
About 30m with one barrier
Internal Distance
15 mm
Working Condition
Temperature –10℃~+ 40 ℃
Humidity
≤ 90% rh
Battery Life Time
About 6 months
Wireless P.I.R Motion Detector
Power Supply
DC9V (6F22 battery)
Transmission Current
≤20mA
Static Current
≤10mA
Wireless Frequency
433MHZ ± 0.5MHZ
Transmission Distance
About 30m with one barrier
Detective Speed
0.3 - 3m/s
Detective Distance
5 - 12m
Detective Range
Horizontal 110° Vertical 60°
Battery Life Time
About 6 months
Working Condition
Temperature –10 ℃~+ 40 ℃
Humidity
≤ 90 rh
Battery Life Time
About 6 months
Remote Controller (Keyfobs)
Static Current
0
Emission Current
≤15 mA
Transmission Frequency
433MHZ ± 0.5MHZ
Emission Speed
T≤1 second
Emission Distance
About 30 meters
Working Condition
Temperature –10 ℃~+ 40 ℃
Humidity
≤ 90 rh
Battery Life Time
About 6 months
We have more Wireless&Wired Sensors/Detectors for you choose, if you have any necessary or specific requirement, please feel free to contact us: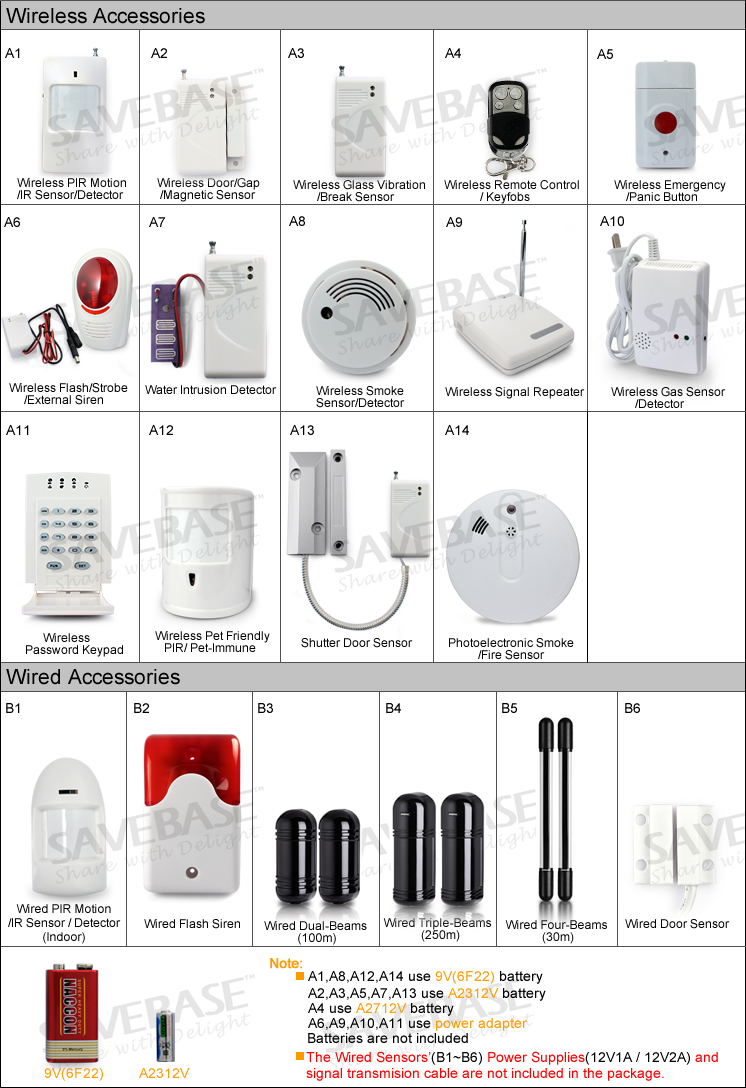 Contents
1 x GSM/PSTN Alarm System Main Unit (GSM Sim Card is NOT included)
4 x P.I.R Motion Sensor (Battery NOT Include)
5 x Door/Window Gap Sensor (Battery NOT Include)
2 x Remote Control Keyfobs (Battery NOT Include)
2 x Wireless Windows Vibration Sensor (Battery NOT Include)
1 x Wired little Siren ( can NOT flash)
1 x Power Supply
1 x User Manual
Due to Airline Restriction, some batteries are NOT included in this package.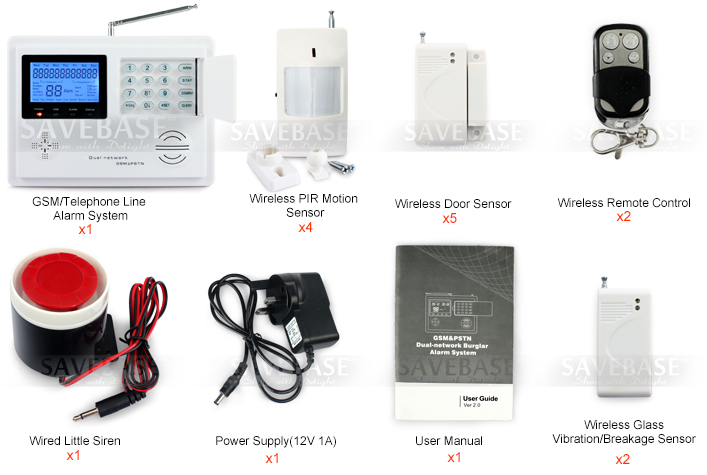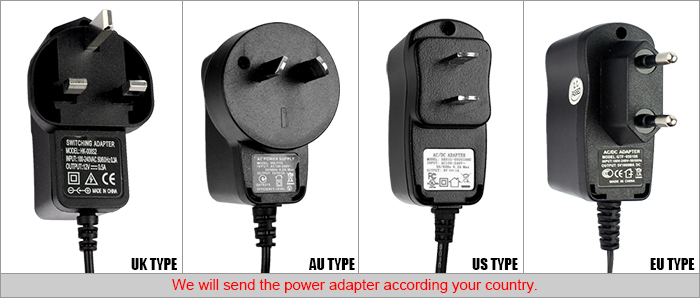 Estimated Delivery Time

Australia (NSW)
Australia Post / Courier
2-3 business days
Australia (VIC,SA,QLD,NT)
Australia Post / Courier
4-6 business days
Australia (WA,TAS)
Australia Post / Courier
6-8 business days
New Zealand
Australia Post
6-9 business days
Other Countries (May depart from other stock location)
International Airmail Service
12-21 business days

Please DO CONTACT AND CONFIRM with us BEFORE you bid IF you:
- need the item urgently.
- require that the item should be delivered within a certain time.
- have any other questions/requirements about delivery.

Remarks:
*Usually, your order will be dispatched before the next working day after the full payment is cleared when stock lasts.
*Notification will be sent after your order is dispatched, please check you email or ebay order records for date of dispatch.
*It is not guaranteed that parcel should arrive within the time stated above. However, 95%+ parcels will be delivered within the reference time.
*Please contact us if you have any trouble in receiving your orders. We will help you to track them.
PayPal: We accept PayPal (Allows you to pay by credit cards, debit cards or echecks securely with NO surcharge)
* If you have difficulty to make payment by PalPal please contact us for alternative payment method.
Remarks:
*Please send payment within 5 days after auction ends. All sales are final, shipping and handling costs are also NOT negotiable.
*We will use your PayPal shipping address as the delivery address.
*Please make sure that your shipping address is correct.
30 Days Money Back Guarantee:
If you are not satisfied with the item purchased from us. Please inform us in writing(e.g. e-mail, eBay message, fax, letter) within 30 days of receipt of goods. We will guide you to return and refund the item. Please note that the postages / custom fees(if any) spended in such an order are on the customer's cost.

Free Replacement:
If you receive a not-as-described (e.g. defective, incorrect, part missing) item, please contact us when you get the item. We will arrange a replacement as soon as the case is confirmed.

Suppliers Warranty:
We offer ONE YEAR warranty on this product. If your item has any warranty issue please contact us for a satisfying solution.

Requirements:
*All qualified returns/replacement must be guided by us. We may not accept your return without informing us in advance.
*Customs fee, handling charge, postage and insurance are on customers cost and not refundable.