Add My-Auction store to your Favourites and receive our email newsletters about new items and special promotions!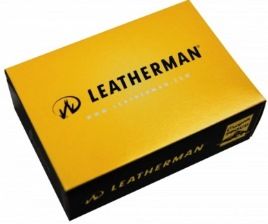 12 MONTHS SELLER REPLACEMENT WARRANTY!
25 YEAR LEATHERMAN MANUFACTURER WARRANTY!!

IN STOCK IN NSW-READY TO POST!!
BRAND NEW - AUSTRALIAN SELLER!!
TAX INVOICE SUPPLIED!!
FAST POSTAGE!!

Description:
For years multi-tool users could choose from two distinct options when it came to a "one-hand-operable" multi-tool: one-hand-opening pliers OR one-hand-opening blades. Today, Leatherman has taken these two well-loved ideas and fused them into the first ever, 100% one-hand-operable multi-tool, the Leatherman OHT. This industry-first tool features spring-loaded pliers and wire-cutters so you don't tire your hand adjusting and readjusting your grip. Handles with visual imprints of the tool beneath make for quick identification. A lifesaving strap cutter and oxygen bottle wrench, threading for common-size cleaning rods and much more make this a one-handed workhorse of a tool.

Tools:
Spring-action Needle nose Pliers.
Spring-action Regular Pliers.
Spring-action 154CM Replaceable Wire Cutters.
Spring-action 154CM Replaceable Hard-wire Cutters.
420HC Knife.
420HC Serrated Knife.
Phillips Screwdriver.
Small Screwdriver.
Medium Screwdriver.
Large Screwdriver.
Saw.
Strap Cutter.
Can Opener.
Bottle Opener.
Oxygen Tank Wrench.
#8-32 Cleaning Rod Attachment.

MEASUREMENTS:
11.5 cm (Closed)
280.6 g (Weight)
6 cm (Blade Length)
Made In USA
Leatherman Coyote Tan OHT Multi-tool
Black Molle Nylon Sheath
Instructions
Retail Box
12 Months Seller Replacement Warranty
25 Year Leatherman Manufacturer Warranty