OUR MEGA THICK EUROPEAN EXTENSIONS
HAVE BEEN IN
VERY HIGH IN DEMAND

WE HAVE RELEASED IT
DIRECT TO PUBLIC



THE HAIR IS AMAZINGLY THICK
&
AMAZINGLY GOOD QUALITY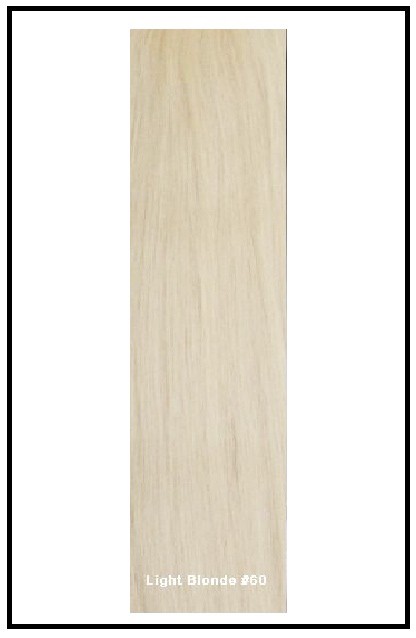 IF YOU ARE LOOKING FOR

LENGTH & VOLUME LOOK NO FURTHER

More then a Full Head

We buy Direct From the Manufacturer

and we Pass the savings on to you and
you get it
BELOW WHOLESALE PRICE
&
DIRECT TO PUBLIC
SMALL SILICON BACKED CLIPS
(3cm Wide-1.5cm High)

ALL YOU NEED TO DO IS
CHOOSE A COLOR
*NEXT DAY EXPRESS DELIVERY IS TO MOST CAPITAL CITIES PLEASE EMAIL US TO VERIFY
IF YOUR POSTCODE IS IN THE NEXT DAY DELIVERY NETWORK


*additional charges apply for Next Day Delivery

Description

LENGTH: 20 inch to 22 inch

COLORS AVAILABLE:
#1 BLACK
#2 DARK BROWN
#4 CHOCOLATE BROWN
#6 MEDIUM BROWN
#12 DARK BLONDE

#18 MEDIUM BLONDE
#33 AUBURN RED
#99j DEEP RED

# 613 BEACH BLONDE
#60/6 BROWN BLONDE MIX
#60 Platinum Light Blonde

#10/613 MINX BROWN BLOND

★★★★★★★★★★★★★★★★★★★★★★
The colour chart is used as a guide only, colours my slightly varie from computer screen to computer screen, and also availability of dye from the manufacturer, close up picture available on request

NO NEED TO PAY SIMILAR PRICE FOR 100-125 GRAMS FROM OTHER SELLERS.
WHEN YOU COULD HAVE NEARLY
DOUBLE THE WEIGHT FOR ONLY $99.99
AND YES THEY ARE DOUBLE WEFTED
WE SELL IN HIGH VOLUME BELOW
WHOLESALE PRICE AND PASS THE
SAVINGS ON TO YOU.
SALONS SELL OUR HAIR FOR $450 ++
NEED IT URGENT FOR THAT SPECIAL FUNCTION FOR THE
WEEKEND
WELL YOU COULD HAVE IT AS QUICK AS THE NEXT DAY
VIA OUR EXPRESS DELIVERY SERVICE.
EVEN IF YOU LEFT IT TO THE LAST MINUTE.

★★★★★★★★★
UNBEATABLE PRICE FOR 220 grams OF HAIR
AMAZING VALUE FOR MONEY
AMAZING SALON QUALITY
FASTEST OVERNIGHT POSTAGE
Our Clip in Remy European Human hair extensions are the easiest way to
enjoy beautiful hair.
They are the safest and way to add volume and length without
damaging your own natural hair.
They are a great alternative to getting a weave or any other
type of permanent hair extension installation.
Add length and volume in minutes!
There is no need to pay over $450+ for extensions from Retails
Stores
When you could be paying a fraction of that price Direct From
Us.

★★★★★★★★★★★★★★★★
Each set contains:
Weight: 220grams Of Thick Lushes hair
Not 100 or 125 Grams Like other SELLERS.
Length: 20-22 inch

12 Piece's
3 x 8" width with 4clips

3 x 5.5" width with 3clips

3 x 3" width with 2clips

3 x 1.5" width with 1 clip

All our clip in extensions are guaranteed to made from 100% Remy Human Hair which means you can
curl, straighten and colour them as if they were you own hair.
Now you can have long, silky, thick hair within minutes and for an amazing price.
Some sets may come in plain packaging as the hair is direct from the manufacturer

★★★★★★★★★★★★★★★★★★★★★★
FAQ
What are Clip In Hair Extensions?
Clip-in hair extensions are the number one fashion accessory to own. They are a super quick fix to thin dull, lifeless hair. They are completely indistinguishable and you will receive so many compliments on your hair. Best of all you can clip them in and out whenever and wherever you are within minutes to create luxurious, thick, shiny hair.
How long does my hair need to be to wear Clip in Extensions?
The shortest you hair should be for best results would be 4-6 inches long. Hair any shorter than this will not be able to hide the clips.
How long do they take to put into my hair?
They should take roughly 5-10minutes to put in. Like anything, the more you do it the quicker you will get at it. Just think how long it would take you to grow your hair this long?? Why wait?
How long will the hair last?
Your extensions are hair accessories and just like any hair accessories, the more its used the lower its life. Your extensions can last up to 24 months when taken proper care of. Hair extensions need to be removed before sleeping and only applied when using for an occasion hence why they are clip ins, if your looking to wear them long term then you will need to look in to more permanent type extensions such as tapes, micro beads and weave in. The hair should be worn about 4-6 times per month then washed, the hair should not be washed with every use but only when there is visible product build up and very important that all hair products are sulphate free. When straightening or curling the hair be sure to use heat protection spray. you can revitalise the hair by using argon oil. The hair should not come in contact with salt water, beach or chlorine as this will dry up the hair, your head provides naturally nutrients to your own hair however not to extensions.
How do they attach to my hair?
They clip in under your hair by small snap on clips that have been sewn onto the extensions. The clips we use have a silicone insert so they don't slip or damage your hair. They are less than 1 inch wide and are the same colour as your extensions so they blend in perfectly to your natural hair. The clips don't pull at your hair and will not ruin your natural hair at all.
What type of hair do you use?
European Remy hair

Will clip in extensions ruin my hair?
Absolutely not. Extensions which are glued or sewn in can ruin your natural hair. Clip-in extensions won't ruin your hair at all.
Can I wash my hair extensions?
Yes you can but not while the clips are attached your head. Remove them first then wash them with shampoo and conditioner just as you would with your natural hair. It is also best to use a deep conditioning treatment such as Moroccan Oil washing your extensions as the extensions don't get the naturals oils from your hair.
Can I cut my extensions?
Yes you can but we recommend you get your hairdresser to do this for you.
Can I dye my extensions?
The hair can be dyed. This is to be done strictly by a professional hair stylist or registered salon. Test on a small part first.
Can they be straightened or curled?
Yes you can. But as with your natural hair always use heat protect products on your extensions to keep them healthy and shiny and to help them last longer.
Can I use products in my hair extensions?
Yes you can, any products that are suitable for your head will be fine with your extensions.
PLEASE READ BELOW BEFORE COMMITTING TO BUY, BY CLICKING 'BUY IT NOW' YOU
ACKNOWLEDGE AND ACCEPT THE POLICIES BELOW
Payment Policy
Commonwealth Bank Deposit
OR
PayPal
PLEASE LEAVE YOUR EXACT EBAY ID AS A REFERENCE WHEN PAYING BY BANK DEPOSIT, ONCE DEPOSITED PLEASE PROVIDE US WITH A RECEIPT NUMBER, AMOUNT PAID AND DATE/TIME PAID TO PREVENT ANY DELAYS IN SENDING YOUR ITEM OUT

Shipping Policy
Item/s will not be shipped until payment has been received in full.
We will not be directly liable for any loss, theft, or damages during delivery.
We provide free regular post
If Express post is required, additional charges apply.

We are not responsible for any customs/Duty Charges for any country. Please check with your country's customs office to determine if there is any additional costs.
Redelivery fee of $9.99 will apply to incorrect shipping address

Returns Policy
We understand that picking the right colour might be a bit difficult when choosing from a computer screen, close up photos of the hair is available on request, we will not be liable for return postage cost when we are happy to provide you with a close up picture before purchasing, we are more than glad to exchange your unopened hair extensions set to the right colour.
Everyones requirement of thickness differs as everyone has different head shapes etc, we go by the most common extensions that are in salons approved by Professional Hair Stylists, if you find that the hair is not suited for you as you require different level of thickness, we ask for you to place the hair back in its original packaging all intact immediately and contact us for a refund. tampered, used hair will not be refunded or accepted.

The hair can be dyed, this is strictly to be done by a qualified hair dresser with an ABN or a registered salon with an ABN. Test patch is to be done first on a small part of the extension. We are not liable for any damages done by DIY Hair dye kits or unprofessionally.
Due to hygienic reasons we will only exchange items that have not been opened, worn or tampered with. Used hair will be sent back to you
All postage costs must be paid by the buyer for any colour exchange or refund, unless for unforeseen circumstance that we are at fault
14 Day Money Back Guarantee: If for any reason you are not satisfied or received something other then the item you purchased we will Refund or Replace the item for you, excluding Shipping costs of $8.99 within Australia, And minus postage cost overseas buyers. We ask for the Item to be returned in the exact same state it was sent to you with everything intact. Used hair will be returned immediately, Used hair can be determined by the smell of the hair, used hair smells of product and other foreign smells and unused hair smells of plastic packaging the hair comes in, Please inform us before you send any item back
Contact Us
Any questions or Queries Please don't Hesitate to Contact Us.
Before leaving a Negative or Neutral Feedback please contact us so we can rectify any confusion or issue that may come up, with so many extensions on the market, we understand that not all extensions are suited for everyone and we will do our best to resolve any query, our main priority is for you to be satisfied at the end of the transaction
Patience and a Loyal business manner has always been our prime attributes.
About Us
We have been supplying hair stylists and hair salons with our hair in Melbourne since 2010, with close to wholesale price we have decided to make our extensions available to the general public not just hair dressers. Our Business Is Built On Honesty and we strive to provide the best quality hair at the best prices If there is ever any doubt or questions whilst/after purchasing our products. Please email us and we will get back to you with the best answer and resolution.