NEW SAMBO ELITE GAMEMASTER 5300A BIG GAME FISHING REEL, 3 S/S BB, 3.3:1 Ratio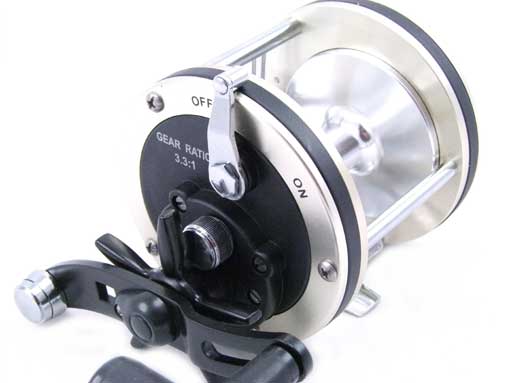 Product Description
Fishing Deals is Australia's top seller of the best quality game fishing reels available on the market. The Gamemaster series is actually made in a Big Brand Factory. It rivals your best known trolling reels. GAMEMASTER LEFT HAND SERIES Overhead trolling reels come with a reinforced aluminium spool and body, and high quality Stainless Steel Ball Bearings. It's ideal for catching your big game species such as Kingfish, Tuna, Cobia, Gummy Sharks. It is designed with high end components and will handle large fish with ease..you won't be disapointed.
MADE IN A BIG BRAND FACTORY, THIS SERIES RIVALS TOP NOTCH CUSTOM TROLLING SERIES GAME REELS AND IS MADE WITH THE HIGHEST POSSIBLE QUALITY COMPONENTS AVAILABLE IN THE WORLD.
NEW SAMBO ELITE GAMEMASTER 5300A LEFT HAND Game Trolling Fishing Reel
NEW STYLE HUGE LINE CAPACITY FRAME BODY
3.3:1 Fast Ratio
3 Stainless Steel Ball Bearings
Left Handed Reel
Spool Width: 48mm | Spool Depth: 24mm | Body Width: 83mm
Cold Forged Aluminium Spool
Quality Non Corrosive Aluminium Side Covers
Aluminium Spool Covers
Precision Brass Main Gear
Stainless Steel Pinion Gear
Stainless Steel Reel Foot
Automatic Retrieval System
Centrifugal Spool System
Aluminium Sports Handle with Bullet Knob
Aluminium Level Wind System
+ Bonus Aluminium Rod Clamp & Screws
On/Off Loud Ratchet
Strong and Durable Aluminium Star Drag
Suitable for Overhead Game/Trolling/Boat rods
Attractive Silver Spool / Black Colour Body
Elite Quality! Premium Fit and Finish!
Disclaimer: All brand & product model names are registered trademarks of their respective companies and are for reference/comparison purposes only.
Product Specifications
| | |
| --- | --- |
| SKU | GMMST5300A/LH |
| Reel Ratio | 3.3:1 |
| Line Capacity | 33lbs - 420yds | 0.50mm - 380m |
| Shipping Weight | 0.92 |
| Species | All Saltwater Species - including Snapper, Kingfish, Cobia, Dolphin Fish, Spotted Mackeral, Spanish Mackeral, Gummy Sharks etc |
| Technique | Game, Landbased, Boat, Trolling etc |
Proudly affiliated with the following companies
Track my Order
Why Fishing Deals
Help Centre
Safe, Secure Payments
Fishing Deals.com.au is a secure site. We accept: