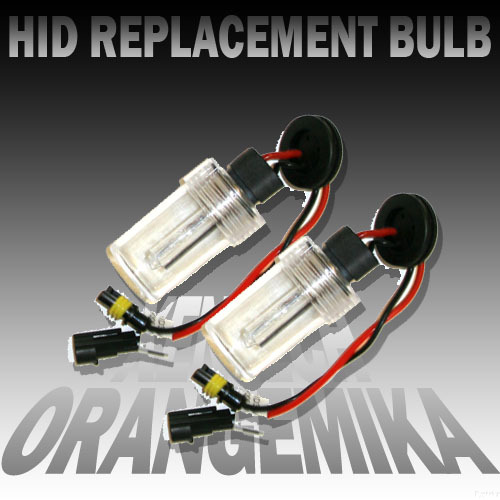 Description
You are bidding on a brand new set of 2 xenon bulbs! This auction includes:
2 Xenon Xenon Bulbs

All of our HID products are E4 and ISO-9001:2000 Approved. They are manufactured under the strictest of quality control. The ballasts are also shockproof and 100% waterproof (you can literally submerge the entire kit and it will still function properly).
Installation is Plug-N-Play and is simple enough for a first time installer to do in 20-30 minutes. Our kits plug right into your existing headlight assembly and all necessary hardware for installation is included.
Upgrade from the standard Halogen to the brilliance of HID technology today!
***Before you purchase please be sure to read the "Payment and Shipping Information" section below otherwise your order may be delayed!***
What is HID?
HID (High Intensity Discharge) refers to lighting technology that relies on an electrical charge to ignite xenon gas contained in a sealed bulb. A normal halogen bulb uses a filament which can burn out in as little as 200 hours. HID bulbs are gas filled capsules that are rated for a lifespan of nearly 4500 hours. HID bulbs also shine much brighter due to this technology.
Unlike halogen bulbs, HID's emit a type of light that closely resembles natural daylight and is therefore easier on human eyes. In fact, HID lights are currently used in most sports arenas, stadiums, and train stations worldwide. Don't be fooled by lower end Xenon replica bulbs sold at most retail shops. They are no match for the intensity, purity, and efficiency of high intensity discharge headlights.
Bulb Sizes and Color Temperatures Available
Bulb Sizes Available:

H1, H3, H4, H7, H8, H9, H10, H11, H13

HB1, HB3, HB4, HB5

9003, 9004, 9005, 9006, 9007, 9008, 9145, 880, 881 (all 800 series available)

Color Temperatures Available: 3000k, 5000k, 6000k, 8000k, 10000k, 12000k, 15000k, 30000k.



The color temperature 3000k is golden yellow, most suitable for fog lights. The higher the temperature the more blue is in the color of the bulb. Maximum light output is around the 4000k-4500k (OEM kits are around 4100k-4300k) temperature, so if you are going for maximum brightness we recommend the 5000k kit. The higher the kelvin temperature (k) the deeper the blue color of the light will be.



Payment and Shipping Information
Payment must be made by PayPal within 7 days of winning the item. We accept all major credit cards through PayPal as well. If payment is not received within this time frame an Unpaid Item Dispute will be filed with eBay.
Important: When sending payment please include the following information in the "Note to Seller" section of your PayPal payment. If this information is not included, your order will be delayed!
1. Bulb Size (Not sure what size bulbs your car uses? Search for your vehicle's bulb application here.)
2. Color Temperature
3. Contact Name and Phone Number
All orders generally ship within 1-2 business days* after payment is received.
*Business Day - Business days are Monday to Friday from 10am to 5pm, excluding US national holidays. Any orders placed or payments cleared after 5pm on a business day, during the weekend or on a US national holiday are considered orders placed on the following business day.