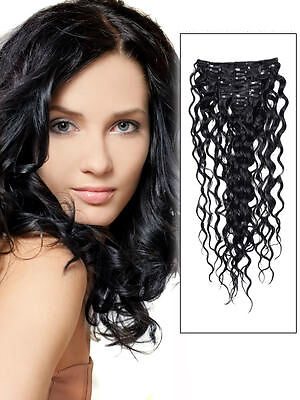 Hair extensions are more popular nowadays than ever before, as many women want to have long, luscious hair without waiting for their own natural locks to grow. It is easy to buy clip-in hair extensions which can be attached and removed at home, or purchase extensions to be fitted professionally at a hair salon, but there a number of supplies that anyone purchasing hair extensions needs to invest in.
By shopping online on websites such as eBay, it is possible to find the very highest grade of hair extensions as well as all the necessary tools and supplies for fitting and maintenance, and all at very reasonable prices compared to buying in a salon or hair extension store.
10 Essential Supplies you Need for Hair Extensions
Whether you are a hair extensions specialist fitting extensions in a salon or at home, or looking for aftercare products for your hair extensions, here are 10 essential supplies that you should not be without, most of which can be found on websites such as eBay:
| | | |
| --- | --- | --- |
| Item | Features and Benefits | Home or Professional Use |
| Natural or clarifying shampoo/shampoo for hair extensions | Gentle for human hair extensions to cleanse without stripping the hair of shine – will help to remove styling and product build-up. | Ideal for salon use and at home. |
| | Ideal for brushing hair on a daily basis to add shine and keep it looking silky. | Salon and home use. |
| | These brushes have loops that are specifically designed to detangle hair extensions without damaging the delicate structure of the hair. | Salon and home use – these can be found on eBay for an affordable price. |
| | Used before blow drying, straightening or curling hair extensions to protect them from the heat. | Salon and home use. |
| Leave in conditioner/detangling spray | Leave in conditioner or detangling spray adds softness and shine, gets rid of knots and ensures the hair extensions remain in good condition. | Salon and home use. |
| Spare hair extensions clips | Ideal for clip-in hair extensions as the clips can sometimes break or become loose. | Perfect for use at home. |
| | Small metal rings that are used to attached hair extensions to natural hair – pliers are needed to close the rings. | Professional salon use only – large tubs of micro rings can be found on eBay at reasonable prices. |
| | These are needed to close the rings on micro-rings extensions when attaching them to the hair. | Professional salon use only |
| Hair extensions bonding glue and remover | For attaching hair extensions to natural hair and removing them. | Professional salon use only |
| | Used with glue and bonds to attach hair extensions in a salon setting. | Professional salon use only |
It is important to note that some of these essential supplies are only recommended for use by professional hair extension technicians, such as the glue and irons – women could damage their own hair if trying to use these at home.
The Importance of Aftercare
If investing in human hair extensions, aftercare is absolutely essential to prolong the beauty and lifespan of hair. Even if women have synthetic clip in or micro-ring extensions, it is still important to take good care of them. The following tips will help:
Try not to shampoo every day – once every couple of days is adequate
Use a mild, clear shampoo – a natural, sulfate free formula is best to protect the hair or use shampoo specifically designed for hair extensions
Always use a leave in conditioner or detangling spray on human hair extensions before blow drying to protect the hair and keep it silky soft
Use heat protection spray before straightening or curling the hair.
It is also important to protect the hair whilst sleeping – many women place hair in a loose bun or hair net to prevent tangling and matting whilst asleep. It is easy to find the above aftercare products online – websites such as eBay have a wide range to choose from at affordable prices.
Choosing the Best Haircare Products
When choosing haircare products for hair extensions, it is important to take advice from the salon where extensions were fitted. If clip-in extensions are being used, then try to follow the above aftercare tips.
As a rule, natural products that do not cause build up on the hair shaft will prolong the life of hair extensions and ensure that they remain looking shiny and beautiful for longer. Choosing natural products and avoiding chemically treating or dying the hair extensions will further prolong their lifespan. Some professional shampoo and conditioner ranges include products specifically designed for hair extensions, and many hair extensions manufacturers produce their own, silicone free shampoo. Silicone can cause hair extensions bonds to weaken and break and is found in many popular shampoos. It is easy to find a great deal on hairstyling products on eBay.
What Type of Brush is Best?
The jury is out as to what type of brush is best to use for hair extensions, but it is thought that the best option is to detangle wet hair using a wide toothed comb, and then use a hair extension loop brush to remove any smaller tangles. Once the hair is dry, a natural, soft bristle brush should be used to keep the hair shiny and smooth, but hair extensions should never be tugged or pulled at to avoid them slipping or breaking.
If having extensions professionally fitted at a salon, it is best to ask what type of brush is best to use – they can often recommend a specific brush which can then be bought for an affordable price on eBay.
Shopping for Hair Extensions Supplies Online
When shopping for hair extensions supplies online, eBay is a great place to start browsing. It is easy to search for a specific item or browse through various categories and there are a wide range of supplies available to choose from, from Paul Mitchell leave-in conditioner to detangling spray, which is great for human hair extensions. It is often possible to find bulk deals on several bottles of shampoo or conditioner, making significant savings over buying these products individually in a store.
How to Choose the Best Hair Extensions Supplies
It is important to consider how much money is available to spend when choosing hair extensions supplies. It does not need to cost a fortune to maintain hair extensions, and many natural treatments and shampoos are great for hair extensions. A good brush and detangling spray/leave in conditioner are essential to keep hair tangle free, and it is worth investing in a protective net or cap to wear whilst sleeping, particularly if the hair extensions are very long.
When choosing hair extensions supplies, shop around to find the best prices – it is often possible to find products on eBay being sold by several different sellers, so a bargain can easily be found.
How Buy 10 Essential Supplies for Hair Extensions on eBay
When shopping for 10 essential supplies for hair extensions, eBay should be the first port of call. Visit eBay and click on the drop-down menu 'Shop by Category' at the top left of the page. This will open up a category list - scroll down to click on 'Fashion'. In the left-hand menu, hover over Women's Accessories' and click on Wigs, Extensions & Supplies. From here the desired item can be typed into the search bar, such as 'Hair Extensions Shampoo.'
Because there are so many different types of hair extensions supplies, it can be helpful to narrow a search using a certain term if looking for something specific. By typing the words related to the search, such as 'Hair Extensions Iron' into the main search box, a list of all the available items will be shown.
Conclusion
It can often cost hundreds or even thousands of dollars to have hair extensions professionally fitted, and aftercare is essential to maintain the beauty of the hair extensions after application. By following a simple aftercare regime and investing in hair extensions supplies on eBay, women can ensure that their hair extensions remain soft, glossy and beautiful for longer.
eBay has a huge range of hair extensions supplies to choose from, from specialist shampoo and detangling spray to hair extension loop brushes and micro ring pliers, all at affordable prices.