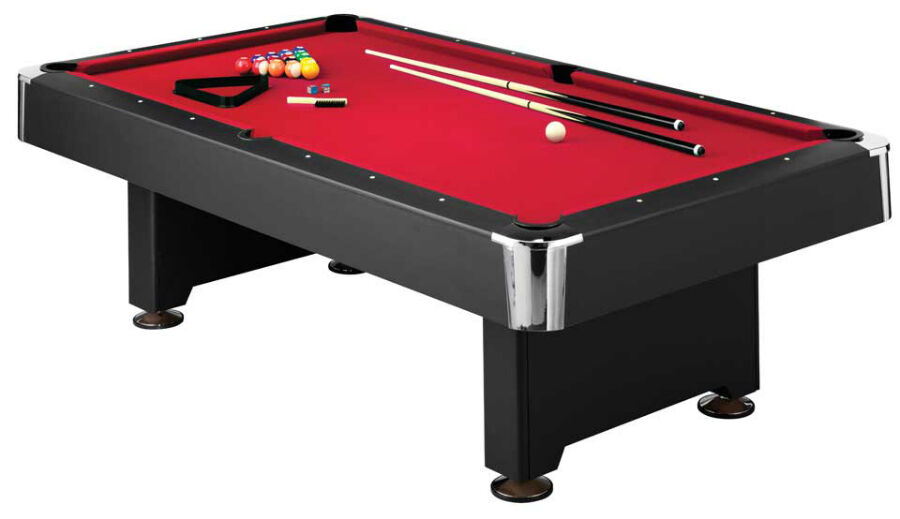 Pool is a sociable and fun sport that attracts both men and women, and installing a pool table at home is a great way to meet the neighbors or invite friends or colleagues over for a friendly game. A pool table can be an expensive purchase, and there are several things to consider before choosing the right one.
Shopping online on websites such as eBay is the best place to find affordable pool tables, whether looking for a new or used pool table for home use.
10 Factors to Consider When Buying a Pool Table
When shopping for a pool table, there are a number of things to take into consideration – here are 10 factors to think about when buying a pool table on eBay:
| | |
| --- | --- |
| Factor | Why Consider |
| Type of frame | Pool tables can be made of solid wood or MDF and neither is really better than the other. Buyers should ensure their table of choice has one centre beam and two cross beams to distribute the table's weight evenly and provide support. |
| Type of slate | The table should ideally have 3-piece slate and buyers should be aware that slate comes in different sizes. |
| Type of pockets | Pockets can be made from rubber, leather or plastic – leather is the best option for a pool table for home use. |
| Rails | Always look for solid wood rails. |
| Costs for shipping | When buying on eBay, ensure that the cost for shipping is displayed and if in doubt contact the buyer to confirm costs before bidding or purchasing. Always check if insurance is included within the shipping cost or an optional extra. Some sellers will offer free shipping. |
| Size of table | The size of table, 7ft, 8ft, or 9ft is a major consideration and will depend upon available space. |
| Price for installation | A pool table will need to be professionally installed, so bear this cost in mind before purchasing. |
| Available budget of the buyer | The available budget will play a big part in which table is purchased, so have an idea of budget in mind when browsing on eBay. |
| Are returns accepted? | Always check that the seller accepts returns or exchanges if the table is faulty or not quite right. |
| Condition of the pool table | The buyer should read the item description carefully – is the table in used or new condition and are there are flaws or damage? |
Choosing the Right Type of Slate for Your Pool Table
Slate is the main playing area of the pool table, lying under the cloth, and comes in two different types; one piece slate and three piece slate. Today, three piece slate is the more popular option. Slate also comes in a range of sizes:
¾" slate is used on entry level tables which cost less money
7/8" slate is not commonly found but there are pool tables on eBay with this size of slate
1" slate is the standard used on most high quality pool tables and is approved for tournament play by the BCA.
It is easy to find pool tables with different sizes of slate on eBay – always check the product description carefully to ensure the right size is purchased.
Choosing the Right Size of Pool Table
When it comes to choosing the right size of pool table, the available space at home will be a major factor. Pool tables come in three sizes: 7ft, 8ft and 9ft. There needs to be enough space around the table for players to take their shots, and this will often depend on the size of cue used. By choosing the size of cue at the same time as the pool table, buyers can not only ensure they are getting a great deal for their money, but can also ensure that they have enough space at home to accommodate the size of table and cue desired.
Consider your Budget Carefully
Budget plays a major part in any purchase, and when purchasing a pool table on eBay it helps to have a budget in mind. It is possible to sort pool tables by price, so that buyers only browse the tables which are within their budget. This is the best way to avoid being tempted by a more expensive table.
If budget is tight, buyers may wish to consider purchasing a used table, as it is often possible to find used tables in excellent condition on eBay. If purchasing a larger 9ft table, opting for a used model is a great way to save money if on a budget.
Should You Buy a New or Used Pool Table?
Whether to buy a used or new pool table is a personal decision, which will depend largely upon the individual's budget and preferences. Here are some of the benefits to buying a used pool table:
For those on a tight budget, it is often possible to find a better table for the available money in used condition, rather than purchasing a new table
Larger tables are more affordable when purchased new
If purchasing a table to teach children pool, a used table is a great option to keep costs down
There are also benefits to buying a new table. A far wider range of new pool tables is available on eBay compared to used pool tables, so buyers have more options to choose from. If budget is not an issue then a new table is a great choice.
How to Choose the Best Pool Table for You
It is important to consider all of the above factors when buying a pool table. The key things to think about are:
Budget
Size of space and size of table
Size of pool cue
Condition of the table
Other aspects of the table's construction such as frame and slate
By considering all of these factors, it should be easy for buyers to find the best pool table to suit their needs, whether that is a used 7ft table or a new 9ft table.
How Buy a Pool Table on eBay
Those looking to buy a pool table should head for eBay, where a wide range of both used and new tables can be found at affordable prices. Just visit eBay, and click on the drop-down menu 'Shop by Category' at the top left of the page. Click on Sports & Recreation to bring up a list of all the available categories. Then, scroll down to Sporting Goods and click on 'more'. From here select Snooker, Pool. Billiards. From the left hand menu, click on Tables and the available pool tables will be displayed.
With many different types and sizes of table to choose from, it can be difficult knowing where to start. If looking for a specific brand or item, just type the words related to the search, such as '9 Ft Pool Table' into the search bar, and a list of available items will appear.
Conclusion
When buying a pool table, it is important to think carefully about all of the above factors before making a decision. The table needs to be the right size for the players and also for the available space at home, and also needs to fall within the buyer's available budget. Because there are so many different pool tables available to choose from online, it has never been easier to find a great deal on pool tables and other sports equipment on eBay.
eBay has a wide range of pool tables to suit all needs, from 7ft or 8ft tables to full size 9ft tables, so no matter what size is desired, there is something to keep all pool enthusiasts happy on eBay.