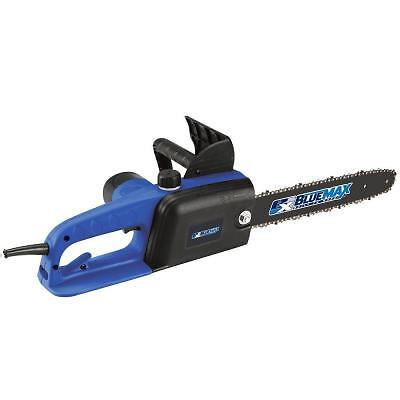 To maintain their garden or backyard, most homeowners invest in a chainsaw. Not only does it take care of overgrowth, it is also great for cutting up firewood. Chainsaws come in varying blade lengths, but the 16-inch chainsaw is the one recommended for most homeowners. It is versatile enough to be used on mature trees, unlike other blade lengths that can only cut saplings and tree limbs. On eBay, 16-inch chainsaws are available in a wide variety of types along with numerous features. Choosing the best one for your needs can get quite overwhelming. Even so, a little knowledge goes a long way. Before shopping on eBay or any traditional brick-and-mortar shop, it is crucial to learn as much as you can about 16-inch chainsaws.
16-Inch Chainsaws
A chainsaw is a mechanical saw that may run on either petrol or electricity. Gardeners often use 16-inch chainsaws on saplings, branches, shrubs, trees, and other thick materials. Chainsaws with bar lengths measuring 40.6 centimetres have a wide range of horsepower available to them from 1.5 to 3.5 HP. As for weight, they range somewhere between three to six kilogrammes. Many models have engines ranging from 32 to over 60 cc. They are often the ones that are powered by petrol. Additionally, 16-inch chainsaws come with a range of features such as vibration reduction, side tensioning, and a digital ignition system. More than this, most have an adjustable oil pump, automatic oiler, and a chain brake. Those who are searching for 16-inch chainsaws should consider looking at brands like Dolmar, Jonsered, Stihl, Husqvarna, and Echo.
Petrol vs. Electric 16-Inch Chainsaws
Shoppers should carefully evaluate their needs when choosing between an electric and petrol-powered chainsaw. Electric-powered chainsaws are best for pruning, trimming, and other types of cutting that do not require a lot of horsepower. Keep in mind that electric chainsaws require an electrical outlet within about 30 meters, which means that it can be difficult to use in remote, outdoor projects. There are two distinct types of electric chainsaws: corded and cordless. Most with 16-inch bar lengths, however, can only be powered through a cord connected to an electrical outlet. Petrol-powered chainsaws, on the other hand, are great for individuals who require a tool with significantly more horsepower. Chainsaws can have a two-stroke or four-stroke engine. Compared to electric chainsaws, however, petrol chainsaws generate more noise and air pollution. Beginners may also find them messy and difficult to wield. Still, shoppers who want to get the job done fast may find that a 16-inch petrol-powered chainsaw is what they need.
Consumer vs. Professional Grade 16-Inch Chainsaws
When it comes to 16-inch chainsaws, consumers and professionals have a distinct set of needs. As for power source, consumers often just require a corded electric-powered chainsaw to maintain their garden or backyard. Those who do not have access to electricity, however, may want to go for petrol-powered chainsaws with engines ranging from 30 to 40 cc, which is good for cutting down small trees and firewood. Shoppers who plan on using the tool for professional use like milling lumber require engines at over 60 cc.
In terms of weight, professional grade 16-inch chainsaws are often heavier and packed with features, making them harder to wield. With the extra weight, however, comes a more powerful engine, making cutting wood faster. Homeowners who are not used to the weight may find themselves thrown off balance, which can lead to accidents. Ideally, shoppers should get a feel of the chainsaw before purchase to determine if it is the right fit for them.
16-Inch Chainsaw Features
Both consumers and professionals, on the other hand, can benefit from as many time-saving and safety features as possible. For example, shoppers can look for chainsaws with a vibration reduction feature that cuts down user fatigue, which in turn can lessen the risk of tendonitis and other physical problems. This feature is vital for those who operate chainsaws for hours on end.
Another helpful feature is the automatic oiler, which is often found on petrol-powered chainsaws. To prevent unnecessary wear and tear, the bar and chain must be constantly lubricated throughout the operation. Some chainsaw models require the user to manually do this by pressing a push bulb, while some models automatically pump oil for the user. Unfortunately, some models keep pumping oil even when the chainsaw is idle, making it messy and difficult to hold. This is why it is vital to look for a chainsaw that automatically adjusts the amount of oil being pumped based on its current state.
The chain brake safety feature protects the user from kickback, which occurs when the upper front portion of the chain hits the wood. When this happens, the front of the chainsaw bar can suddenly launch upwards and dislocate the individual's thumb or even take out a person's limb. Apart from just wearing safety gear, having a chain brake safety, particularly for professional petrol-powered chainsaws, is crucial.
How to Buy on eBay
For most people, shopping on eBay is quite simple. Just type what you are looking for in the search field and press enter. To make things even easier, eBay gives you the option to filter your search results based on condition, location, and price, among others. Apart from choosing the product, it is also important to choose the seller carefully. Go for the eBay Top-Rated Sellers or sellers who have feedback ratings of 99 per cent or above. This ensures that you are only dealing with highly-recommended sellers. If you are inquiring about a used 16-inch chainsaw, click on the "Ask a Question" link. Better yet, instead of buying something pre-owned, check out the latest eBaydeals on Chainsaws & Accessories.