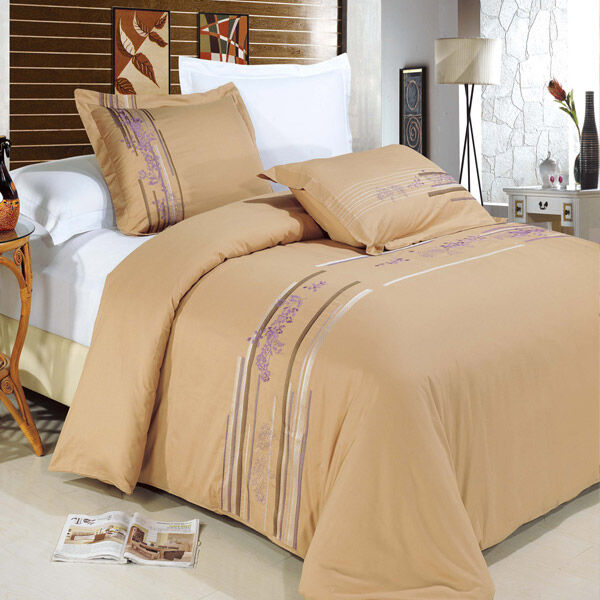 One of the most effective ways to decorate a bedroom and give a bed a bit of polish is to dress it with a quilt cover set. A 3-piece quilt cover set is an easy and convenient way to get the benefit of a fully dressed bed without investing in an elaborate bedding set. Before purchasing a 3-piece quilt set, however, consumers may want to take the time to get to know what choosing a set involves, including some of the fabric choices available to them. Consumers may also wish to explore retail options like traditional, brick-and-mortar retailers and online retailers like eBay, which delivers huge selections and an easy purchasing process.
Components of a 3-Piece Quilt Cover Set
A 3-piece quilt cover set comes with three separate components that work as a complete matched or complementary set. Typically, a 3-piece set contains a quilt cover, sometimes referred to as a doona cover, and two matching standard pillowcases.
Doona Covers
A doona cover is a large pillowcase-like sack that fits over the entire body of a quilt or duvet. An opening at one end allows homeowners to slip a duvet into the cover while still maintaining a relatively streamlined and seamless look. This opening closes with a zipper, ties, buttons, or snaps. A doona cover, which is much easier to clean than a duvet or quilt, acts as a protective barrier to the quilt while also delivering a unique look.
Doona covers come in a range of sizes from full to king. Consumers may also find international products on the market, including options sized under U.S. or European guidelines. The following chart outlines some of the standard sizes used by manufacturers in Australia and their dimensions in both centimetres and inches.
| | | |
| --- | --- | --- |
| | 140 cm x 210 cm | 55 inches x 83 inches |
| | 180 cm x 210 cm | 71 inches x 83 inches |
| | 210 cm x 210 cm | 83 inches x 83 inches |
| | 240 cm x 210 cm | 95 inches x 83 inches |
Consumers who encounter quilt covers manufactured in other countries should confirm their dimensions and compare them to the above measurements to find a close fit. Fitting a duvet and duvet cover to a bed is not necessarily an exact process. Some consumers prefer to use larger sizes on smaller beds to get more coverage and room to move.
Standard Pillowcases
Standard pillowcases follow the same dimensions the world over. When featured in a 3-piece quilt cover set, standard pillowcases come in two variations. The first variation is an actual pillowcase that an individual sleeps on. The second variation is more of a decorative pillow cover that fits over a pillowcase itself. A decorative pillow cover typically features a closure similar to a duvet cover with a zipper, snaps, buttons, or ties.
Fabric Choices for 3-piece Quilt Cover Sets
A 3-piece quilt cover set comes in a range of fabric choices, each with its own benefits and advantages. Understanding these options helps clarify the purchasing process in terms of style, comfort, and cost. Consumers can zero in more effectively on a choice by understanding each of these fabrics.
Cotton Sets and Cotton Variations
Cotton quilt cover sets are a popular choice, thanks to the cool temperature of cotton and the softness of its weave. Jersey cotton sets feature a T-shirt quality knit cotton with a very casual look. Cotton percale sets feature a special weave that give them a crisp feel and a more formal look. Cotton sateen quilt cover sets include a shiny finish, making them some of the most formal options in the cotton category.
Egyptian cotton is another high-end variety. An Egyptian cotton quilt cover set uses fibres from a cotton plant originally found in the Nile Delta. Many consumers prize this form of cotton for its lustre and durability. Poly-cotton quilt cover sets are the easiest cotton option to care for because the polyester blended into the fibre is easy to clean and prevents wrinkling.
Linen Sets
A linen 3-piece quilt cover set uses flax fibres to create a heavy and textured fabric that many consider luxurious. Linen sets drape well on a bed and are quite warm on cold nights. Caring for linen is more difficult than cotton, but this is a price many homeowners are willing to pay for the high-end look and style of this fabric. Finding a linen-cotton blend can make this fabric easier to manage.
Silk Sets
A silk 3-piece quilt cover set is perhaps the most luxurious option available, but it also requires the most maintenance. Silk sets have an incredible sheen and silkiness to them. Washing a silk set requires much more legwork than many other options, and silk also wrinkles quite easily.
Bamboo Sets
For the eco-minded consumer, an option such as bamboo can be a great choice for a 3-piece quilt cover set. Bamboo is hypoallergenic and mould-resistant, making it a healthy choice for many households. Bamboo is also a sustainable plant source, and that makes bamboo an environmentally responsible choice. With the added benefit of thermal regulation that allows bamboo linens to stay cool in the summer and warm in the winter, more and more households prefer the benefits of this eco-friendly choice.
How to Buy 3-Piece Quilt Cover Sets on eBay
Finding a 3-piece quilt cover set on eBay is a straightforward matter, thanks to the user-friendly features on the site. A search bar accessible on every page provides you with a quick way to search for a set. You can enter a search term that defines the exact type of set you want, such as ' purple 3-piece duvet set', or you can use a more general term to get a broader look at the items available. If you are looking for deals on other home items, you can find it with a click of the mouse. eBay also extends a communication interface to users that you can use to message a seller directly. Thanks to these features and the large catalogue of items available, you can use eBay to decorate any bedroom in your home with ease.