Casual hiking and walking are great healthy activities that the whole family can enjoy together. Increasing the pace and distance is less family friendly, but is also rewarding and challenging, and many male hikers enjoy pushing themselves as their fitness improves. As distances increase so, too, does the need for some proper walking shoes as trainers are just not up to the job. Fortunately consumers may choose from a wide-range of quality walking shoes, and five excellent pairs are highly rated by adventurous souls and casual hikers alike.
Walking shoes vs. trainers
Amateur walkers are often loath to make the change from the
comfortable shoes
they first started walking with. While trainers have their uses because they are very comfortable and flexible, they also provide almost no ankle support. Quality hiking shoes or boots often feel heavy and uncomfortable to consumers that have recently made the change, but they are soon
broken in
, becoming more comfortable and flexible.
They bring plenty more than just comfort to the table, too, providing the wearer with heel and toe protection that is often lacking in trainers and running shoes. While not as supportive as proper hiking boots, they do provide limited ankle support, greatly decreasing the risk of an inverted ankle, or worse.
1
Asics Gel Resort 2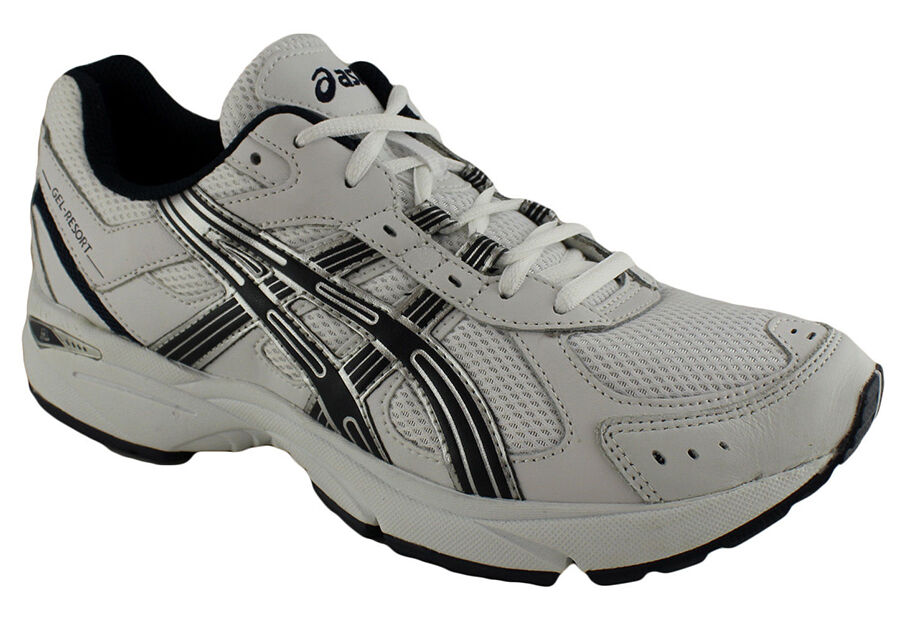 Asics are one of the biggest names in athletic and running shoes, but the famous footwear manufacturer also creates a limited range of specialised walking shoes. The Asics Gel Resort 2 is a quality walking shoe with a gel-cushioned insole to support the feet. The laces reach high up the shoe to provide ample support, and it also has a particularly soft lining and a pleasantly padded lining to help prevent chafing.
---
2
Rockport truWALKzero II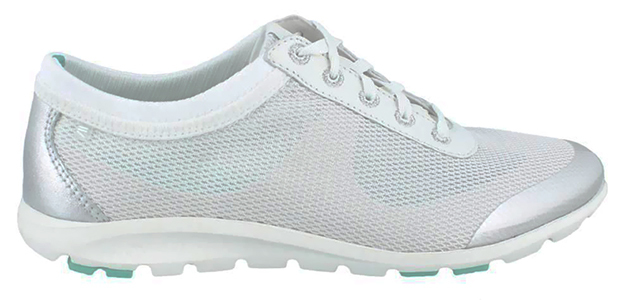 Rockport is a brand highly regarded around the world for the quality of its footwear, and the Rockport truWALKzero II is the result of collaboration between Rockport and the sportwear manufacturer Adidas. The truWALKzero II is a minimalist walking shoe that is very light, yet ruggedly constructed with patented ADIPRENE technology, a highly shock-absorbent material that protects the heel upon impact with the ground. The shoe also features an anti-microbial lining to help wick sweat away from the feet and keep your socks dry no matter how far you walk.
---
3
Merrell Chameleon 5 Waterproof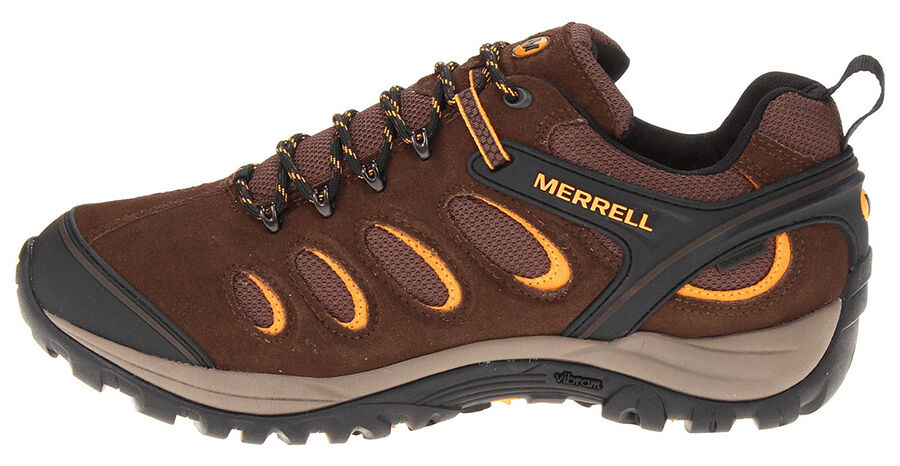 A shoe designed to cope with even the worst weather, the Merrell Chamelon 5 Waterproof is a lightweight backpacking shoe that is sure to keep your feet dry in almost any conditions. With suede leather outer-lining and an M-Select DRY lining, the shoe uses technical materials designed to keep external water out, while simultaneously allowing sweat to evaporate. The shoe also sports a 2 mm thick EVA insole to protect the feet from bruises caused by rocks and debris underfoot, a padded tongue with bellows to keep debris out, and moulded arch supports.
---
4
Salomon Eskape Peak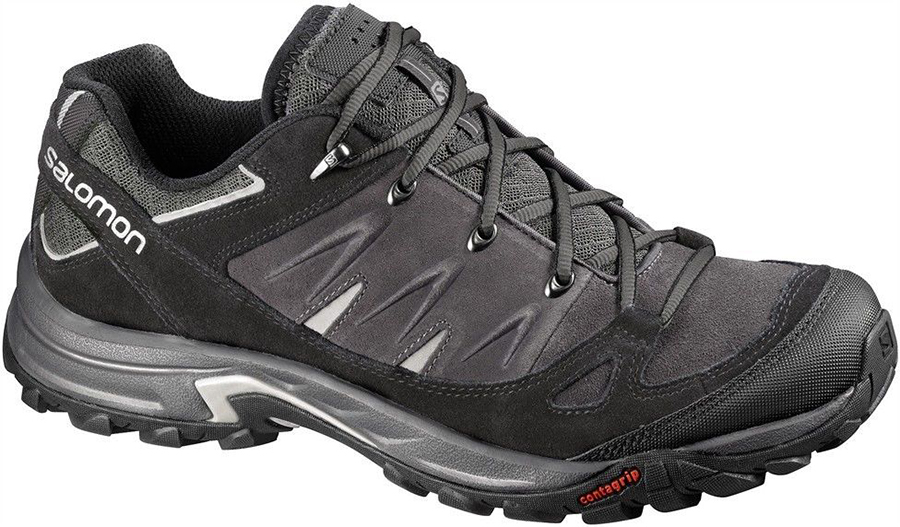 A durable yet relatively lightweight shoe, the Eskape Peak features breathable split suede upper and plenty of protection in the heels and toes. It also sports a padded EVA foam insert similar to those found in the Chameleon 5 so they are sure to be comfortable and require less time to properly break in. The Eskape also uses a patented Salomon Contragrip outsole that is both extremely hardwearing and tactile, allowing for an excellent level of grip on all but the most slippery trail.
---
5
Merrell Tucson Gore-Tex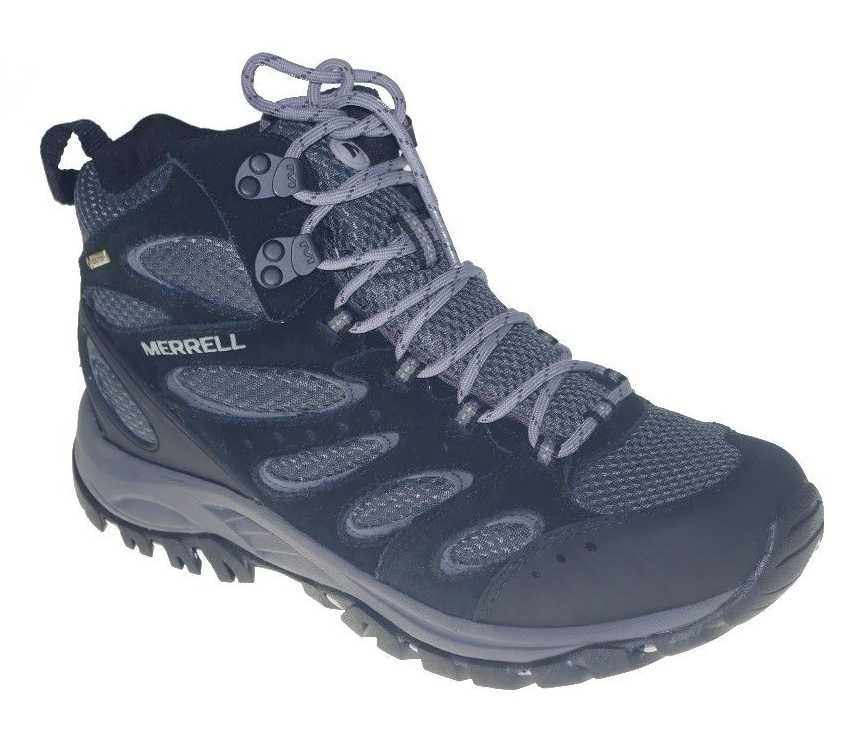 The Merrell Tucson is a mid-height hiking shoe with raised sides to help support the ankles. It also has excellent traction thanks to self-cleaning lugs on the sole that provide superb grip on almost any surface. It comes with a Gore-Tex performance lining to keep your feet dry in inclement weather, and the protective footbed is removable if you find the padding is ample and have a more comfortable walk without it.
---
How to buy men's walking shoes on eBay
If you are a particularly fit walker, or just an enthusiastic amateur, you are sure to find a vast range of quality walking shoes, boots, and accessories in the inventory on
eBay
. Simply find the search box located on every page, and type in the name of the shoe you have decided upon, such as "Merrell Tucson" or "Salomon Eskape". Then, use the filters to quickly find the right pair for you with ease. No matter which brand you choose, you are sure to find the right pair of walking shoes for you on eBay.