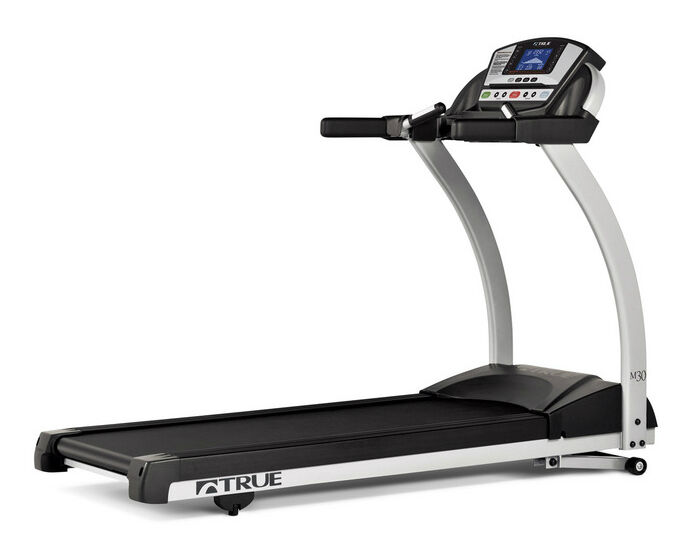 Treadmills are popular workout equipment because they are convenient and allow one to exercise year round. When purchasing a used treadmill, a buyer should take a number of factors into consideration. A buyer can choose from a variety of treadmills including motorised, manual, or incline types. Used treadmills come in a variety of price ranges, just like new ones. The condition of the machine is a very important factor when buying a used treadmill, and the buyer should consider both the age and condition of the machine. Additionally, buyers need to consider getting a treadmill with features such as a heart monitor and consider the levels of incline the machine has.
Although one can purchase a used treadmill from second-hand stores or yard sales, eBay is a great resource for used treadmills as well.
1. Type of Treadmill
When searching for a treadmill, one of the first things to figure out is what kind of treadmill the prospective buyer wants to purchase. Some of the options from which a buyer can choose include manual and motorised treadmills as well as incline treadmills. When trying to choose a treadmill, the buyer should also consider how much space is available for the treadmill.
Motorised Treadmill
A motorised treadmill is one that has a motor that powers the belt. Some of these also come with a number of other features including programmed workouts, a monitor, and a cooling fan. With these models, it tends to be a lot easier for one to keep track of a workout.
Manual Treadmill
A manual treadmill is one that does not have a motor and is moved by the user walking or running on it. These tend to be less expensive than the other machines on the market, and they also usually have fewer features.
Incline Treadmill
An incline treadmill is built to go to a high incline, anywhere from 20 to 40 degrees. These treadmills are great for runners or hikers who want the kind of workout they can get outside. This kind of treadmill usually has a shorter belt than other types of treadmills and might range from 127 to 140 cm in length.
Treadmill/Elliptical Combo
A treadmill/elliptical combo is a good option for the buyer who cannot choose between an elliptical and a treadmill. This kind of machine has moveable arms, so the user can get a full body workout. However, someone who is a serious runner may prefer to get a normal treadmill.
2. Price
Price is an important factor when buying a used treadmill, as the buyer is looking for a good deal. Many people may be looking at used treadmills because they tend to be a lot cheaper than newer models. Like new ones, used treadmills come in a variety of price ranges. The more expensive ones usually have a lot more features. Purchasing a used treadmill might also be a chance for a buyer to get a higher quality treadmill at an affordable price.
3. Condition
The buyer should consider the condition when buying a used treadmill. This means taking various factors into consideration, including the condition of all the parts and how heavily the treadmill was used before. This helps determine the condition the treadmill is in. Part of this also means considering where the treadmill was used; if it was in a gym, the buyer can ask to see if the seller has a service record of repairs that were done to the machine.
Motor Condition
The condition of the motor is very important, because replacing a motor is a big deal on a treadmill. A motor might burn out from heavy use, so a buyer needs to inquire about the condition of the motor and find out if it makes noise.
Previous Use
When considering the condition of the machine, the buyer should look for a treadmill that is no more than five years old. However, this might be different if a treadmill was barely used, because it could be in the same condition as a newer treadmill. If a treadmill was in a gym though, it could have received heavy use, even if it is a sturdier machine.
4. Brand
The buyer should also consider the brand when purchasing a second-hand treadmill. A reputable brand of treadmill is likely to last much longer than a cheaper one. Some of the reputable brands one should keep an eye out for include Nautilus, Precor, and PaceMaster, although there are others as well. When buying a used treadmill, it helps to consider one's favourite brand of machine.
5. Features in a Used Treadmill
When looking for a treadmill, a buyer should keep in mind the features that a treadmill may be equipped with. Some of the more advanced features may only come with more expensive or newer treadmills.
| | |
| --- | --- |
| Feature | Description |
| | Monitors the user's heart rate |
| Incline Adjustor | Allows the user to walk or run on an incline |
| Folding Deck | Lets a machine fold up for easy storage |
These are just a few of the features that treadmills have, as manufacturers incorporate more features with more advances in technology. The buyer should understand what his or her needs are before deciding on a machine so as not to pay for a treadmill with features that may never be used. It might be good to consider what is essential and what is merely a bonus.
6. Source of a Used Treadmill
When buying a used treadmill, it is important to do adequate research on the potential sources for used treadmills. One may find used treadmills through classifieds, yard sales, and through online retailers such as fitness websites. When purchasing a used treadmill from a private owner, take the time to determine if someone else owned the treadmill before the current owner as well as where the treadmill was placed and stored. The online retailer eBay is also a great resource for used treadmills.
Buying a Used Treadmill on eBay
It is very easy for you to find used treadmills on eBay if you know how to take advantage of the site's tools. One of the easy ways to start searching for a treadmill is to do a keyword search. Type keywords, such as "used treadmill", into the search box. If you do not want to search through all the listings, you can also try to narrow the search using filters such as price.
Another tool you should take advantage of is the feature that allows you to communicate directly with the seller. This comes in handy especially for used treadmills, when you may have a lot of questions about the product's condition. This is a great way for you to learn more about a particular treadmill, including how old it is and how often it has been used.
Conclusion
Purchasing a used treadmill is a good investment either as a start to a home gym or as a sole workout machine. Buyers looking to purchase used treadmills should learn about the basic types of treadmills, including manual and motorised. Used treadmills are cheaper than new ones, but they still come in different price ranges, depending on the quality of the machine. When buying a used treadmill, it is important to think about the condition of the machine and how much it was actually used by the previous owner. Treadmills come with a variety of features, some of which are essential while others just make a workout more enjoyable. Buying a used treadmill can be easy if the buyer already knows what the must-have features are before beginning the shopping process.