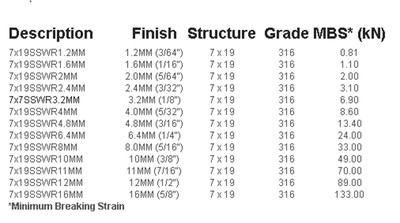 Maximum Breaking Strain
Just the facts… Low Cost Wire just loves to share – so here is a table outlining the Minimum Breaking Strain (MBS) of G316 7×19 Stainless Steel Wire Rope. In calculating the MBS, the load is applied along the length of the wire. If the load is applied perpendicular to the wire, the MBS is divided by a factor of 2.
Maximum Working Load
The Minimum Breaking Strain is related to the Maximum Working Load
If a failure of the wire may result in injury to a person, then we recommend the Maximum Working Load to be 1/10 of the MBS (10:1 safety margin)
If a failure of the wire may result in ONLY injury to property, then we recommend the Maxium Working Load to be 1/5 of the MBS (5:1 safety margin)
The dimensions and specifications of our products that we quote on this page and on every other page on this website are intended to be used for reference only. If product dimensions or specifications are critical to your application, please contact us for assistance. If load specification is critical, Low Cost Wire recommend that you confirm all relevant details before ordering as information may change without prior notice.