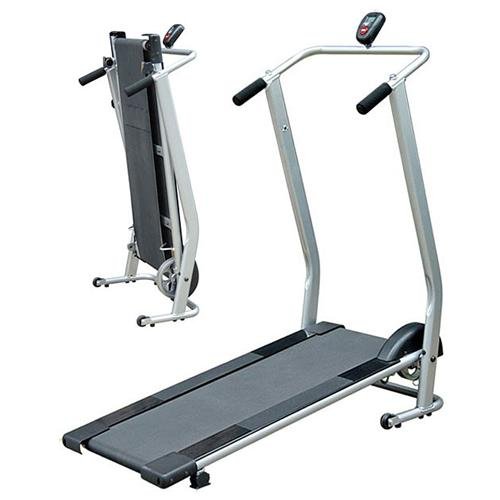 Folding treadmills are a popular piece of home exercise equipment. The folding design makes it convenient for a treadmill to be collapsed and slid under a bed or stored upright in a closet. Folding treadmills come in a number of different designs with a wide array of features. Buyers can choose from economy models that are built for budget-conscious consumers or premium machines that include features found on commercial gym treadmills. Besides features of the treadmill, buyers also want to consider the dimensions of the unit, horsepower of the motor, and the ease of operation. Treadmills can be purchased from sporting goods shops or department stores that have a sports department. Some individual manufacturers market their treadmills directly through online sites or mail order promotions. Sellers on eBay offer folding treadmills for almost any budget.
1. Make Sure the Treadmill Has a Timer
Many treadmill users devote a specific period of time to their workout. Having a timer that can countdown or count up elapsed time can help to monitor the workout and keep the user on schedule.
2. Know How Much Distance Is Covered During the Workout
Having a distance display that tracks revolutions of the treadmill belt can be helpful to determine just how far the user walked, jogged, or ran. For individuals training for a competition, distance is an important factor to monitor. Customising a treadmill workout to achieve a specific distance can be a key to building up endurance.
3. Setting the Speed of the Treadmill Is Critical to Some Users
Being able to regulate the speed of a treadmill may be a critical feature for those individuals who have health limitations. Setting the treadmill to not exceed a certain pace is helpful to some users. Other individuals may want to monitor the speed of their workout to insure they maintain a sufficient pace to meet certain goals. Competitive trainers find speed to be a vital element to gauge the success of their training efforts.
4. Cardio Workouts Require the Ability to Monitor Heart Rate
For a cardio workout to be effective, it is necessary for the person exercising to keep their heart rate at, or above, a certain level. Having a pulse or heart rate monitor on the treadmill allows users to make sure they are meeting the minimum requirements. Individuals with health concerns who can benefit from exercise, but must maintain a heart rate not to exceed predetermined levels, find a heart rate monitor to be an essential feature of a treadmill. Some models offer alarms that can be set to sound if a user's heart rate exceeds or drops below a set limit.
5. Calorie Monitors Are Important to Dieters
If a treadmill user is exercising as a part of a diet programme designed to help lose weight, a calorie monitor is an important feature to have included on his or her exercise unit. The calorie monitor requires the input of a number of factors, either manually or by way of included monitors, in order to provide accurate estimates of calories burned during a treadmill workout.
6. Decide if Incline Grades Are Important
Treadmill users who want to experience the extra effort required to traverse a specific incline or varying grades of elevation during their workout have several decisions to make. The design of the incline treadmill is going to significantly impact how incline grades are achieved. The following chart provides a quick reference of different designs of incline treadmills.
| | | |
| --- | --- | --- |
| Treadmill Type | Advantages | Disadvantages |
| Manual incline | Less expensive than automatic or varying grade treadmills | Amount of incline must be selected before the workout begins; changes require suspending the workout to adjust the grade elevation |
| Automatic incline | No manual elevation is required; setting can be adjusted by the user from the control panel; some models allow changes during use | More expensive than manually adjusted treadmills |
| Varying incline | User can select a preset pattern of incline changes that occur during the workout; can be set to provide a random pattern based on the workout difficulty selected by the user | Usually reserved for commercial units; requires multiple motors and a programmable console; reserved for premium units with a high price tag |
Users must make a price-for-features decision to determine if the cost of the feature is compatible with their budget and the manner in which they intend to use the treadmill. Incline treadmills generally increase the amount of space that is required to store them in the folded state.
7. Budget Buyers Should Consider Confidence Folding Treadmills
Several manufacturers produce folding treadmills and some of the more popular brands are selected because of the features they include. Confidence treadmills are lightweight, easy to fold, and require a minimum amount of space for storage. Smaller dimensions mean the footprint of a Confidence folding treadmill is small enough for an apartment with limited floor and storage space. Confidence has different models that offer varying features dependent on the price of the unit.
8. York Treadmills Are Designed for Home Users
York produces a number of folding treadmill models designed for home users. A moderately priced brand, York treadmills have many of the features of more expensive commercial machines packaged in units that fit the home environment. York offers motor sizes in the one to two horsepower range and are popular choices for users who focus on cardio training during their treadmill workouts.
9. LifeSpan Treadmills Offer Premium Home Units
Buyers looking for a treadmill workout experience similar to gym units should consider LifeSpan treadmills. Folding units with many of the features of larger commercial treadmills are available on several LifeSpan models.
Buying Folding Treadmills on eBay
Folding treadmill buyers looking for the convenience of shopping online should consider the selection of treadmills offered by sellers on eBay. Searching through eBay listings and deals in order to find just the folding treadmill you are looking for is easy. Just enter a keyword, like "treadmill", into any eBay search bar to display a list of sellers offering treadmills for sale. Buyers can narrow their search to specific models by entering exact keywords, like "York treadmill", to only see results that match the selected brand.
After selecting a specific listing, buyers can use the "ask a question" link on the listing page to communicate directly with the seller if they have questions about the treadmill being offered for sale. Complete the sale by using PayPal to fund the transaction for the safest and most secure method of transferring money online.
Conclusion
A home treadmill offers the convenience of working out without the need to make a trip to the gym. Exercise enthusiasts are likely to exercise more frequently when they have the equipment readily available and it is easy to set up for use. Folding treadmills make storing the unit simple and eliminate the need to devote a permanent place to the exercise machine. Simply exercise in the privacy of a bedroom or in front of the television in the living room, and then fold up the treadmill for storage in a hallway closet. Selecting the features that are most advantageous to the user is fundamental when buying a treadmill that provides good value for the money being spent. Selecting a brand that fits into a buyer's budget is the key to a satisfying purchase.