If you're tired of seeing the garden hose lying across your driveway or yard or sick of having to pick it up, then a retractable hose reel is a practical solution.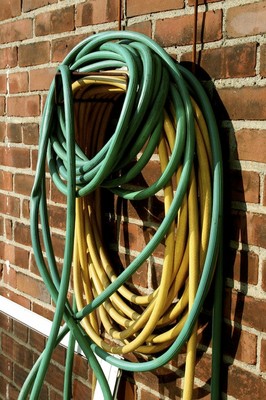 Retractable hose reels or automatic hose reels are useful accessories to help keep your driveway and gardens organised and clutter-free and provide a quick and efficient way to store your hose after use.

The hose is maintained in a plastic housing and can be triggered to automatically retract. The reel usually employs an internal spring which helps return the hose evenly inside the housing and stops it from kinking or clumping.

This means the life of the hose is protected because improperly stored hoses can tangle, kink, crack and leak and the housing also protects the hose from the damaging ultraviolet radiation.

Another benefit of retractable hose reels are that they help minimise the potential of accidents in the workplace or home as hoses left lying around present a major tripping hazard that can result in injury.



Garden hose reels are generally packaged to include the hose, a multi-function spray gun, and installation brackets.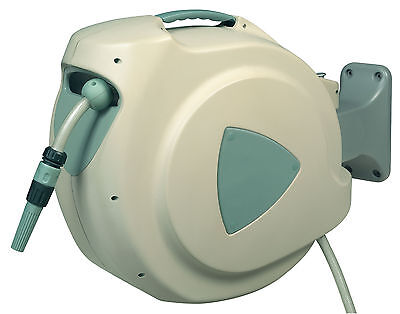 When considering different hose reels first ask yourself how easy is it to use. That is, how easy is it to draw the hose from the housing, lock the hose at the desired length, and return the hose back inside the housing. Many hoses will lock simply by pulling the hose out evenly and releasing the tension at the length needed. The hose can then be returned by gently pulling and releasing it and allowing it to retract. It can then be walked back safely or guided using an arm over arm technique.

Other features to consider include a swivel to allow the hose reel to swing at different angles, a carry handle, and a stopper to prevent the spray gun disappearing inside the housing. Some hose reels are lockable and can be easily removed from the wall mounting and moved between gardens or stored away.

When not in use, releasing the water pressure from the hose will avoid unrelenting pressure on the system and will also help maintain the life of the unit. When possible, positioning the hose reel away from direct sunlight will also help protect the outer housing.

With nothing left to trip over and no more tangling, twisting or kinking, retractable hose reels offer a complete package and are the perfect solution for your garden, patio or driveway.

So get ready for your next outside watering job and enjoy quick and easy garden hose storage.