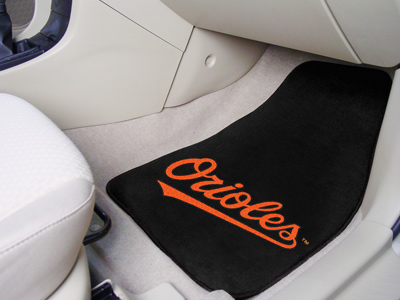 Automotive carpet serves a couple of different functions. It protects the interior of the vehicle from dirt, debris, and spills, and it also adds a stylish touch and a bit of comfort to a vehicle. There are several different types of automotive carpet, including carpet that is sized to fit the vehicle or the boot, and carpeted floor mats that are easy to install and are available for the front and back area of the car.
Automotive carpet is typically easy to keep clean and removable, and the carpet is available in a variety of colours to match the interior of the vehicle. Consumers need shop by types of automotive carpet, and search for items to protect the carpet. Automotive carpet is available to to suit every budget at auto stores or online at eBay.
Types of Automotive Carpet
Automotive carpet is different from standard carpet that consumers may put inside their home. Automotive carpet is created specifically for use in vehicles, and the texture and style of the carpet ensures that the car floors are protected from the elements as well as spills and stains.
Automotive carpet also contributes to the way the car's interior looks. Replacing a vehicle's carpet automatically enhances the look of a vehicle and can alter the interior drastically, making the car appear newer. Car carpet needs to be replaced once it starts showing signs of overuse and wear, and makes the vehicle's interior appear clean as well as improves the resale value of the car. There are a few types of car carpet available.
Moulded Carpet
Automotive carpet that is moulded is created to fit inside a specific make and model of vehicle. The carpet is cut to fit the exact type of car, and meant to fit inside the front or the rear of the vehicle exactly, without the consumer having to cut the carpet or do anything special to customise the carpet. Carpet that does not come already moulded has to be cut by the consumer to fit the vehicle. Most carpet available for purchase is already customised and moulded, so consumers do not have to worry about this.
Loop Pile Carpet
The most traditional style of car carpet until after the 1970s was called loop pile carpet. This old-fashioned carpeting style is made of small loops that form the carpet. This carpet is known for being durable, but is not exactly the softest style of car carpet. Loop pile is generally only seen in older, vintage cars, and it is not as easy to come by as newer types of automobile carpeting. The carpet is not known for being soft or thick, but it is seen as durable and long lasting.
Cut Pile Carpet
A newer carpeting style emerged that replaced loop pile in most vehicles and is still prevalent today. Cut pile carpeting is created with the loops that make up loop pile carpet, but are cut off, producing a pile that is actually softer and denser that the traditional loop pile carpeting. This type of carpet feels a bit more expensive and adds a posh touch to a vehicle that loop pile carpet does not offer. Most cut pile carpet is made of nylon.
Blended Pile Carpet
Today there is still loop pile carpet available for cars, but the pile is made a bit differently than vintage loop pile carpet used to be made. The material is actually a blend of rayon and nylon and though it looks similar to vintage loop pile, it is a bit nicer and more luxurious. For buyers restoring an old car who want a nice carpet that still looks a bit vintage, blended pile is a good option. This type of carpet is also referred to simply as loop carpet. Loop carpet is similar to Berber carpet which consumers may have seen in homes or have in their own home.
Plush Carpet/Essex Carpet
The most luxurious type of automotive carpet that is available for consumers to purchase is called Essex carpeting, which is a type of plush car carpet. Essex carpet is a variation of the cut pile style of carpeting. The main difference is that the carpeting is longer than traditional cut pile carpeting, producing a fuller, thicker carpet that is soft and touchable. Essex carpet is also the most expensive type of car carpet, but for consumers who want the best, it is the most decadent option for a stylish, comfortable carpet for any type of vehicle. Essex carpet is made of nylon and is fade resistant.
Carpet Insulation/Padding
Consumers who are replacing the carpet in their vehicle may also want to consider carpet padding or insulation. In many cases, automobile carpeting comes with padding that is easy to attach to the carpet, but sometimes consumers must purchase the padding separately. Car carpet padding helps soundproof the vehicle so consumers are able to have a more pleasurable driving experience.
Padding also helps prevent too much vibration for a smoother experience while driving the vehicle. Consumers are able to use as much padding as they desire, because although many car carpeting comes with jute padding, the consumer may want a thicker padding, so additional insulation can be used with this padding as well. Some carpets come with mass backing attached. This means that the backing is thicker for the carpet, and mass backing along with additional padding offers a quality experience for consumers looking for a thick, insulating automotive carpet.
Protecting Automotive Carpet
Some consumers may want to protect their beautiful new automotive carpet and keep it as clean as possible, which is where floor mats come in. Floor mats are a great option for protecting the vehicle's carpet from dirt and dust, spills, odours, and pet hair. Mats are fitted to the make and model of vehicle, and there are many types, styles, and colours of mats available for buyers to choose from.
Vinyl/Rubber Mats
Vinyl mats are created from a durable vinyl or rubber material and are easy to clean. They simply need to be washed with soap and water to remove debris when the consumers desire. These mats are generally inexpensive, and are available to fit the front and the rear areas of the vehicle and protect the carpet underneath.
Carpeted Mats
Carpeted floor mats are usually made of soft nylon carpeting and are available in colours to match the existing car carpet. Carpeted mats are luxurious, but they are still easy to remove and clean without ruining the vehicle's original carpet underneath. Carpeted mats are a good option for consumers with children and pets who wish to have the comfort of carpet underneath, but the ease of cleaning that mats offer.
Boot Carpet
Similar to interior automotive carpeting, boot carpet is also available to fit the exact size of the boot for the make and model of the car. Like interior car carpeting, boot carpet is created from the same materials and is available to match the vehicle's front and rear carpeting. Boot carpet is easy to install and is available moulded for convenience.
How to Buy Automotive Carpet on eBay
You can find great deals on automotive carpet when you shop for carpeting and floor mats on eBay. Type keywords into the eBay search box on any internal page, such as "carpet", and navigate to your selection by filtering the keyword by categories, such as Car Parts. Select the make of the car, such as Chevrolet, to see what is available.
Options abound for vehicle carpet as well as floor mats, so it is easy to find what you are looking for. Check with the seller to see if he or she is offering items to bundle together for a low shipping fee, such as padding. Check that the merchant is a Top-rated seller to ensure you are getting a reputable deal on carpet.
Conclusion
One of the easiest ways to upgrade a vehicle's appearance is to rip out the old carpet and replace it with brand new carpet. New carpet immediately enhances the interior of a vehicle, and also increases the car's overall value. Over time, a vehicle's carpet begins to show wear and may be stained, ripped, or smell bad.
Replacing carpet is also a way to restore a vintage car to its former glory. For consumers who enjoy restoring old cars and rebuilding them, replacing the carpet is one of the first things to do in order to create a new appearance for an old car. Some types of carpeting are based on vintage styles, such as the loop pile style of carpeting, which is popular for vehicle restorers to use. Find all your automotive carpet needs on eBay.
automotive carpet|cut pile carpet|rubber mat|boot carpet|moulded carpet