How to Pick an Ergonomic Chair
Up to 80% of Australians at some point, will experience back pain. (1) Recent evidence suggests that approximately 30% of those who experience back pain will not achieve a full recovery and won't return to work until 12 months after the initial onset of their back pain. (2) Prolonged static postures such as sitting can cause both damage and degeneration to your spine over prolonged periods. Therefore, preventing back pain should be a priority for anyone who spends 4 or more hours sitting in a chair. First and foremost you must have a good quality ergonomic chair at your workstation. The wrong chair, will promote poor posture whilst the right chair, will promote good sitting posture. Your ergonomic chair should have three basic features or adjustments:
Adjustable back rest height
- Adjustable seat height
- Adjustable back rest angle
There should also be a 5-point base with castors and some form of lumbar support. Ideally, if your budget permits there are now some great additional ergonomic adjustments you can get on ergonomic chairs. These include:
Adjustable seat pan depth
- Adjustable seat pan angle
- Adjustable lumbar support
- Adjustable seat tilt tension.

The more adjustments your chair offers, the more you can alternate and adjust your sitting posture. It is important to realise, that even prolonged sitting with good posture still leads to damage and degeneration over the long term. The key to preventing this, lies within reducing the amount of time you spend sitting, alternating postures regularly and incorporating movement regularly throughout your work day.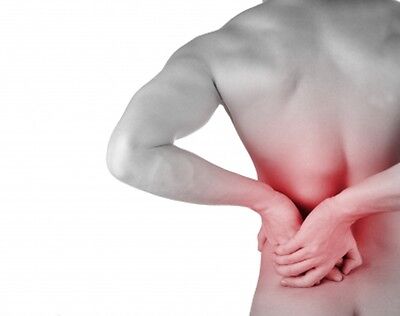 I already experience back pain when sitting, what can I do?
Make sure you are sitting in your chair with good posture. When you first sit down in a chair you should make adjustments in order to appropriately set the chair up for your body. This includes:
Adjusting the height of the seat: Your seat height should be the first thing you adjust at any workstation. The height of the chair must be adjusted so that both your wrists are at the same height or slightly below your elbows. Your hips should be at right angles (approximately 90 – 100 degrees) when sitting in your chair. Now that you have positioned your seat at its correct height, do your feet reach the floor? If they do not, then you will require a footrest to help bridge the gap between your feet and the floor.
Note: The sitting position used above is designed to put your neck and shoulders in a relax position. Sitting too low to your desk may promote "shrugging" of your shoulders as you try to reach up to your desk.
Adjusting the angle of the backrest: the general rule of thumb is to have your back rest angle set at 90-100 degrees in order to promote an upright sitting posture.
Adjusting the height of the backrest: Ergonomic office chairs tend to often have a lumbar support in the lower part of the backrest that is specifically contoured to support your lower back and spine. If you position your backrest too high or too low, this lumbar support will feel as though it is digging in to your hips or into your mid back. One easy way to check if the backrest is too high is to place your hand behind your back. If you can slide your hand behind your back while you are seated you may have positioned the lumbar support too high.
There are a wide range of chairs on the market that contain varying back rest heights. Ideally the backrest of a good ergonomic chair should come up to the height under your shoulder blades. In most cases, these chairs are termed or labelled as a "High backrest chair". If your budget permits, investing in a high back rest chair is a good idea. However if you have a short statue, then a normal back rest height may provide back support up to your shoulder blades already. Taller individuals will always require a high back rest due to their long torso length.
When you are sitting on your chair, your back should completely rest against the back rest and your backside should be sitting right back into the chair. Some people prefer to sit on the edge of their chair however this sitting posture provides no back support and places greater strain on your back muscles due to the constant activation of them. Make sure that your chair wheels move smoothly and freely over the floor when you are moving away from the desk. If the flooring is carpet, you may need to invest in a plastic floor chair mat.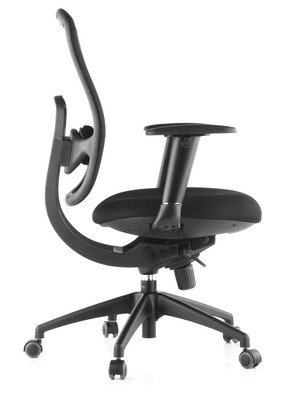 I don't get back pain but I experience leg discomfort when sitting in my chair, what can I do?
Firstly, check the position of your feet. As previously mentioned, they need to be flat on the floor. Avoid resting your feet underneath the chair on the chair feet. If you have adjusted your chair height as recommended above and you can't place your feet flat on the floor, you will require a foot rest. Your footrest should be large enough for both of your feet to rest on it and if your budget permits, select ones that offers a tilt mechanism so you can alternate your ankle joint angles as you require.
Check there is adequate room between the front of the seat pan and behind your knees. Ideally there should be at least a 2 finger wide gap. If you find the back of your knees are pressing up against the seat and there is no gap, you will need a shorter seat pan depth. This is also a similar problem for taller individuals who have more then a 2 finger gap between the back of their knees and the seat pan, however these individuals will require a deeper seat pan.
Check that the seat pan is wide enough for you. Your backside should fit comfortably on the seat pan without any overhanging at the sides of the seat pan. Individuals with larger hips or frames will require a seat pan that is wider and deeper in order to comfortably accommodate their body frame.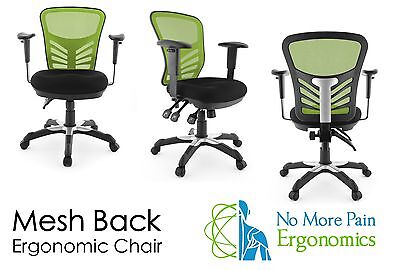 Add a caption
Mesh Back Ergonomic Chair - Click Here to Purchase
Click to Edit Caption
Ergonomic Mesh Back Chair
Easily the best value ergonomic chair on the Australian Market. It provides a moulded seat pan, several adjustments and complete comfort when sitting.

PRICE GUIDE: $219.95 + Free Postage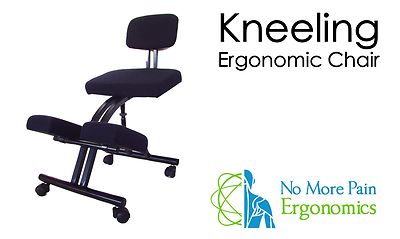 The Kneeling Ergonomic Chair was specifically designed as a solution to alleviate the discomfort in the neck, back and buttocks that some people experience when they use traditional office chairs. The Kneeling Ergonomic Chair is designed to alter the body's sitting mechanics by placing your hips in a gentle forward tilt, which works to increase the curve in your lower back and reduce the pressure spots off your buttocks. This all results in less pressure in your lower back and buttocks as well as an improvement in your overall sitting posture.
PRICE GUIDE: $129.95 + Free Postage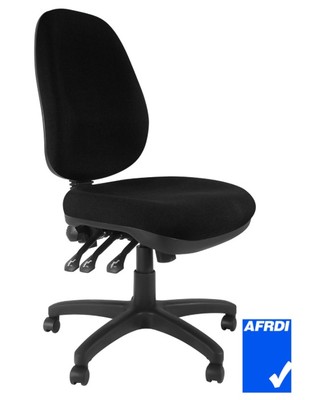 Add a caption
Cura Large Ergonomic Chair - Click Here to Purchase
Click to Edit Caption
Cura Large Ergonomic Chair
The Cura Large Ergonomic Office Chair is the office chair that conforms to your bodies needs. It features dual density foam that makes it the very essence of both comfort and durability. It has a seat pan and back rest that tilt independently to provide the maximum level of comfort no matter who might be sitting in this plush chair.
The extra large seat is another bonus that is especially appreciated by those who have ever had to endure the awkwardness and discomfort of sitting in a chair with a seat that was too small. The high back makes sure that your back and spine have complete support.
The chair is AFRDI level 6 certified which means that it is an ideal choice for most commercial settings and will be able to last through daily use, saving you money over the long term.
PRICE GUIDE: $399.95 + Free Postage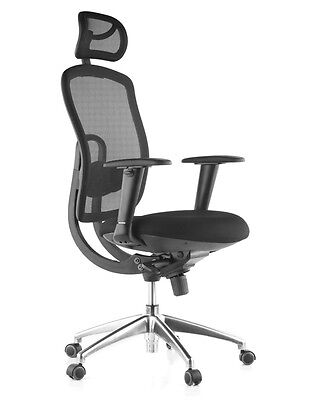 Add a caption
Delux Mesh Back Ergonomic Chair - Click Here to Purchase
Click to Edit Caption
Delux Mesh Back Ergonomic Chair
The Delux Mesh Back Ergonomic Chair is the perfect solution for anyone who spends too much time sitting at their computer. Its unique ergonomic design promotes optimal sitting ergonomics by allowing the individual to make multiple adjustments in order to achieve complete comfort. The extra high mesh back feature moulds to the individuals spine and provides soft, but adequate lumbar spine support.
PRICE GUIDE: $349.95 + Free Postage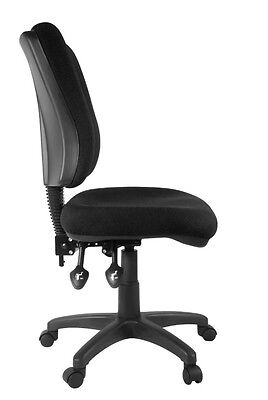 Add a caption
Dexter Ergonomic Chair - Click Here to Purchase
Click to Edit Caption
The Dexter Ergonomic Chair supports your entire spine with a seat and seat back lined with dual density foam. This office chair features a gas lift and a seat tilt so you can find your perfect position, no matter your height. The Dexter Ergonomic Chair is the perfect entry level dual density foam ergonomic chair as it features all the required ergonomic adjustments to help you sit more comfortably.
PRICE GUIDE: $279.95 + Free Postage

1) Briggs AM & Buchbinder R. Back Pain: a National Health Priority Area in Australia. Med J Aust 2009; 190 (9): 499-502.
2) Henschke N, Maher CG, Refshauge KM, et al. Prognosis in patients with recent onset low back pain in Australian primary care: inception cohort study. BMJ 2008; 337: a171.