Everybody loves a train set and LEGO Duplo tracks make it very easy to build your own set.
What is LEGO Duplo? LEGO Duplo building toys are specially designed for children aged 18 months to 5 years. They are called Duplo because the dimensions are double the size of standard LEGO bricks.
---
As with all LEGO products, the tracks are very durable, so tracks from thirty years ago will still make a great railway. The layout for your train set is limited only by your imagination and the number of tracks that you have available. I would recommend starting with a minimum of 12 curves and 2 straights to build a good sized oval track.
LEGO has released three different colours of Duplo train track. They are compatible with each other and with all general Duplo trains, wheel bases and accessories. If you have any battery operated Duplo trains you will need to buy the dark grey or bluish grey tracks as they have grooved edges to provide traction for the engine wheels.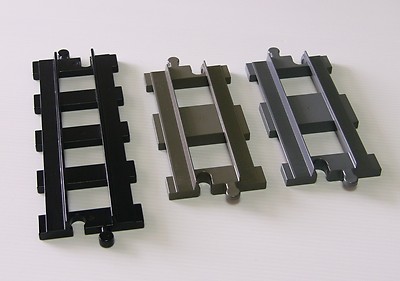 ---
Black tracks
- First released in 1983
Long Curves and Long Straights (4 x 11)
Y Junctions, Crossovers, Very Short Straights (4 x 3)
Bridge with Grey supports. Set # 2717
(Width and length sizes quoted represent the number of studs wide by the number long on the top of the bricks, eg 2 x 8, or the equivalent size)
---
Dark Grey tracks
- First released in 1993
Short Curves and Short Straights (4 x 8)
Switch Junctions, Crossovers, Stop/Go Points, Level crossings
Bridge with Green supports. Set # 2738
---
Bluish Grey tracks
- First released in 2005
Used in all of the Duplo Thomas train sets
Short Curves and Short Straights (4 x 8)
Switch Junctions, Crossovers, Level crossings
Bridge with Red supports and arch girders. Set # 3774
---
Once you have enough tracks then you can construct your Duplo train set.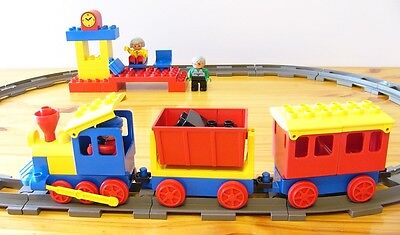 Add some accessories from the many specialist parts or sets available or build your own out of Duplo bricks: Bridges and Tunnels, Cargo hoppers, Fuel stations, Train station platforms, Carriages, Wagons.
And don't forget some people: Train drivers, Conductors, Maintenance Workers, Passengers.
Buy genuine LEGO to ensure quality and durability. All Duplo parts are imprinted with either LEGO or DUPLO.
We buy and sell new and used LEGO Duplo sets and parts. Contact us if you have any questions or need any further information about LEGO Duplo trains, tracks or accessories.
If this Guide has been helpful to you, please take a moment to vote. Thanks
!