Here's a new market emerging within the twin markets of Old Golf Club sales and the collecting of vintage Walking Sticks.....
Sunday Clubs,(Canes and Umbrellas) with golf type heads are called Sunday Sticks (or Sabbath Clubs in the UK).
The Calvinistic prohibition towards golf on Sundays was too great a burden to bear,even for the most devout Scotsman.And so,within no time at all leading up to the turn of the century,the locals where turning up to Church on a Sunday and hitting acorns,stones or even a golf ball on the way home,with the head of a cane or walking stick.
These walking sticks came in a wide variety of shapes.Some where made like iron headed clubs,others where made like small woods and of course also like putters.
The most collectable are those with a makers mark (as most where unmarked-in any way) ,D.Anderson & Sons, Tom Morris and Robert Condie were firms of club makers who did put their own mark to the Sunday Clubs,and so now lead the market in collectability.
Most of these Sunday Clubs measure shorter than a real hickory shafted club,but often have a reverse taper on the shaft or a metal (often brass) ferrule or tip on the end where you would expect to find a grip.
The heads can be made of iron,stainles steel,brass or sterling silver(which often carry a silversmiths's hallmark).The wooden headed clubs tend to sell at a higher price than most,(except the silver headed clubs).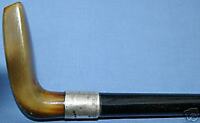 Prices tend to escalate those of hickory shafted clubs,just for the competition from two markets after the same item,being the golf clubs collecters and walking stick collecters chasing the same item.
Expect to pay between $400 and $600 a stick in the current market,however a well used club could be purchased from as little as $100. Anything less,you've proberly snagged a bargin!!
This is the fastest growing segment of the golf collecters market,and so if you find a good club,don't hesitate,once you've found out the orgin and confirmed its genuine.......don't lean on it for too long!!
If you did think this guide was helpful to you (even in the tinyest way),please scroll down and hit the YES button on the bottom left hand side of this page.....thanks a million!