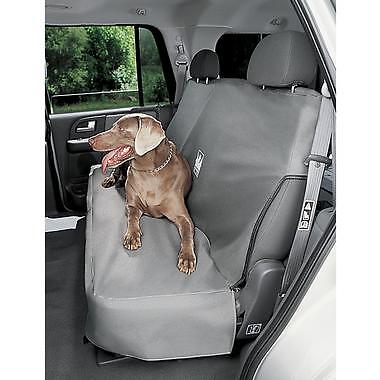 Canvas seat covers offer are a great way to protect the seats in a car from stains as well as wear and tear. When purchasing canvas seat covers, one needs to take many considerations into account. Car seats come in a variety of styles, including solid bench and bucket seats, so the buyer needs to think about the type of seats that need to be covered. The buyer also needs to choose the fit for seat covers because they can be tailored or be generic covers. Other aspects of the design of the car seat, such as whether it has armrests or a headrest, also play a role when selecting seat covers. Canvas seat covers are also available in a wide range of patterns and styles, which make up yet another consideration. After purchasing canvas seat covers, it is helpful for the buyer to know how to clean them and keep them well maintained.
Styles of Car Seats
A number of reasons exist for why an individual should use seat covers in his or her car. A canvas seat cover is a great way to keep the interior of a car clean because it is much easier to toss covers into the wash instead of trying to clean the car's interior.
When selecting a canvas seat cover, it is important to choose one that matches the seats in the buyer's car. The chart below lists some of the types of seats found inside cars.
| | |
| --- | --- |
| Seat Type | Description |
| | A seat that extends the width of the car |
| | A bench seat in which a part folds down to provide more room and versatility |
| | Contoured one-person seat |
| Sport | Rigid seats with padding for high performance driving |
| | Seats that can fold and have a low back |
The style of the car seat obviously has a bearing on the type of seat cover chosen. For example, the seat cover for a bench seat is larger than one for a bucket seat.
Fit of Canvas Seat Covers
One of the things a buyer should consider when shopping for seat covers is how they fit. A buyer can purchase generic seat covers anywhere, but there is no guarantee that these can fit very well. If concerned about finding well-fitting seat covers, the buyer may want to consider custom-fitted seat covers.
Custom-Fit Seat Covers
Custom-fit seat covers are ones that are precisely designed to fit seats in a specific vehicle. They are the equivalent of a tailored designer suit. This kind of seat cover takes into account the position of the headrest, location of the seat belt, and every other relevant detail. The seat covers are designed so well that they fit as if they were designed and installed in the factory.
Semi Custom-Fit Seat Covers
Semi custom-fit seat covers are ones that are tailored to certain styles of seats, such as those for sport utility vehicles or compact cars. Most of these styles do not offer access to lumbar controls though, and they should not be used if the car does not have side-impact airbags.
Universal Seat Cover
A universal seat cover is a generic kind of seat cover. These seat covers tend to be cheaper than the other options because they do not have to be fitted at all. They can also work as a great way to cover up seats before the buyer can get more fitted seat covers for the long term.
Factors to Consider when Fitting Canvas Seat Covers
The buyer should take a number of other factors into consideration when selecting a canvas seat cover in order to make sure it fits well in the car. Some of the factors to consider include the colour and design of the seat cover as well as the design of the seats, so that the seat covers have a tailored fit.
Design of Seats
It is important for one to think about the design of the seats when looking for seat covers to match. The buyer has to consider whether the seats have armrests and headrests, and if there are any knobs or levers that the cover has to accommodate.
Armrests
If the seat has upholstered armrests, they should also be covered by the seat cover. However, the armrests do not need to be covered if they are plastic, because these are easy to wipe clean.
Headrests
Headrests come in different designs, including fixed and adjustable models. The seat cover needs to accommodate the headrest in some way by either covering the headrest or by providing an opening where the headrest can fit through.
Car Seat Adjustments
Some seats also have different levers and knobs to adjust the seat and provide lumbar support. It is important that the seat covers have openings that keep these levers accessible.
Colour and Design of Seat Covers
When selecting the colour and design of seat covers, it is a great opportunity to add a personal touch that involves one's favourite colour. Additionally, one can also find car seats in various designs. This is a chance for the buyer to represent his or her favourite sports team or favourite dog breed. Regardless of one's interests, there is a novelty seat cover to match.
How to Clean Canvas Seat Covers
Although canvas seat covers are a great option, it is important that the buyer knows how to clean them. It is a good idea to first vacuum the seat covers to remove dirt or debris. Then, remove the canvas seat covers and lay them flat on a clean surface. After preparing a bucket of soapy water, any stains should be carefully scrubbed using a brush and the soapy water, avoiding damage to the canvas when scrubbing. Lay the covers out to dry, taking care to not leave them in the sun because it can fade the fabric. Covers should be cleaned on a regular basis so that they stay in good condition.
Buying Canvas Seat Covers on eBay
If you are looking for canvas seat covers for your car, you can take advantage of all the tools that eBay has to offer. One of the easier ways to start your search is with a keyword search. Enter relevant keywords, such as "canvas seat covers", into the search box that you can find on any eBay page. Do remember that eBay has other tools you can utilise to find canvas seat covers. For example, you can find canvas seat covers by choosing applicable eBay categories that deal with car parts or by browsing through eBay ' s Deals pages.
Also, consider the using the feedback tool. This lets you see what other buyers have said about a specific seller on eBay, including reviews of the seller's products and services. After you have made a purchase, you can also choose to leave feedback to help other buyers make their decisions.
Conclusion
Canvas seat covers are a great way for a car owner to protect the vehicle's upholstery and keep it clean. Canvas seat covers come in various styles including those that fit bucket seats and bench seats in cars. Additionally, the buyer may choose between seat covers that are custom fitted and generic seat covers. When looking for canvas seat covers that fit properly, the buyer should take into the headrests or armrests as well as seat adjustments, as seat covers look better when they accommodate these features. One can also choose from different seat cover designs that can reflect one's own tastes and preferences.
When buying canvas seat covers, eBay can prove to be a useful resource, owing to its large selection of products and networks of sellers. By understanding how to use the website effectively, it is easy to find and purchase the ideal canvas seat covers for one's car.
Canvas Seat Cover|Seat Cover|Car Seat Cover|Custom Fit Seat Cover|Car Accessory