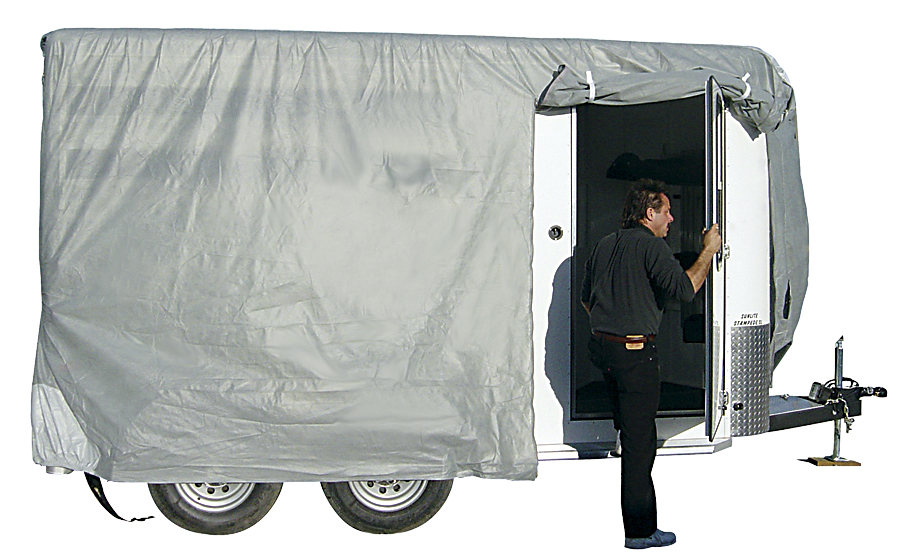 People spend thousands of dollars on their caravans to provide safe and fun trips for themselves and their families. Between the cost of the caravan itself and all the travel expenses that come with it, people find it very important to protect their investment by purchasing caravan covers. Caravan covers are used to protect people's caravans from the elements, and to keep the caravans looking their best. Caravan covers can be located at different stores that carry caravans and caravan accessories, and online at eBay.
When searching for caravan covers, buyers should be aware that there are some that are able to protect entire caravans and some that are meant to protect only individual parts of caravans. Determining the type of cover needed is essential to find the right one for the caravan.
Types of Caravan Covers
There are several types of caravan covers available, and each one is designed with a specific purpose in mind. Depending on what an individual is using the cover for, and how extensive the period is that the cover is being used, there is a special cover that suits those needs. For example, a cover for a pop top caravan is not designed to cover all types of caravans and neither do all covers protect a pop top caravan in the same manner either.
The types of caravan covers include general caravan covers, towing covers, roof covers, hitch covers, and wheel covers. Some types of covers are more suitable than others and provide more coverage, so it is important to know what types of covers are available in order to adequately protect the caravan.
General Caravan Covers
Caravan covers come in many different types and styles, depending on the size of the individual's caravan, and some are more expensive than others. The general caravan cover is the most common and most used type of cover. It covers the entirety of the caravan from the top to the bottom, and covers all the sides as well. This type of cover helps protect against all the elements, including protection against rain, sun, frost, and condensation.
General caravan covers also help protect caravans against scratching caused by foreign objects impacting the caravan. A person wants this type of cover if the caravan is put in storage or if it is remains in one spot for an extended period of time. Many people find that purchasing a brand new caravan cover is ideal for protecting their investment.
Towing Caravan Covers
A towing caravan cover is a specific type of caravan cover used for protecting the front of a caravan while travelling with the caravan in tow. This type of cover shields the front of the caravan from flying debris such as rocks and dirt, as well as keeps stains from insects that impact the caravan. A towing caravan cover is a typically less frequently used cover, as it is mostly used during travel when the caravan is being towed. This type of cover is ideal for people who travel frequently.
Caravan Roof Covers
A caravan roof cover is one that covers the roof of the caravan and protects it from many external elements. The sun's rays are very harmful when a caravan is left out of doors, because the heat has the ability to dry out the seals that keep the roof from leaking.
Weathered seals allow moisture to enter and warp the roof causing interior leaks. Fixing these leaks and replacing the seals is often a very expensive process and one that is easily avoided by using a roof cover. A cover of this type is often used for caravans that spend extended time periods in the open.
Caravan Hitch Covers
Another popular type of caravan cover that people tend to seek out is the caravan hitch cover. This type of cover protects the hitch from damage while the caravan is in motion. Keeping the hitch in good repair is essential so that the connection to the vehicle remains tight and safe. These types of covers are relatively inexpensive and often even come with a general cover as well. This type of caravan cover is ideal for anyone to have who travels frequently.
Caravan Wheel Covers
Covering the wheels of a caravan is often just as important as covering any other exterior portion of a caravan. Like other parts of a caravan, the wheels are subjected to harsh environmental conditions when left outdoors. Wheels that are left unprotected for extending periods of time may become rusted, cracked, and brittle, which makes driving the caravan unsafe. A caravan wheel cover is especially important for people who live in their caravans or who are unable to store them in a protected location. Many people find that purchasing a used caravan wheel cover is a great value and still affords adequate protection.
Affordability and Quality
One of the main reasons that some people do not cover their caravans properly is that they often find the expensive of obtaining the covers to be too prohibitive. While there are some covers that are less expensive than others, the quality of the caravan covers is not always the same. The cost of covering a caravan varies depending the size and the type of material that the cover is constructed from. Covers made from cheap plastics are not as durable as some other types and are not ideal for periods of extended use when the caravan is continuously exposed to harsh weather conditions. Over time these covers can crack and tear leaving the caravan exposed again.
Finding covers for caravans that are able to protect them adequately is extremely important, otherwise the investment in the covers is wasted. Cheaper materials are suitable for short-term use, but eventually need to be replaced, causing an additional expense. Buying high-quality used caravan covers is one way that people can get great covers and save some money as well.
In order to safeguard a caravan completely, it may be necessary to purchase more than one type of cover. Finding offers that include multiple covers which are bundled together often saves a buyer more money than purchasing each cover separately.
How to Buy Caravan Covers on eBay
Many people enjoy shopping on eBay because there are a large number of individuals who sell their merchandise there. A large number of sellers usually means that the variety of items for sale is extensive, so there are more choices for getting great deals on covers to fit almost any caravan need a person may require.
Another reason people enjoy shopping on eBay is because the site is very easy to locate items by performing a simple keyword search on any page. If you are looking for a brand new cover for a caravan hitch, you can type words such as "brand new caravan hitch cover", and all items tagged with those keywords are returned in the search results for you to browse through.
Conclusion
Because the investment for a caravan is often a large one, it is important to make sure that the caravan is properly cared for with a cover. There are a wide variety of styles of caravan covers to choose from, and each style offers its own unique type of protection. A general cover helps to protect the caravan from many elements; however, it does not protect other areas of the caravan when it is in motion.
That is why it is essential for people to review their needs before investing in these types of covers. Becoming familiar with the various types of caravan covers while also making the purchase affordable can make the final purchase decision a much easier process.
caravan cover|towing caravan cover|caravan roof cover|caravan hitch cover|caravan wheel cover