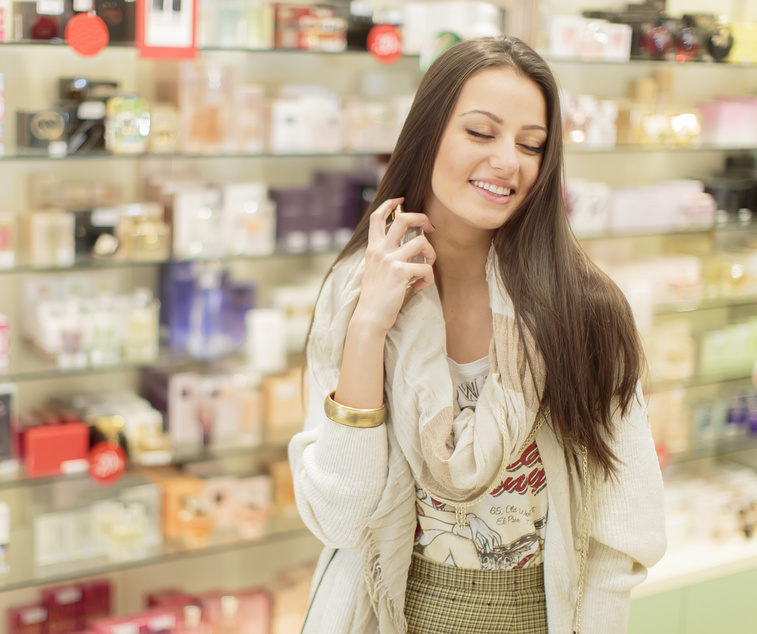 Every woman needs a good fragrance to keep her spirit up throughout the day, and one of the best fragrances that can do just that is Chanel No. 5. This popular perfume from Chanel does not only smell good, but it also embodies the scent and personality of an outgoing yet sophisticated woman. Buyers who already know and love Chanel No. 5 should have no problem choosing their bottle of this perfume. Other buyers might benefit from knowing more about Chanel No. 5 characteristics and fragrance types available to choose and buy the perfect bottle for their own use or as a gift for a loved one.
Fragrance of a Chanel No. 5
Chanel No. 5 is one of the best selling perfumes in the world. In line with Coco Chanel's desire to have a perfume 'which smells like a woman', this fragrance has all the notes that instantly make people think of a beautiful woman strolling in a field of flowers. Chanel No. 5 has a simple and prominent floral scent, which anybody can notice with even one whiff of this fragrance, yet also boasts a number of other complex, and pleasant notes in its composition. In the following table consumers can learn about all the scents they can find in this ladies' perfume.
Scent Notes

Definition

Elements

First impression of the perfume

Aldehydes

Neroli

Ylang-ylang

Bergamot

Lemon

Middle

Main body of the fragrance

Takes time to develop on the skin

Iris

Orris root

Jasmine

Rose

Lily of the valley

Base

The heaviest scent notes

Last the longest in a perfume

Amber

Sandalwood

Vanilla

Vetiver

Patchouli

Musk
In general Chanel No. 5 is a floral-aldehyde group and can perfectly suit any woman who loves warm, floral scents. Buyers who get a bottle of Chanel No. 5 can expect the clean freshness of aldehydes from the first spray of this perfume, along with the lingering fragrances of rose and jasmine. All the scents in this perfume do not overpower the wearer, but are definitely noticeable.
Perfume Longevity and Sillage
Longevity and sillage are two important criteria that all perfume users value. The longevity of Chanel No. 5 on a user's skin is outstanding. Whether users spray the perfume on in the morning before work, or when going to a romantic dinner at night, the fragrance is sure to remain on the skin for as long as users need it to.
Sillage refers to the trail of fragrance users leave behind. A strong sillage means that the perfume diffuses into the environment well and projects its fragrance for others to feel. On the other hand, a weak sillage means that the perfume remains close to the skin, rather than spreading far and wide to grab others' attention. Chanel No. 5 is a perfume with a moderate sillage, which means that its fragrance does not spread very far from the wearer.
Fragrance Type
Chanel No. 5 is available in a number of types including parfum, eau de parfum, eau de toilette, and even as soap. Depending on their budget and needs, buyers can choose any type of fragrance they like. These different types of fragrance have the same scents but differ in their concentration and strength.
Parfum
This refers to a perfume with 15 to 40 per cent fragrance oil. A Chanel No. 5 parfum is the strongest No. 5 perfume in the market, and is a great investment for buyers who already love its scent. A parfum lasts the longest when compared to eau de parfum and eau de toilette, but often has the weakest sillage. The notes in this perfume are also often very rich and complex, enabling the wearer to enjoy it completely.
Eau de Parfum
The concentration of fragrance oil in eau de parfum (EDP) is typically between 10 to 20 per cent. This is a very common perfume type as it is not too strong, yet very noticeable to others around the wearer. EDP generally has the best sillage, making it a great perfume to wear on dates. However, it might also be too strong for some people.
Eau de Toilette
Eau de toilette (EDT) generally has less than 10 per cent oil, but it may sometimes have up to 15 per cent. It has a lighter and less complex scent than EDP, and is therefore cheaper as well. Buyers who are not sure if a certain fragrance is for them can invest in an EDT.
Chanel No. 5 Eau Premiere
Eau Premiere is actually a different version of Chanel No. 5. It has all iconic essences of No. 5 but without the crisp aldehyde and other strong scents. Compared to the original No. 5, this is a simple, fun, and friendly scent that is great for daytime wear. Eau Premiere has a strength comparable to the Chanel No. 5 EDT, and longevity close to the EDP.
How to Buy Chanel No. 5 Fragrance on eBay
You can find a variety of Chanel No. 5 products on eBay. Locate the search bar and look up ' Chanel No. 5 Eau de Parfum', or other suitable search terms, to find the product you want. Take note of the volume, condition, and price of the perfume before selecting the one you want to buy. You can also check out the eBay Deals page to discover Chanel and other perfumes at very attractive prices. Chanel No. 5 is a classic fragrance that is a must-have for almost every woman. By knowing the strength, intensity, and volume of perfume you want in your bottle, choosing the right Chanel No. 5 fragrance should be an easy task.