Deck lighting or Patio lights can be easy to install with lots of DIY kits on the market, it just depends on what look you are going for and how long you want them to last in your deck. If your looking to replace or install some new LED Deck Lights here are a few tips to get you started.
First you'll need to measure out your deck or patio and add up the measurements and see how much of your deck you want to light up. This means do you want to place your lights every metre or every 2m's? Do you want your lights perfectly symmetrical or can they be at odd measurements and still look good?
Second you'll need to see how much cable you are going to need to get from your power outlet to your first deck light and then how much cable you'll need in between each light, write all this down before you start researching.
Third are there any special requirements your deck needs, for example if your decking boards are 90mm wide, do you want a light that is small or large and how will that fit in with your boards? E.g for a 90mm board, a 35mm or 45mm LED decking lights will be plenty, this will mean around a 30mm hole to be drilled leaving plenty of room on the board either side. Also think about how much light you want on your deck or patio, are you after a subtle effect or deck lighting that will give off a lot of light because it is a large area?
Lastly you need to make sure you are choosing deck lighting that will last, LED decking lights are the latest technology and built to last thousands more hours than halogen lights, plus they are more energy efficient only using .1watt each and give off less heat than old halogen lights.

We also recommend when you are researching that you make sure that the kit you are getting contains a waterproof outdoor transformer, as some kits can sell outdoor lights with an indoor transformer, this isn't what you're after. You'll need at least an outdoor rated IP64 transformer to last alongside your led deck lights.
Hope this helped give you some insight to replacing your deck lights or installing new deck or patio lights. If your after quality deck light kits that will last then make sure you visit our store to transform your deck today, just click on the link below: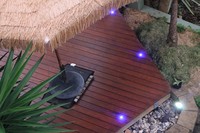 Please be sure to vote on our guide if you found it helpful.
Thanks