I Love Cibie driving lights, there was a time when they were the best money could buy, maybe they still are :) everyone who needed the best driving lamp bought them, most of the worlds rally teams have at one time or another used them, LeMans cars used them......

Oscar/Super Oscar
They come in spot, drive and fog lens's. Spot has a clear lens, the other two might be hard to work out from photos so ask the owner. Early ones have a grey painted back and chrome rim, later ones are all black. The lower mount comes loose and some have been "fixed" by drilling out the original aluminium rivets and replacing with bolts, ugly but it does work. As supplied they are NOT waterproof, which does nothing for the not too flash reflector coating!!!! you need to seal them up with electrical tape around the gap between the rim and main housing (and anywhere else water can get). Why are they like this? they are French..... good but quirky :)
UNFORTUNATELY, the plating on the reflector is not as long lasting as a lot of other lesser brands (Im being nice). Once this starts to detoriate the lamps are NOT WORTH OWNING, they are junk, you will need to buy new reflector assemblies. People say "still work ok" this translates to "the bulb works" you could be buying an expensive bulb.....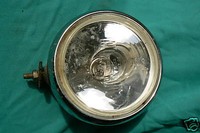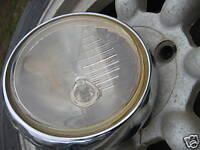 this is a good one (spot lens) This one is a dud (drive lens)
You cannot "re-chrome" the reflectors, they arn't chrome for a start and the process is expensive IF you could remove the lense from the reflector, they are a ONE PIECE unit. Chrome is no where as reflective as the original coating anyway so forget it!.(they are vacuum aluminised from new) not sure if new production ones are better, hopefully they are.
You cannot buy a new glass "lens" you have to buy an assembly and they are NOT cheap, an Oscar/Super Oscar lens assembly is about A$150 each!
I wonder why people do it but why buy something used for more than its new price? unless the reflectors are mint factor in A$300 for a new pair then add postage and the price of the lamps? bargain ? doubt it.
Funny thing is you can get new Oscars for A$360 (Oct 2014) plus postage........ so why muck about with old ones past their use by date? If you stick with the damaged reflectors, be prepaired to be shocked at the lack of light these will give you, probbaly worse than a set of $40 K-Mart specials......... I would buy new Cibie's as they are still so much better then the average lamp its not funny.
You can also buy these in shops (you know, shops in buildings, not cyber space) CHEAPER than on here, yes you might have to ring around, probably even visit the shop, give it a go it might be a fun outing.... :) you might save some money. BUY NEW ONES!!!!!! dont muck about with lamps that are now past their best. Shop around, prices vary.

Yellow lens
These are for use in Europe (France and ?) they do not denote original , rare and expensive fitment from a rare car (insert name of favorite expensive car).They are common in Europe!!! Some yellow lens fog lamps were sold in non Europan countries, if you like the look buy some but dont pay over the odds. Id use the yellow fog lamps on something European pre mid 70's. There are yellow tint driving lights but these are rare outside France (and illegal for use in some countries that require white light only from the front - not including fog lamps) Does the yellow tint make any difference? dunno but cars today with fog lamps use clear lens's. Fog lamps are for low speed illumination low to the front and side (usefull for tight Rally sections to see the edges of a road). They are useless at highway speed, if your travelling at 100K's and see something in the fog light beam, you just hit it.

Cibie 45 and other types
Cibie made lights for everything from Military/Industrial to Bicycles, they can be your standard replacemant headlamp. Dont overpay for a standard headlamp, dont overpay because someone has included "Masserati" "Porsche", "911" etc into the description. Seems to be the thing to do now, chuck in some expensive makers name and charge $600 for a $50 driving lamp, DONT GO THERE! . On occasion there are make specific mounts for Cibie lamps (usualy Oscar/Super oscar) these may be needed for a restoration, dont pay silly price for added in lamps, buy the lamps cheap later.
The 45 was sold for a long time and is suited for tight spaces, its not as good as later rally lamps but well suited to earlier cars (if the correct look outweighs light output for you ). Watch for reflector corrosion, even the "stainless" housing can pit in extreme conditions. They take a different cover to Osc/Sup Osc.
Rectangular and others? the "Oscar +" is ok for tight spots on late 70's and on cars. The rectangular things are more about looks than anything else, avoid them if you need light. beware corrosion on any. Some of these non Oscar Lamps were used in on rally/off road cars as reversing lamps.
.
.
This guide is designed to help people without technical knowledge and prevent them wasting their money on junk so if you found this helpfull or you think it will help save people from wasting money please tick the little tumbs up thing at the top :)