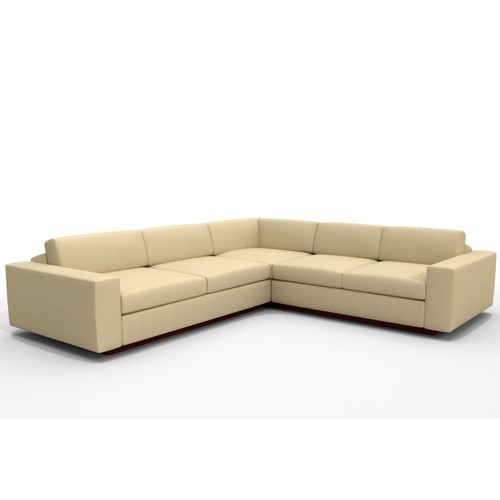 A corner sofa provides an inviting, comfortable seating area in any living space. Corner sofas have numerous advantages. For example, they offer lots of seating room in a small space. Because a corner sofa sits in the corner of a room, it has a comparatively small footprint. Additionally, because of its design, the corner sofa encourages conversation without isolating the occupants from other activities in the room. Shoppers should decide on the appropriate size, select specific features they require, and choose the sofa materials before shopping, if they want to make the best possible purchase.
Considerations when Purchasing a Corner Sofa
When purchasing a corner sofa, buyers should take several factors into consideration. Firstly, they must measure the available floor space to avoid buying a sofa that is too big for the space. The choice of material is also an important factor, as differing materials look and feel different, and some last longer than others. Choosing colour, plain fabrics, or printed fabric needs careful thought, to make sure the new sofa complements the existing decor.
Size
Corner sofas are ideal if there is only a small amount of available space. However, the area must be large enough for guests to manoeuvre around the sofa. Even though a corner sofa looks the perfect size in a photograph or in a showroom, it may be a different story when the sofa is delivered. Measure the sofa before purchase, and then mark out the shape and size in the final location. This should provide an idea of what the sofa looks like once installed. An armless sofa also gives the sense of more space in a room than does one with arms.
Material
Corner sofas come in many different materials. The choices can seem daunting at first, and choosing wisely depends largely upon how much abuse the sofa must endure. Buyers with children and pets should choose a hard wearing, easy-to-clean material, such as leather or faux leather. Leather is very durable, and fits well in both modern and traditional rooms, but it is difficult to repair and it can feel hot in the summer.
Cord fabric is ideal for families with children. It is very soft, but is also very hard wearing. It is easy to clean, and the ridges in the woven fabric create small pockets of insulated air that warm the sofa. Cord is durable and easy to clean.
The combination of cotton and polyester is a common, long-lasting material used for corner sofas. It does not crease easily, and it is easy to clean. The cotton and polyester blend is machine washable. It is long lasting, but is prone to unsightly pilling over time.
Colour
There is such a wide range of different colours and patterns available that it is sometimes difficult for buyers to choose. Many people choose a neutral colour, such as beige or grey, which complements most colour schemes. Even a neutral coloured corner sofa can be jazzed up with the addition of a colourfulthrow or cushions. A bright, colourful corner sofa needs to the centrepiece of a room. If there is too much colour in a room, including furniture, the room can look and feel too cluttered.
Types of Corner Sofa
Modern corner sofas are available in numerous styles. Some are multifunctional, while others boast features such as a recliner or footrest. Consumers also need to choose between left hand, right hand, and sectional corner sofas.
Corner Sofa Bed
A corner sofa is the ideal shape for turning it into a sofa bed. The sofa has a bottom section on sliders that quickly and easily pulls out to create a double bed. Ideal for one room apartments, a corner sofa bed has space underneath to storepillows and a duvet.
Recliner Corner Sofas
A reclining corner sofa has one or more sections that fold out into a reclining chair. The reclining seat is usually at the end of the sofa, and has at least three different reclining positions.
Left Hand, Right Hand, and Sectional Corner Sofa
When choosing a corner sofa it is important to decide whether a left hand or right hand corner sofa is required. The choice of which corner sofa to buy depends on what side the armrest is on. A left hand corner sofa has a right hand arm unit and a right hand corner has a left hand arm unit. A sectional corner sofa gives homeowners flexibility when positioning of their furniture. Rearranging the living area is not a problem if the corner sofa is in sections. Sectional corner sofas are much easier to transport, and can be easily manoeuvred through small doorways and up staircases.
How to Buy a Corner Sofa on eBay
Buying a corner sofa on eBay gives you a broad choice of items and lets you shop from the comfort of your own home. By entering a few simple keywords into the search bar located on every eBay page, you can browse through all of the available search results. To narrow your search to the most appropriate items, you can filter the search results by price range, seller location, and condition. You should view the seller feedback scores before purchase to ensure you buy from the most reputable sellers.
Buying a corner sofa allows you to create a warm and inviting conversation area, and to place extra seating in a small space. eBay sellers offer competitive prices across both new and used corner sofas and the user-friendly website makes purchasing the corner of your choice easy and straightforward. Also check out the great furniture deals eBay offers.