DeWALT 20V MAX XR 18 VOLT SYSTEM
COMPATIBILITY WITH XRP 18 VOLT TOOLS

Gday Folks,
It`s guide writing time again and today we`re going to have a look at the New XR 20V max tool range from dewalt and it`s compatibility with the older XRP 18V range that Dewalt has had on the market since 1996. Yes the XR range has been a long time coming. Since the XRP range was well known for being the toughest tool range on the block Dewalt really hasn`t had to hurry to upgrade anything.
Midway through 2011 Dewalt started to release the new XR 20V max range of tools and it`s the most exciting thing to happen in the world of cordless tools since Milwaukee released the M18 series about 18 months or so a go.
Firstly just to resolve a one small thing for people with the name of these tools, i think a lot of folks out there will think these are 20 volt tools as the marketing people at dewalt intended, but in reality they are 18 Volt.
How does that work then?
I can already hear you asking.
Pretty simple really Dewalt do the same thing with 10.8V tools calling them 12V Max. Now your probably catching on already. The batteries when they sit at idle are 20 Volts but when they go into a tool and get put under load the output is 18 Volts. So the reality is that the 20V max tools are really 18 Volt tools with a fancy name. Milwaukee started that when they called the M12 series 12 volt tools, when in fact they are really 10.8V tools, just the same as Bosch or Makita makes. With that said i hear makita will rename their 10.8 gear to 12V to keep in line with what others are doing. Essentially it`s a sneaky way of marketing to give the appearance of more power from higher voltage. So i hope that`s clear. 20V max XR tools are really 18V tools.
Now lets cut to the chase, the main thing i want to talk about here today is the compatibility of the new XR 20V Max tools with the older XRP 18V tools, and the short version is that nothing at all is inter changeable. The XR 20V Max tool range is a whole new line of tools with slide type batteries and not the pod style with a spout like we`ve all been used to looking at for the last 15 years or so. So there`s a new style of slide type XR 20V Max battery, new XR charger and a whole new line of xr 20V Max tools.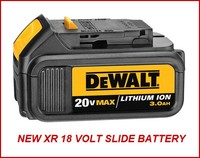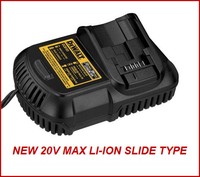 As you can clearly see there`s no way an XRP battery will fit an XRP tool, so i hope that`s clear for everyone.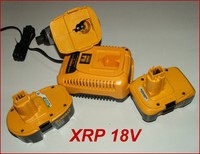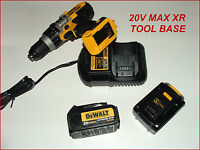 I have yet to see any type of adapter to allow charging of older types of XRP batteries in the new XR charger either like makita made for the LXT charger. So at the moment it`s a whole separate 18v platform with nothing being able to be used from one system to the other. Forget about making an adapter to use the newer XR batteries in XRP tools because there is no low current voltage detection in the old XRP tools and so the XR battery would be ruined on the first discharge.
For guys who have killed a tool and still have lots of XRP batteries and a working charger, i`d simply say replace the tool, if you asked me. I`ve used all the new XR tools and yes they are very very nice, and yes they do get great run times, have great power and much better ergonomics. But at the same time the XRP tool range has been tried and proven for 15 years as the toughest tool range on the market and i wouldn`t bother replacing those tools with the new range unless i was buying a whole new kit anyway and all my old tools were getting a bit sad.
As far as new comers to the market who are buying a new kit then check out the XR 20V max range for sure. Yes you`ll pay a little more but it will be worth it. The new DCD985 hammer drill feels so much like the Makita BHP454 being well balanced, has a great grip and when i put it on the scales next to my makita 454 there was only 200 grams difference between the tools with a battery. I was quite surprised since i`m used to the heavy weight and nose heavy DCD950 being the flagship for dewalt.
The Impact driver and other tools are also quite impressive as well. I`ve used the DCF885 1/4" impact up against my makita BTD141 and was also quite impressed with it`s speed, balance, weight, power and grip. All in all a very good tool to use and the whole range so far seems to be quite a leap forward for dewalt. If i was going out tomorrow and replacing my Makita LXT gear with something else i`d have a hard time looking past the new XR range that`s for sure. The only thing i never really liked about the dewalt drills and some of the tools was the extra weight, grips and poor balance particularly with the DCD950 renown for being nose heavy and a hand full for more precise jobs but also known for being the most durable drill on the market. The makita or hitachi tools always seemed nicer to pick up and actually use on a project.
But i think that`s all changing now and dewalt has really come through with the goods this time. Outstanding run times and better battery protection is some of the main advances with this new XR system. The new XR tools have smart technology in the tool and battery to adjust the way a tool discharges a battery, according to the demands of the user. These newer batteries will protect themselves against heat damage in a similar fashion to the hitachi and Milwaukee li-ion batteries and switch off if they get too hot or over discharged. That`s a big bonus since those types of batteries take damage at 50 degrees C and that`s really easy to achieve that on a hot day in a large tool that`s doing constant hard work. They are a lot more idiot proof than the previous XRP li-ion batteries and will be much harder to damage.
Well anyway when i get time we will take a better look at some of the new XR tool range in more detail but for the moment i just wanted to get the point across that Dewalt now has 2 totally separate 18v li-ion ranges of tools that are not compatible in any way what so ever.
So nowadays XR 20V max tools take slide type XR 20V max batteries eg DCB180, DCB200, DCB201 etc.
And the older XRP tools can be used with all the pod style 18V batteries with a spout whether its XRP ni-cd or XRP li-ion packs such as DC9096, DC9180, DC9181 etc, etc.
So i hope that helps someone out there because i`m sure there will be a lot of people wondering now what`s what with these new Dewalt XR 20V max tools.
Please click on vote yes if that help you it only takes one click and lets me know it helped you. That makes me want to write more guides and it also helps other people see this information easier as it ranks higher.
:)
Cheers and all the best until next time,
Brendon@ SchmidtTools
Copyright 2014 Schmidts Power Tools, All rights Reserved.