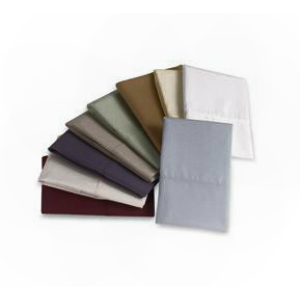 Deep-Pocket Sheet Set Buying Guide
Deep-pocket sheets are bed sheets made for use with thick mattresses and are specially designed to stay in place, while providing the maximum amount of comfort possible. These can be used with pillow-top mattresses and beds that have a mattress topper.
Deep-pocket sheets are available in a number of styles and colours, and are made from a variety of materials. The following guide shall examine the key aspects buyers should consider when searching for deep-pocket sheet sets, and will detail how to find a desired set on eBay.
Deep-pocket Sheets
More and more mattresses are being made with thicker measurements in an effort to increase comfort and provide better back support. Because of this, buyers may encounter difficulty finding a sheet that will cover the entire mattress and stay in place when the bed is being used.
Deep-pocket sheets are fitted and have pockets that stretch over the corners of the mattress, which stops the sheet from slipping. Deep-pocket sheet sets are available to buy for all bed sizes, and range from slim single bed options to larger king sized bed sheets.
Sizes
Buyers need to be aware of the exact measurements of their mattress to ensure they buy a sheet that fits. As mentioned above, deep-pocket sheets can be bought for all bed sizes, and will have a depth of between fifteen to twenty two inches. A measuring tape can be used to find the dimensions of a mattress, and all buyers should check the 'Description' box on the item page of a deep-pocket sheet listing for details of exact measurements.
Materials
Deep-pocket sheets are made from the same materials as normal sized bed sheets, and as with normal sheets, deep-pocket options with higher thread counts will be more comfortable but also more expensive. The following are some of the most popular deep-pocket sheet materials:
Sateen Cotton

Sateen cotton deep-pocket sheets are 100% cotton, have a very high thread count and a glossy sheen and soft touch. Long-fibre and combed cotton threads are woven to make sateen cotton, and these threads are then soaked in lye followed by acid. Soaking the threads in lye and acid strengthens the material and makes it more durable, and also creates the distinguishable sheen.

However, sateen cotton sheets are prone to creases and pilling. This material should be washed on a gentle cycle, using a mild detergent, and can be dried with a cool dry cycle. A benefit of using sateen cotton is it does not require fabric softener or other chemicals to be added to the washing process for it to retain its natural softness. Sateen is also highly resistant to mildew and this is a benefit for people who suffer from allergies or asthma.

Egyptian Cotton

Deep-pocket sheets made from Egyptian cotton will be considerably more expensive than the other materials mentioned here, but this material is made to last several decades. Egyptian cotton sheets don't produce much lint, and are not prone to wrinkling even when they are slept in.

This material has excellent breathable qualities that will keep the buyer cool in summer months, but it retains body heat making them also suitable for use in winter months. Egyptian cotton can be machine-washed and tumble dried at low temperatures, but if the sheets are blended with another material then this may not be case. Always check the care instructions before washing Egyptian cotton sheets.

Cotton

Standard cotton deep-pocket sheets are the least expensive option, but are still very comfortable and are the most common material used. Cotton is durable, has excellent breathability and is very easy to clean. Buyers should look for deep-pocket sheets with long staple cotton and high thread counts as these will be more soft to touch, and will retain this softness for longer. It's a good idea to use fabric softeners when washing cotton sheets, and try letting the sheets dry naturally rather than tumble dry.

Flannel

Flannel deep-pocket sheets can be made from wool, cotton or synthetic materials, and this material's distinguishing characteristic is its loosely knitted stitching. Flannel sheets are inexpensive, and are soft and warm making them ideal for use during colder winter months. Thread count is very important here, and again buyers are advised to search for sheets with high thread counts. Flannel does not wrinkle easily, and can be washed and dried in hot and cold settings without buyers needing to worry about shrinkage.
Colours and Styles
As previously mentioned, deep-pocket sheets sets are available in a range of designs and colours, and choosing a visually interesting set can reinvigorate a bedroom.
· Striped sheet sets can add texture, and buyers can choose from subtle or bold variations of colour. A striped sheet set can be used to coordinator with a colour that is already represented in other furnishings in the room.
· Deep-pocket sheet sets with prints look great and can liven up a dull room. There are plenty of print options to choose from, and some of the more popular styles include prints of flowers or plants.
Buying Deep-pocket Sheet Sets on eBay
All buyers are advised to search for deep-pocket sheet sets on eBay as the site has a large selection of bedroom products sold at much lower prices than those found in home stores. To find deep-pocket sheet sets, take the following steps.
· Log onto eBay.com.au and click on the 'Shop By Category' tab, followed by the Home & Garden heading. On the following page, click on the Bedding title, and then the Sheets link found towards the bottom of the 'Categories' table.
· Buyers can use the 'Size' filter on the left of the page to list relevant bed sizes only. When this is done, buyers should type Deep-Pocket Sheet Set into the search bar and press enter.
· The 'Material' filter can be used to quickly list sheets made from specific materials only. These materials include Egyptian Cotton, Flannel and Silk.
· As previously stated, buyers need to be aware of the length, width and depth of their mattress and they should make sure that these measurements correlate with those of the sheet.
· The adjustable price slider can be used to list deep-pocket sheet sets that fall within a particular price range.
· Buyers should also check the Description box for information regarding composite material and thread count, and again if this information is missing it can be requested using the 'Ask A Question' feature.
· eBay Deals is a section of the website where items are sold at reduced prices. All buyers should check here for deep-pocket sheet sets on special offer, as new items are constantly being listed. To locate the relevant section, first click on the 'eBay Deals' link found at the top of every page. On the next page, click on the Bedroom title found in the Home & Lifestyle tab. Bed sheets can be found towards the bottom of the page.
Conclusion
Deep-pocket sheets are specially made bed linen that can fit over thicker mattresses that measure a depth of at least fifteen inches. These sheets have special pockets and these stretch over the corners of the mattress to keep the sheet fitted and in place.
Deep-pocket sheets can be made from a number of materials, and buyers should keep in mind the thread count, as this relates to the softness of the material. Buyers should also be aware of the measurements of their mattress, and should look for a sheet set that fits those dimensions.