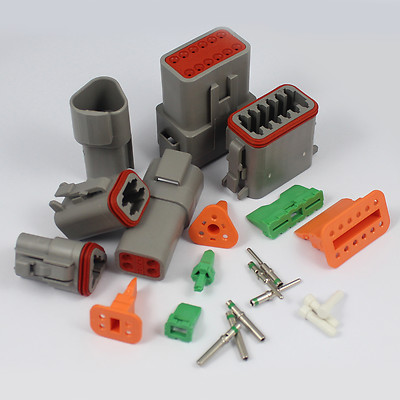 Deutsch DT Series
The Deutsch DT Series of environmentally-sealed connectors is specifically design for cable-to-cable applications where even a small degradation in the connection may be critical. They provide one of the most reliable connections at a low cost for 2 to 12 cables.
The housings are moulded from thermoplastic material and silicone seals allow the connector to withstand extremes of temperature (-55C to +125C) and pressurised moisture. They can accept either a solid-copper crimp type contact for critical circuits or a stamped and formed alternative where low cost is a priority. A specific crimp tool to correctly prepare the Deutsch contacts costs approximately $60.
Inserting and removing contacts requires no special tools and - once they are in - the contacts are locked in place by dialectric fingers which are formed as part of the housing. Contrasting coloured 'wedgelocks' (orange and green in the image,
right
) are then inserted to secure the contacts in place.
Deutsch DT connectors are suitable for automotive (chassis, cabin, engine bay, drivetrain, interior, aftermarket accessories, caravans, 4X4), marine, harsh environment and heavy equipment applications where reliable connections need to be made quickly, easily, and at a low cost.
Deutsch DT Caterpillar-Specification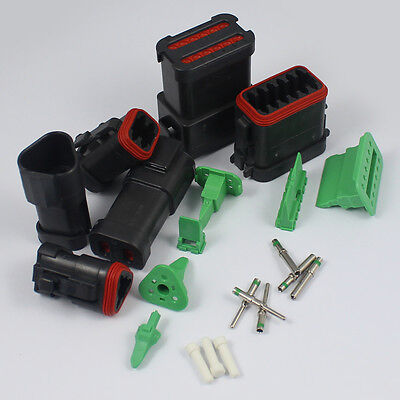 Another type of Deutsch DT connector commonly referred to as 'CAT-spec', these connectors are actually a DT Series with several added options to improve sealing and resistance to damage from vibration. For those reasons Caterpillar and Harley-Davidson use this type of connector on their products. Think of these as an uprated version of the connectors above with a slight price premium as a result.
The Caterpillar-spec DT connectors are most easily identified by their black housing. This type has improved seal retention on the plug and a cap on the rear of the housing to retain each connector's rear wire seal. As previously mentioned, they are an OEM specification on Caterpillar and Harley-Davidson machines but are suited to any agricultural, commercial, industrial or automotive application where the connector is subjected to excessive vibration, dust or moisture.
If you're looking for a solution in any of the following areas the Caterpillar-specification would be worth considering: automotive (Harley-Davidson, V-Twin or two-stroke motorcycles, off-road, ATV), agriculture, marine, harsh environment, plant & heavy equipment.

Deutsch DTM [Motorsport] Series
The Deutsch DTM Series of motorsport connectors feature a miniature (#20) contact with an enhanced design based on the world-class, field-proven Deutsch DT Series (shown above). The DTM connectors are smaller than their stablemates and designed to be used in harsh environment applications where reliable signal circuits are critical to operating performance: motorsport.
Typical applications include on or around the engine, the driveline or the interior of a vehicle. In fact, everywhere data signals (engine management, FP, airflow, lambda, EGT) or critical electronic circuits (instrumentation, fire suppression, ABS, TC) operate, the DTM connectors provide peak connector performance.
The low-cost, size 20 contacts terminate AWG 16 to 24 wire. Female contacts feature spring loaded fingers which are protected by a stainless-steel hood. This provides positive axial alignment while mating and helps prevent probe damage during testing.
Like the DT series, thermoplastic housings offer wide operating temperatures (-55C to +125C) while silicone seals on the rear of the connectors and internal peripheral interfaces allow the DTM connectors to withstand moisture and fluids. DTM: the choice of leading motorsport engineers.