I was looking for a Breitling for Bentley watch on ebay a few days ago and found that their was one with a starting price of $610 USD with one bid on it. Right now the bid is at $1,425. I have been trying to get ebay to warn the bidders and myself i have been contacting the seller to mention it is a fake. what gave it away firstly was the Breitling box. The text is in the common asian text and in a wooden giftbox that breitling never ever made one like that. and the user manual is they extremely popular fake manual. the Breitling Crosswind Special manual. That is THE common fake manual out.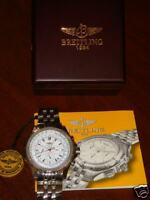 The watch itself is sooo fake becuase it is only japanese movement according to the images. the 3 dials on the 3faces, which are located on the large face are all out. they have the day, month, 24 hr times. NOT A WORKING CHRONOGRAPH LIKE THE SELLER CLAIMS!!!!
The chronograph hand is noticably NOT at the 12 o' clock position. like a real bentley chronograph. Even if the chronograph was running at the time the dials are extremely out.
the back of the watch is not etched, even if it was the 6.75 Bentley model it would have a 5 spoked wheel at the back. THIS IS PRINTED ON WITH DECALS!!!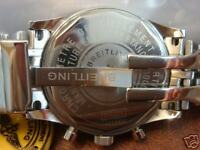 no etching WHATSOEVER!!!!
This watch sells on most replica knockoff websites for $48 USD and the box sells for $4 USD.
I AM ONLY TRYING TO HELP PEOPLE NOT TO BE SCAMMED AS THE SELLER HAS NOT STATED THE WATCH AS A FAKE AND IS NOT PREPARED TO.
Item number: 160217860762