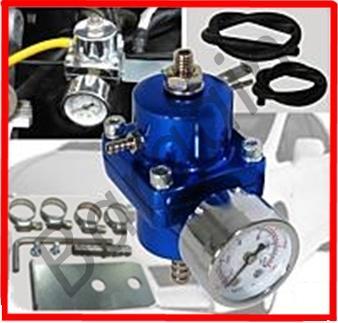 What is a Fuel Pressure Regulator?
A Fuel Pressure Regulator is an important mechanical device used in automobile engines and its purpose is to maintain regular fuel pressure at all driving conditions. Without a
Fuel P
ressure R
egulator
, flow of fuel cannot be kept at normal level, especially after installing new fuel pumps. Fuel Pressure Regulators are available in several sizes and shapes, and you need to buy the right model for your vehicle.
All vehicles come with a Fuel Pressure Regulator fitted as a factory standard part. However, a
performance Fuel Pressure Regulator
can also be installed to either replace the factory Fuel Pressure Regulator or work in conjunction with the factory Fuel Pressure Regulator.
How does a Fuel Pressure Regulator work?
The device is regulated by a spring based diaphragm and a valve. It has an inlet and outlet nipple as well as a fuel return line to redirect excess fuel back to the fuel tank.
An
adjustable Fuel Pressure Regulator
allows you to control the pressure (psi) levels by loosening or tightening a screw usually located at the top of the regulator. The screw then forces the spring diaphragm to change causing either increased or reduced fuel pressure (depending on whether it is tightened or loosened).
What are the benefits of having an adjustable performance Fuel Pressure Regulator?
Here are just a fuel reasons why you should purchase an adjustable performance Fuel Pressure Regulator:
Allows your vehicle to achieve optimal fuel pressure to maximise performance
Automatically responds to an increase in acceleration
Reduces damage to your engine resulting from poor fuel pressure
Better fuel economy.
Lower carbon monoxide emissions from your vehicle
Can either replace or work in conjunction with your existing regulator
Where can you buy a reliable adjustable Fuel Pressure Regulator?
There are many cheap imitations and poor quality Fuel Pressure Regulators available, however these can actually cause more harm than good!
At
Revhead Parts
, we supply high quality performance Fuel Pressure Regulators at affordable prices. Our Fuel Pressure Regulators are quality tested by mechanical experts in a workshop prior to being sold so we are very confident in our products. All our
Fuel Pressure Regulators come with all necessary accessories to allow a quick and easy installation, as well as a detailed instruction sheet. The gauge that is already attached to the Fuel Pressure Regulators allows a reading of between 0 and 150psi so you can be sure that it will keep up with your performance vehicle! Our adjustable Fuel Pressure Regulators come in Blue, Red and Chrome!

Please visit our eBay store by clicking on this link and then select "Fuel Pressure Regulators" from the item list on the left hand side.