Ok so you want to get some racing Harness/seatbelts for your car. You want a good brand , if so buy ONLY from a reputable shop or dealer and only well known brands.
If you see a good brand seatbelt at a really cheap price, sometimes even too cheap for one but there is a pair DONT BUY ! they are cheap fakes. Of all the things you never want to buy are fake seatbelts.
If the description says:
"The above photo shows the actual product. The harness is labelled as SPARCO, however this is not a genuine SPARCO product. The SPARCO logo is labelled for cosmetic purposes only. "
or
"I MPORTANT NOTE: THE SPARCO LOGO PURELY JUST FOR COSMETIC PURPOSES ONLY. "
or
"The package will ship by international airmail from China"
or similar you are looking at a fake. DO NOT BUY.
I've also seen some pretty random stuff in fake seatbelt adds, for example
"two screws will be sent at random"
They mean mounting bolts but if thats the best they can do go to a dealer, DO NOT BUY!.
"Black JDM 4 Point Racing Sport Harness Seat Belt *PAIR"
this was a listing, hopefully gone, for a SPARCO harness pair, SPARCO is an Italian company nothing to do with "JDM" (Japanese Domestic Market) yep FAKES!
If you see diferent brands but they look identical your looking at fakes! check the logo on the genuine manufacturers site, if its not the same its a FAKE!
Do not buy unbranded seatbelts , you need to know that your seatbelt has been made by a high quailty maker, not on the cheap.
Brands that are being faked on ebay include SPARCO , TAKATA (they even fake the TAKATA boxes!) and others. Dont waste your money, if you intend competing the scrutineers know how to pick a fake and you will be sent home, but is it worth you or your passengers life anyway?

a mesage from TAKATA:
Dear TAKATA Racing Customers,
Recently there have been a number of fake/counterfeit or "replica" TAKATA Racing harnesses sold worldwide.
Takata has purchased some of these illegal belts and tested them against industry standards. These products are unsafe and do not meet the FIA strength or crash testing requirements and should not be purchased or re-sold. TAKATA Corporation works very closely with international customs departments as well as national and local police authorities to prevent the distribution of counterfeit TAKATA Racing harnesses and to protect the TAKATA Brand. Original TAKATA Racing products should only be purchased from authorized TAKATA dealers.
Caution should be taken in the purchase and use of any TAKATA Racing Products found at on-line auction websites, automobile user forums and other "indirect" sales as these products may be counterfeit, fake or may have been involved in a prior accident or improperly maintained. Sellers of fake or "replica" harnesses may be subject to legal actions.
Please contact TAKATA directly by sending an email to (go to the TAKATA site) if you have any questions or want to report any counterfeit activities.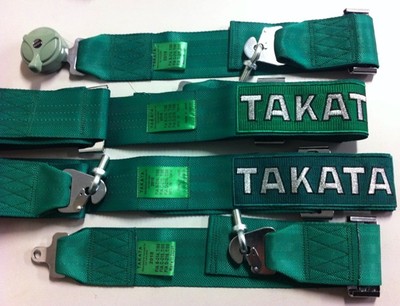 ALL !! yes all the Takata Harness's shown a right are fake! don't use them, you cant rely on them to save your life. ~~please vote for this guide by clicking on the green thumbs up , more votes, the higher in the list of guides this goes and more will see it, thanks!