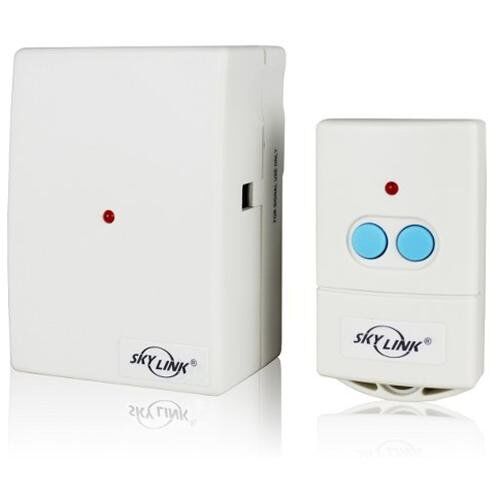 As manual garage doors start to become a thing of the past, electric doors continue to rise in popularity. An automatic garage door not only improves the ease of exiting and entering a garage, but also adds value to a home. In order to work an automatic garage door, a key is required that takes the form of a remote control. This guide looks at all the types of garage door remote controls available and their specialist uses.
When the time comes to replace an old garage door remote, people will need to know what to look out for. To get a good deal, all shoppers need to do is check out the latest offers in eBay's dedicated deals section.
Drive System
Before selecting a remote control it is important to understand what mechanics it is actually controlling. In many instances, it is a drive system that will take shape as one of the following (remember that different drive systems will work with certain forms of remote control better than others):
| | |
| --- | --- |
| System | Description |
| Belt-Drive | The up and coming type of drive system that is becoming increasingly popular on Australian shores. Quiet in operation, it's evident that they are soon going to become the number one choice due to their smooth motion. |
| Screw-Drive | Screw-Drive systems use a basic lift mechanism that moves the door along a single metal steel rod. Considered the most robust and noisy form a of garage door. Due to the lack of parts it is easy to maintain. |
| Chain-Drive | The most mechanical form of garage door and runs using a basic track system. Chain-drive systems are loud and clunky, but they are the least expensive form of garage door operating system available. |
| Computer | The world of garage door drive systems continues to evolve, and it is no surprise that companies are beginning to incorporate technology into their products. Computer-controlled drive mechanisms don't use chains or screws and sit at the forefront of the garage door design. |
Power
The remote control chosen will operate the drive system, but in order for such system to function it needs power. It's crucial that shoppers have the right motor to lift the door, because if not, the remote will ask too much of the system, which may cause faults to occur. It is a rule of thumb that all double doors (no matter their weight), should run adequately on a half-horsepower motor. Single door garages won't require anywhere near as much power.
For those who are noise conscious, look for a motor that is soft starting. Not only are such motors quieter, but they are also more durable and responsive.
Safety
Garage doors are no joke and can be highly destructive if used inappropriately. Everyone is likely to have heard a horror story of how an item has been crushed by a garage door. However, there are many doors that come with a built-in beam that detects when an item is in close proximity, causing it to halt immediately.
Safety mechanisms are a tremendous feature, but depending on the model of garage door, they can wreak havoc with a remote control. They have been known to drastically reduce response times and should be taken into consideration during the shopping process.
Controls, Mini-Remotes and Keypads
The most well-known form of garage door remote is a single button remote control. The single button will operate both the open and close function on doors that are a single speed, while other forms of remote control will have two buttons, (or possibly more) so to allow for multi-function control of one or more garage doors. Shoppers may even be able to find remote controls that are actually mini-remotes, these will allow for maximum control.
Many keypads will look like a doorbell and can be wall mounted when not in use, and positioning the mount near the garage door is inherently useful. The best additional feature to look out for when buying a garage door remote control is an electronic locking function. It is a way to add an increased level of security to a garage, and makes sure that your car remains safe.
Placement
After purchasing a garage door remote control, the question will be of what to do with it. The following are the common ways in which a garage door remote control is kept on a person.
· Keychain
· Wall Mount
· Wallet Chain
· In-car Mount
These are the four main ways to store and transport a garage door remote, with a keychain easily being the most popular. Be aware that in some instances modifications will need to be made to the design of a garage door remote in order for it to be wall mounted, in-car mounted or affixed to a set of keys.

Brands
There is a big market for garage doors in Australia, due to people either updating their current garage or building to add value to their property. As the amount of garage doors grow, so does the need for garage door remote controls. This means companies are popping up all around the country and they continue to look for new ways to increase their business. Expect to find offerings from the following brands in eBay's dedicated garage door remote section:
· Hormann
· HR
· Cardin
· Sommer
· Ditec
· Seip
· FAAC
· Novoferm
· Allmatic
· Marantec
· Beninca
· Dickert
· Fadini
· Chamberlain
When browsing through the listings and casting an eye over a brand's product line, there are a few things to take into consideration. Remember that each brand has a target market in mind. Secondly, avoid overspending on a high tech garage door remote control, as it may have features that will confuse those who aren't already familiar with the item. Thirdly, it is always smart to look at customer product reviews before committing to any type of purchase.
How to Buy a Garage Door Remote Control on eBay
Garage door remote controls were once a specialist item that would set people back a fair amount of money. Thanks to eBay, those days are no more, and online shopping as a whole has made the process far more convenient. It is the perfect arena to save money and get exactly what you're after with little to no fuss. To find garage door remote controls, just select home and garden when on eBay's homepage, before clicking on the home, personal security and garage remotes sub categories.
Be sure to pay for any garage door accessories with PayPal. The reason for this is to make sure that, should any issues occur with the order, the buyer is fully covered for the cost of the item.
Conclusion
The garage is the ultimate form of car security, but it isn't as simple as parking it there and leaving it. Garage doors need to be controlled and operated correctly to ensure that the car remains secure at all times. Garage door remote controls play a pivotal role in this, and with the help of this guide, shoppers are sure to find one that is suitable for them.
There are many specialist stores who claim to have the best prices on garage door remote controls. But in truth, the only retailer who can live up to that claim is eBay, the market leader in garage door accessories.