Gender Reveal Party
With Technology as good as it is these days and with life been so busy and costly many parents to be elect to find out the sex of their baby to be. However having a baby is a whole family and community event so most new parents to be wish to find out the sex of their future child surrounded by their closest friends and family members. One way to make this happen is through a Gender Reveal or Baby Reveal Party. At One Stop Kids Party Shop we have a fantastic selection of themed Gender Reveal party supplies as well as a great mixture of Girls and Boys baby shower parties and decorations and of course lots of solid colour party supplies in pink and blue. With the help of the team here at One Stop Kids Party Shop you will be set to throw the best ever Gender Reveal Party.
GENDER REVEAL PARTY
Create a Theme. With a Gender Reveal you still want to pick or create a theme. At One Stop Kids Party Shop we have a gorgeous gender Reveal range at this link Gender Reveal Party Supplies . You can then mix and match our Gender Reveal baby shower party range with solid colour tableware and decorations in baby blue and baby pink. Then decorate the Gender Reveal party table with boys and girls baby shower party favours such as putting our giant blue and giant pink money box banks on either side of the baby shower party table. Perhaps wrap the cutlery up in pink and blue napkins, go with pink and blue cupcakes, lollies and so forth. Go simple with pink and blue cocktails, candles, plates, cups, napkins -- you name it. You can even put pink and blue towels in the bathroom and pink and blue balloons in the bath.

Set the date and invite guests. Send your invitations out at least six weeks ahead of time, so you can get your gender-determining ultrasound and plan your big reveal. If you'd like to nail down those details first, send your invites out at least two weeks ahead. For beautiful invitations try our Gender Reveal Party Invitations. Some guests may not have heard of a gender reveal party, so be sure to include a brief explanation. You could even add to the fun and ask guests to dress in the colour that they think the baby is going to be then you can have teams at the gender reveal for baby shower games and so what, you can have team pink or team blue.

Schedule an ultrasound. It's clear to a skilled ultrasound technician whether you're having a boy or a girl at around 18 to 20 weeks' gestation. Ask the sonographer to write "boy" or "girl" on a piece of paper and place it in a sealed envelope (instead of announcing the sex of the baby). If your baby is positioned in a way that makes it impossible for the technician to accurately determine the gender -- with legs folded in front of the genitals, for example -- ask about scheduling a follow-up ultrasound.
Making the Reveal
This couple has chosen to find out the sex of their baby by asking their local party supplies business to fill the box with the colour balloons of their soon to be child how exciting. Simply give the piece of baby the Sonographer used to write down the sex of the baby to the party shop and they will do the rest.
Gender Reveal Party Games
Thank your guests. As partygoers arrive, ask them to write their name on a slip of paper and place it in a jar labeled "girl" or "boy." Then, depending on your baby's gender, pick out a name from the "correct guess" jar and give the winning guest a candle or scented soap. You could also have your guests' names entered in a raffle and give away a fun prize, such as a gift card to a local restaurant.



Guess The Gender
Upon guests' arrival, have them choose either a blue or pink pin-on bow. Instruct them to mark their pick on the slate board as a way to keep tally and to sport the bow for the duration of the party. When the big reveal happens, award the correct guessers with fun prizes!
Pop Goes The Gender
When you're ready for the big reveal, hand out a popper to all your guests. Patiently count down and when the clock strikes zero, instruct everyone to launch their poppers together to reveal the gender.
Cake Reveal
Some couples Choose to reveal the gender of the baby or find out the gender of the baby with a cake!!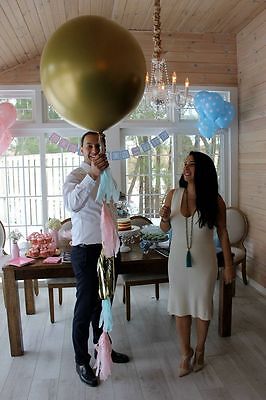 Balloon Reveal
Giant gold Balloon inside contains confetti the colour of the baby to be!!