Goats Milk Soap
Goats milk soap has become a very popular soap in recent years due to its amazing benefits on the skin. Not only is it a moisturiser but goats milk soap also has amazing results with sensitive skin, and skin conditions such as eczema, dermatitis and psoriasis.
There are a few different sellers who sell various types of goats milk soap on ebay.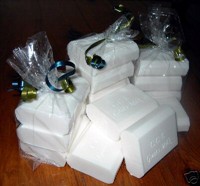 Benefits:
The following are many benefits of goats milk soap over general soaps. Please be aware that these are general benefits, and may not apply to all goats milk soap as the ingredients and quality will ofcourse very from brand to brand.
Usually suits all Skin Types

Often helps sensitive skin problems i.e.. Dermatitis, Psoriasis, Eczema

Ideal for Babies first Soap
Cost:
Generally goats milk soap retails for as little is $2 a cake to up to $14.95 a cake. The goats milk soap available on ebay inmost cases is not only very affordable but also of a very high quality standard.
You should expect to pay anything from under $2 to $4 for quality goats milk soap on ebay.
Testimonials:
Personally we have received countless testimonials as to the benefits that goats milk soap has had on customer's skin.
In some of visible skin conditions cases goats milk soap has been seen to dramatically and often totally reduce the visibility of the effected area.
Purchase:
You can view sellers goats milk soap listings buy searching for goats milk soap.
You can also search google for goats milk soap to find many devoted websites.