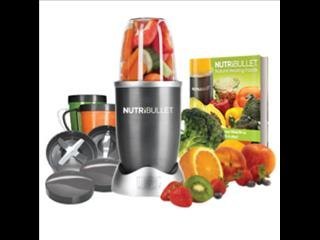 Buyer Beware
In recent weeks there seems to be a a lot of Australian Model (AU plug), NutriBullets on eBay, discounted by 50% or more than the TV-advertised product. Before spending your hard earned money, take the time to check a few things.
They seem like a good deal, but are they?
Anyone who's ever watched some of the infomercials on telly lately, are bound to have seen the NutriBullet advertised. After postage, you won't get any change from $300. So an eBay product that's priced from $122 seems like a good deal. Right? Well, it depends...on a few things. I've been looking at purchasing one off eBay, so I've been taking a close look. Here's a few things that I noted along the way.
Always check the Seller's Feedback
I've noticed a lot of purchasers with zero to a few eBay purchases under their belt i.e. they're 'new' to buying on eBay. For those who are 'newish' to eBay, you'll find the Seller's Feedback right next to their name. It's the numbers enclosed by brackets. Always check the Seller's feedback...especially the 'Negative' and 'Neutral' feedback. Just click on the number to reveal the comments of other people who've purchased from that particular seller. Reading the negative/neutral feedback will give you an idea of 'potential' problems that could arise when purchasing from that seller. For example, if there's a number of comments saying "product didn't arrive", take that on board.
Use PayPal for your purchase
Also for those who are 'newish' to eBay...if you don't have a PayPal account...open one to pay for your purchase. There's a number of reasons for doing this. Firstly, if something does go wrong with your purchase, you stand a better chance of getting your money back through the PayPal system if your seller is non-communicative, or non-compliant. Be aware, that there's a time limit though (about 30 days from the date of purchase - if my memory serves me correctly). Secondly, using PayPal means you don't reveal your financial data during the purchase. This goes for any item purchased online (not just eBay)...always look for the PayPal option. Personally, if I'm buying online and don't see the PayPal option...I don't buy from that online store. Also, once a PayPal purchase is underway, you can choose to debit the funds from your Savings account, Bank Debit Card, or your Credit Card. Handy if you'd rather pay by cash from your own savings, rather than on credit.
Don't be afraid to ask the Seller questions
If there's something that's not covered in the item description that you'd like to know i.e. Is there a manufacturer's warranty? Does the product come with an Australian power plug and is it suitable for Australian voltage?...use the "Ask a question" option. You'll find it immediately below the description of the item...on the left-hand side.
Take the time to do a 'search' for a Review of the product
Use Google, or some other search option and look for "Review of X", or "Problems with X"...with X being the product you're looking at purchasing. People do write reviews, both negative and positive, about products they've purchased and used. Reviews can be handy, especially when you don't know someone who's personally purchased a product you're interested in buying.
A few thoughts based my own research so far...
Refurbished products
A number of the 600w (AU model) NutriBullets appear to be 'refurbished' products, although being listed as 'Brand New/New'. While you can get a decent discount purchasing a refurbished product, I tend to think it's misrepresentation if the product is listed as "New" when it's not. Refurbished products are those that have been returned to the manufacturer due to some fault. The fault can be cosmetic, or can be with one or more components. These 'returned' items are sold in bulk to a company/person who repairs the damaged part/s...and then on-sells the product. Note the repairer can be a 'manufacturer authorised repairer', or 'non-certified repairer'.
Personally, I have questions about non-certified repairers making electrical repairs to a product i.e. Am I at risk of electrical shock? or Was the electrical fault repaired correctly...a.k.a. Is it going to last more than a month? Australian electrical standards are pretty strict...which is a good thing. I prefer that an electrical product, if repaired, is done to Australian electrical standards.
Products seem to be coming out of Malaysia
I don't have a problem with foreign products, but some sellers are listing themselves as Australian sellers, when they're not. Personally, for any product more than a few dollars...I choose to buy from an Australian seller first...simply because it keeps the money in the Australian economy.
You only need to look at products from Ikea, various clothing labels, and the iPhone to realise that Australian consumers pay 300%-1000% mark-up on identical products. For example, a faulty NutriBullet can purchased, returned, repaired, and resold in the UK for under $80 (AUD). Same for the NutriBullet sold in the US, which is around $85 (AUD) for non-refurbished, brand new item. I'm aware that Australia is a ripe hunting ground for overseas sellers, manufacturers, and re-sellers wanting to sell their 'new' products at heavily inflated prices...and their second-hand products at more than the cost of the 'new' one in the originating country. Once again, it's about money flowing out of Australia, and getting what you think you're paying for i.e. a 'New' product.
Items being predominantly sold as 'Private' listing
Granted...if you're buying a special lotion or cream for a rash in an embarrassing place...it's OK if the item is listed for sale/auction as 'Private'. But an electrical appliance makes no sense...unless of course a seller is trying to hide something. When a customer leaves 'negative/neutral' feedback for a Seller on a non-private listed item...other potential customers can view the details of the product that the comments refer to. Not so with a 'Private' listed item. Yes, you can see the comments left e.g. "arrived in a million pieces, and poorly packaged", but you have no idea what the comments relate to. The item could have been a jigsaw puzzle being given as a gift...or a NutriBullet. Try and get into the habit of naming the product in your feedback, whether it's negative or positive. e.g. "Nutribullet arrived in a million pieces, and poorly packaged"...it just helps other eBayers when making their purchasing decisions.
Pre-purchasing option on NutriBullets
Many Sellers are offering a "Pay now at this fabulous price...and you'll get your product in X amount of weeks" option. I found one Seller whose feedback indicated they had charged over $260 each for a number of NutriBullets using this method of sale. Needless to say the (negative) feedback predominantly stated, "Item wasn't received". I counted over $3000 worth of NutriBullets that hadn't been delivered...before I gave up. It was a 'scam'. If the Seller doesn't have the physical product in stock...there's a greater potential for things to pear-shaped.
Another potential problem with the "Pay now and we'll deliver later" option, is that delivery could be delayed longer than the Seller states. If this occurs, and the delivery extends past the 45 day mark (which isn't unusual when buying from a foreign country)...you're basically stuffed. Meaning a refund, even if the goods were paid for using PayPal, would be almost impossible. There's a few reasons why a Seller wouldn't have the physical product in stock. Either the bulk shipment hasn't arrived; they're drop-shipping from the manufacturer; or the product doesn't exist.
Unanswered Seller eBay messages
As mentioned, I'm looking into purchasing a NutriBullet myself...so I've been asking Sellers questions about the "New" NutriBullet being advertised. Specifically, "Is the product located in Australia?", and "Is the product refurbished?". As a general rule eBay sellers don't usually take too long to answer a query. Some even answer within a matter of minutes. So when these questions remain unanswered after a couple of days, all I can assume is that the product is either not located in Australia, and/or the product is refurbished. In any case, I won't buy from these Sellers without a response.
BTW
I also noticed the 'Australian Model' 900w NutriBullet being advertised...as a pre-purchase item in most cases. I suspect the majority of these will be 'refurbished', faulty items. Anyway, while doing a search of reviews on the 600w model...I noticed the 900w appears to have a few 'issues' of its own, such as the blades breaking while in use, rusting of S Steel parts, and 'leakage' issues at the seal. I'm personally aware of 'leakage' problems after I purchased the original 'Magic Bullet' some years back. The screw-on blade assembly rarely sealed properly, and when the cup was inverted and put onto the 'bullet' base...the liquid in the cup would sometimes leak out and into the motor. It was too dangerous to use and I ended up tossing it out.
Final 'Tips' for when things go awry
Always keeps the box, invoice, instruction manual, cables etc that comes with your product for as long as the warranty lasts. If warranty is 12 months - keep the packaging for twelve months. Flatten boxes for easier storage. If it becomes necessary to return an item for a refund...9 out of 10 times the seller will have their 'refund' linked to the product being returned in the original packaging with all the other 'bits' such as user manuals etc
Even if you've checked the Seller's feedback carefully, and asked a number of questions...sometimes things can still go wrong after you've paid for an item. Just remember when you're communicating with the Seller...always use the internal eBay messaging system to send and respond to emails. The reason is that it simplifies things should you need to get in contact with eBay or PayPal about a transaction that's gone astray. eBay can access the history of messages between yourself and a Seller, if you raise a 'complaint'.
Lastly...if your Ebay-purchased NutriBullet (or any other purchase) does give up within the first few weeks...get in contact with an eBay staff member directly to get an idea of your options. Just go to your top-left menu bar and Select "Help & Contact" ...then scroll to Select "Contact Us" blue/white button. In order to get the 'Contact Options' menu to become active, you'll have to follow the process: Select 'Buying'/Select 'Buyer Protection'/Select 'Item doesn't match the description in the listing'. The inactive menu options will now become 'active'.

From here you can read about: the eBay 'Money back guarantee' page ( I highly recommend reading this first)...'Open a request' to start getting a refund...or Select the 'Call Us' button to reveal the phone number and 'code' you'll need when calling directly. Either way, remember to communicate only via the eBay messaging system (physically login to your eBay account and communicate from there).