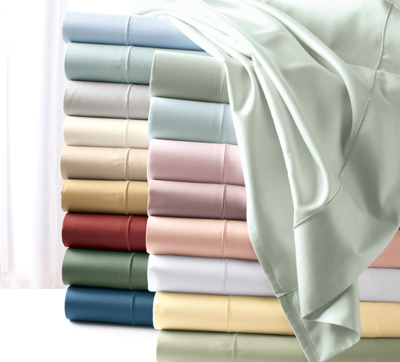 A comfortable bed may just do the trick to send someone to sleep, and that is why many people are willing to spend time, money, and effort to find a warm and soft bed sheet to their liking. There are various factors that make up a comfortable bed sheet, including the material, finish, and dye. Knowing what to look for in these factors is a huge step in finding the right sheet to cover a bed.
Smart buyers should also concern themselves with the weave and thread count of the prospective bed sheet. Understanding whether a high thread count or a low thread count sheet is the best option completes a buyer's journey in getting a comfortable bed sheet suitable for the needs.
Weave and Thread Count
The thread count of a bed sheet, whether a single or a king size, is the number of threads that are present per square inch of the fabric. Manufacturers produce bed sheets by weaving vertical threads, or the warp, with horizontal threads, or weft. The number of both types of threads partly make up for the total thread count of the bed sheet; for instance, a square inch of fabric with 100 lengthwise threads and 100 widthwise threads has a 200 thread count, partly. Other factors that also add up to the count include the number of picks or multiple yarns in weft or if either the yarns used are single- or two-ply.
As a reminder, a brand new bed sheet with one-ply threads lasts longer than those that contain two-ply threads. Buyers must also note that there are sheets that offer a high thread count because of the high number of picks in the weft, but that does not necessarily add to the softness and comfort level of the sheet.
Low Thread Count vs. High Thread Count
Good-quality sheets are those that have a thread count starting from 180, which can be a gauge in determining if a bed sheet has a low or a high thread count. This means that a bed sheet with a thread count of 180 and above is a high thread-count sheet, while anything lower than that number is a low thread count sheet. In addition, at 200 thread count, the bed sheet becomes a better quality sheet. In terms of 100 per cent cotton, sateen, and twill-weave sets, 300 thread-count sheets are more comfortable than those that have a thread count of 400 to 600, according to Consumer Reports.
Also, according to a popular online magazine for home and living, sheets with a thread count ranging from 280 to 400 are breathable, yet absorbent, and feel soft to the skin. In general, any bed sheet between 200 and 600 thread count is a high-quality sheet, and bed sheets that carry more than 600 per square inch are advisable to those that are in a cold environment.
Thread Counts and Quality
The table below shows a number of thread counts, or ranges. The table also shows the corresponding quality and particular use of each item.
Thread Count

Quality/Use

Starting at 180

Good quality with high thread count

Starting at 200

Better quality

280 to 400

Ideal thread count

Breathable, yet absorbent, and feels soft to the skin

200 to 600

High quality

600 and above

For colder environments
The table above can be a quick reference guide of those who are shopping for bed sheets. These data come from Consumer Reports and other relevant sites.
Other Factors to Consider
The thread count plays a huge role in making a bed sheet soft and smooth, but the thread, itself, is the most important element to check out if buyers want to lie down in a bed with a soft and supple bed sheet. Considerations when inspecting the bed sheet for thread quality are its fibre, yarn size, finish, and dye.
Fibre
Manufacturers use cotton or a cotton blend most frequently, and 100 per cent cotton is the most popular amongst buyers of bed sheets. Cotton is a great choice because it is soft and smooth and has a moisture-wicking property. It also rids cotton of dirt because since it is good for absorbing water, it releases dirt quickly when it is wet. There is a broad range of cotton types, and among them, the long staple cotton has the highest quality due to its long fibres that create robust, yet finer, yarns. Buyers can find such cotton in bed sheets with Egyptian, Pima, or Supima tags.
Yarn Size
In bed sheet lingo, yarn size refers to the fineness of yarn, and the higher the yarn size, the finer the yarn. Sheets with a yarn size from 40 up to 100 have relatively fine yarns, and offer a fabric that is soft to the touch. There are also bed sheets with a yarn size of 120, but they are rare and often come at a premium price.
Finish
A bed sheet's finish should not make people suffer from allergies, so it is also important to inspect which type of finish a sheet has. Manufacturers can treat bed sheets with chemicals like chlorine, formaldehyde, and silicon to avoid shrinking, deforming, and wrinkling. Also, manufacturers can apply alkalis on the sheets to produce a sheen. Although many people do not have problems with such production techniques, those who have a strong reaction to the mentioned chemicals can opt for pure-finish sheets, which can refer to sheets that do not contain any chemical or those that do not have any trace of chemicals in them after treatment. Pure-finish sheets may take considerable effort on the part of the user to remain wrinkle-free, but they are great for those who suffer from allergies.
Dye
Commonly, applications of colours or dyes happen on the post-weaving stage when producing bed sheets, and dyed sheets can be stiff until they have been washed a few times. For those who want to instantly feel a very soft bed sheet, they can choose a sheet that contains coloured yarns even before the weaving stage.
Buying Bed Sheets on eBay
eBay lists a broad range of bed sheets that come in different types and sizes, and buyers can even find great deals for bedroom items on the site. To begin a search on eBay, buyers only need to type in some keywords into the search bar found on every eBay page, such as "100 per cent cotton bed sheet". The category and filter system allows buyers to make faster and more specific searches.
For peace of mind, buyers can choose to transact with top sellers of the site who have very high feedback scores and are adept at providing great customer service and on-time shipping. Buying on eBay can be a worthwhile venture if the buyer is prudent in picking out bed sheets and transacting with sellers.
Conclusion
When buying a bed sheet, it is important to consider the thread count of the sheet to determine its level of softness and comfort. Any sheet that has a thread count of 180 and above is a good quality sheet. Also, a sheet with 200 thread count has a better quality, and those within the range of 280 to 400 hit the sweet spot in terms of ideal thread count.
Buyers must also take into account the fibre type, yarn size, finish, and dye when buying a bed sheet. To sum up, a cotton bed sheet with 180 or more thread count, 40 up to 100 yarn size, pure-finish, and pre-coloured yarns is what a buyer should aim for when shopping for bed sheets on eBay.
High Thread Count|Cotton Bed Sheet|100 Per Cent Cotton|Pima|Bed Sheet