This essential guide to Horny Goat Weed will show you how this herb works and give you the knowledge needed in order for you to buy the best extract available!
What Does Horny Goat Weed Contain Which Makes It So Good?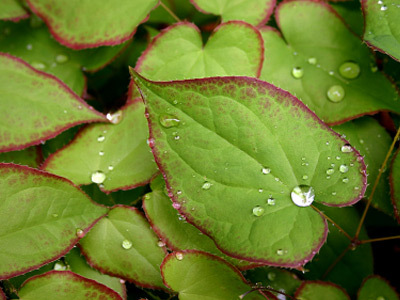 Horny Goat Weed is an amazing herb that has been around for decades, the reason it's such a time tested herb is because it works exceptionally great for all things sexual health related.
The key to buying the best and most effective Horny Goat Weed supplement becomes clear when one masters the understanding of how it is that this herbal supplement actually works, 'works' meaning how exactly and scientifically speaking this herbal remedy is able to increase sex drive enormously and cure erectile dysfunction/impotence in men.
The reason behind why this herb works so well was discovered a long time ago and it all comes down to a single active flavonoid which is contained within all the Epimedium plant species ('Epimedium' being the actual plant name of Horny Goat Weed). The active flavonoid responsible for the power of Horny Goat Weed extract is known by the short and sweet name of
icariin
.
Icariin as stated above is contained within all Epimedium plant species, however this doesn't mean that all Horny Goat Weed products are made equal!
The following guide will take you through how specifically Horny Goat Weed is able to increase sex drive and then how it can be used to treat male impotence (erectile dysfunction). Then in the latter half the article we will show you the most important factors to consider when buying Horny Goat Weed, explaining the different strengths of 'icariin' and which is the best Horny Goat Weed supplement currently available.

How Exactly Does Horny Goat Weed Improve Sex Drive?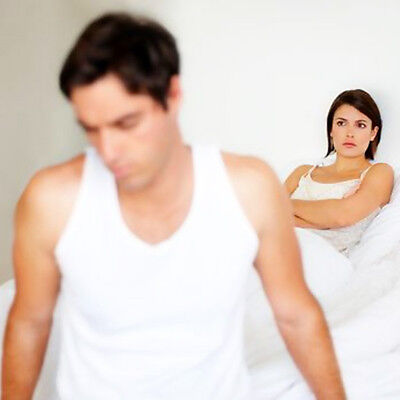 The reason why this herbal extract is so good when it comes to improving male libido is because of the testosterone mimetic effects of the icariin. Testosterone is the primary sex hormone within the male body and is responsible for a man's desire to have sexual intercourse along with many other attributes such as healthy sperm production. When levels of free (i.e. circulating) Testosterone become compromised and reduced, a man will lose a lot of his general feeling of 'get-up-and-go' and this loss unfortunately also includes his natural hunger to be sexually active.
Luckily however, Icariin found within Horny Goat Weed, consists of the ability to increase the delivery and efficient utilisation of free circulating testosterone which in turn leads to raised levels of sexual desire. Increased sex drive is a feature that makes Horny Goat Weed a very unique health supplement, in that no other impotence treatment existent on the market has a side-by-side action of tackling the symptoms of impotence and whilst simultaneously increasing sex drive.

How Does Horny Goat Weed Treat Erectile Dysfunction? & Does It Work Like Viagra?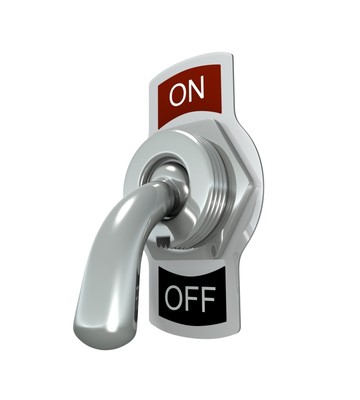 The treatment of erectile dysfunction (male impotence) has been this particular herbs forte ever since it was first discovered in the far east, and it's incredible powers within this area come down to its similarity in function to that of Viagra and other prescription ED treatments. It is hugely common to hear the question 'Does Horny Goat Weed work like Viagra?' and the answer is yes, Horny Goat Weed does work the same as Viagra, although it doesn't work like Viagra in one respect, it works exactly like Viagra in another respect.
The similarity between both these ED treatments is that both Horny Goat Weed and Viagra are proven and tested PDE5 inhibitors, which means that they both increase the transmission of Nitric Oxide in the body enabling increased blood flow and in turn resulting in successful erections. However, the difference between them in this respect is that Viagra is a temporary and highly concentrated PDE5 inhibitor which means that although it works great, it only lasts a matter of hours and usually comes with an array of side effects such as facial flushing, blocked nose and headaches; those being the most common.
The great thing about Horny Goat Weed on the other hand is that it's quite simply not as intrusive and concentrated as Viagra, and as a result very rarely poses any chance of side effects. Another way in which Horny Goat Weed comes in on top here is that instead of being a temporary solution to Erectile Dysfunction, it can be taken for longer periods with the benefits/remedy building up over time and then maintaining itself, even after the dosage period has been fully completed.

THE ESSENTIAL BUYER'S GUIDE - Getting The Most Effective Horny Goat Weed Supplement Available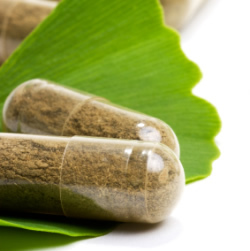 Okay, so now that we know all about 'icariin' and 'How Horny Goat Weed works' we can move onto the factors you need consider when making a purchase in order to get the best Horny Goat Weed extract available.
TOP BUYING TIP# 1 - Buy An 'Extract'
When buying Horny Goat Weed make sure you are buying an 'extract' and not just dried leaves of the Epimedium plant. Whilst dried leaves made into a tea type drink can be great for those who don't necessarily suffer from a noticeable level of low sex drive or impotence, it won't provide much benefit for those who do! This is due to the icariin content being very low under such water-extraction Horny Goat Weed techniques. The most effective way to take Horny Goat Weed is by means of taking an extracted powder, preferably in a hard shell capsule. The content of icariin flavonoids within extracted Epimedium powder is far more pure and therefore far more effective at yielding the sexual health benefits stated above.

TOP BUYING TIP# 2 - Want Horny Goat Weed? Then Buy Horny Goat Weed!
When you go to the supermarket to buy some potatoes, you buy a bag of potatoes right? You don't buy a bag of potatoes mixed with apples and bananas! It still amazes as to how many people who say they've tried Horny Goat Weed and then learn that the product they took was a in actual fact a huge mixture of many different extracts with only a small fraction of those extracts actually being Horny Goat Weed. To be fair however, this isn't really the fault of the consumer but rather the fault of the manufacturers who have a habit of putting the words 'Horny Goat Weed' on the front of the bottle/package of their product, then listing all the various other ingredients on the back of the bottle/package, usually in an attempt to sell the supplement under the good reputation that Horny Goat Weed has. The most common culprits for the combined mixtures tend to consist of L-Arginine, Maca, Ginkgo and Tribulus, all of which possess far less effective power than that of the icariin flavonoid contained within actual Horny Goat Weed extract.

TOP BUYING TIP# 3 - Capsule Content Weight
In regards to capsule content weight figures, one must be wise and not just immediately buy the product stating the highest milligram figure, the reason for this is that capsule content is shown in two VERY different formats when it comes to plant extracts like Horny Goat Weed. These two milligram formats consist of the actual 'extract weight' and the very different figure of 'whole plant weight'. The 'extract weight' as you may have already guessed is the weight of the actual extracted powder in the capsule, this being the most simple and honest of the two options. Whereas, on the other hand the 'whole plant weight' is the weight of the plant (stem, leaves etc) before it was extracted down, therefore they are understandably going to be hugely different from each other, for example a capsule which contains 250mg of Horny Goat Weed 'extract' may have a 'whole plant weight' of 1,000mg or more! In conclusion, if the product your are interested in buying doesn't define the milligram capsule content figure these clearly, then always double check that with the retailer.

TOP BUYING TIP# 4 - Percentage Of Icariin Content
Referring back to the above information on 'icariin' and the fact that not all Horny Goat Weed products are made equal, this brings us to the final and most crucial aspect of buying a top quality and very effective Horny Goat Weed supplement, icariin percentage content. 'Icariin' is the reason Horny Goat Weed exists as a sexual health supplement, and so this top buying tip is a biggie. Icariin is contained within all Horny Goat Weed extracts, correct, however not all extracts contain the same amount of icariin. The icariin within the overall extract is measured as a percentage and the percentage of icariin available is from 10% icariin and upwards to a maximum content of 100% pure icariin. Based on this knowledge alone you may immediately think to yourself 'Oh, well I should look for a 100% pure icariin extract then', well such an assumption as that could not be further from the truth. The reason you need to buy a 'standardised' extract as opposed to a 'non-standardised' extract is because only the extracts which have been 'standardised' are actually guaranteed to an icariin strength. Horny Goat Weed extract containing 70% icariin up to 100% icariin CANNOT be 'standardised' due to the icariin flavonoids suffering from over-extraction and essentially losing their beneficial effect, therefore it is best to avoid that percentage range as you can never judge exactly what amount of active icariin you are getting for your money. So to conclude this top tip, always make sure that the Horny Goat Weed extract capsules you are buying are actually 'standardised' to a percentage of icariin, as this standardisation means that the icariin content is both stable and guaranteed. Standardised ranges of Horny Goat Weed extract go from 10% icariin content, up on through to the maximum percentage of 60% icariin content.

Which Icariin Percentage Is Best For My Particular Needs?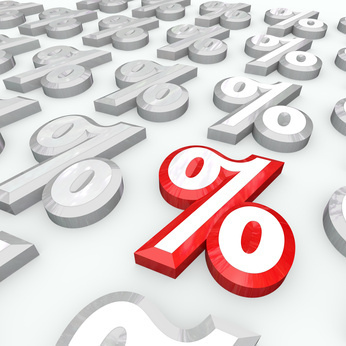 So how do you know which is the best icariin percentage to buy for your particular requirements, well the rather obvious answer is a standardised 60% icariin product, as this level of extract is going to be six times more effective at treating low sex drive and/or ED than a standardised 10% icariin Horny Goat Weed supplement, however some men don't necessarily need the most effective extract available.
If you are a man who doesn't suffer from low libido or ED but wishes to have a boost up then it is recommended to try a Horny Goat Weed extract in the 10%-20% icariin range. However, If you do suffer from obvious levels of low sex drive then you could try something in the 30% to 40% icariin content range.
If you suffer from any form of erectile dysfunction and/or low sex drive then by far the best option would be to buy a Horny Goat Weed extract containing ideally the maximum standardised level of 60% icariin, as a product of this purity will prove to be the most effective treatment one can gain from this amazing herbal extract.
So, Which Brand Of Horny Goat Weed Is The Best One To Buy?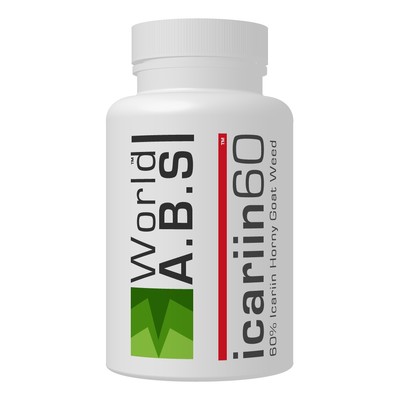 The brand which currently offers the most effective Horny Goat Weed extract on the market place for men is World A.B.S. This brand manufacture a supplement in the 60% icariin maximum purity range which goes by the name of 'icariin 60™'.
This product is a 'Horny Goat Weed-only' supplement meaning that it quite simply contains nothing but pure high strength 60% icariin Horny Goat Weed extract, allowing it to give both very direct and very powerful beneficial results.
It's a supplement which has stood the test of time, setting the standards for high purity Horny Goat Weed extracts quite some time ago, and has since become the staple best choice for men's sexual health, being crowned by many as
'the ultimate Viagra alternative'
.


And There You Have It!

We as people are very fortunate that Mother Nature has blessed us with such plants as Horny Goat Weed, with this particular herbal extract having proven itself to be both 'very effective' and 'very safe', qualities of which for 'male impotence treatments' are a rare and widely respected combination of factors. Thank you for reading this in-depth guide on how Horny Goat Weed works and how to get the best and most effective extract for your needs, we hope it contributes towards you leading both a full and healthy future.