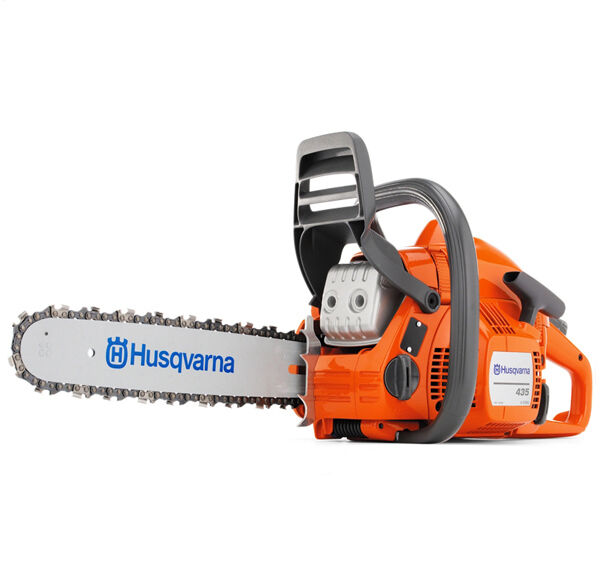 Husqvarna chainsaws include a wide range of products for the homeowner, the landowner, the commercial forester, landscape and ground care professionals. Almost all are petrol-fueled. Most have rear handles although a few models have top handles for specialised needs of users in forestry and grounds care. As part of routine maintenance, owners often replace air filters and spark arrestor mesh, the spark plug, or the starter rope. Less frequently, they may choose to replace the original chainsaw bar with a new bar at a more useful length and a chain to match. Occasionally, a chain will wear to the point of requiring replacement. All of these parts are easy to acquire and replace. Husqvarna's recommended maintenance schedule keeps owners on track with the timely upkeep and replacement of all parts.
Commonly Replaced Husqvarna Parts
Some chainsaw parts are often and easily replaced by their owners. Others, like the parts in the clutch, are best left to professional mechanics. Some commonly replaced Husqvarna parts include the many typical and atypical parts.
Chainsaw Bars
There are two primary reasons to replace a Husqvarna chainsaw bar or blade. Wear or damage is the first, although not necessarily the most common. Often, owners replace a chainsaw bar along with the chain to upgrade the saw for larger jobs. Husqvarna lists its chainsaws with the range of blade lengths each can support, making it easy to select an appropriate alternate blade.
Chainsaw Chains
Sawing muddy logs or hitting any abrasive embedded in wood can rapidly dull chainsaw chains. A chain needs sharpening as soon as it takes any effort to push the saw through the wood or when the blade begins spitting sawdust instead of chips. Husqvarna recommends daily sharpening.
Quality files, along with a file roller and depth gauge guides, make it possible to sharpen a dulled blade. A chainsaw sharpening kit includes all of the equipment necessary to sharpen a chain of a specific size. Owners should replace Husqvarna chainsaw chains when less than 1 mm remains on the heel of the cutter or the most worn depth gauge is less than 0.6 mm.
Chains are sized by several characteristics: bar length, number of links, the pitch or distance between lugs, the gauge or thickness of the chain, and several special characteristics of different chains. All of these are summarized in numbers marked on the side of the chain, which can help find an appropriate replacement chain.
Husqvarna Chainsaw Filters
The filters that keep a Husqvarna chainsaw operating properly include the air filter on the air intake and the spark arrestor screen that covers the muffler. These Husqvarna chainsaw filters need to be checked weekly and replaced when brushing no longer cleans them sufficiently. If your Husqvarna chainsaw filters shows signs of wear it may be time to replace it to remain safe.
Starter System Parts
The starter system in petrol-powered Husqvarna chainsaws includes several parts that often need replacement. If the chainsaw does not start easily, the spark plug may need replacement. Check for deposits on the plug. The user should clean it, return it to place, and try starting the engine again. If the engine still does not start, the plug needs replacing. Another reason engines may not start easily is because the starter rope is loose or damaged. Replace this if necessary.
How Long Do Parts Last?
Quality chainsaws, like those made by Husqvarna, typically last for about a decade and manufacturers provide parts for at least that long. The average lifespan of individual parts varies according to usage. Some operation-critical parts that require daily maintenance are nonetheless long-lasting, such as the chain and bar.
Chainsaw Maintenance Schedule
Husqvarna's recommended maintenance schedule for chainsaws varies slightly for petrol-powered and battery-powered chainsaws but very few of their chainsaws are battery-powered. An overview maintenance plan is summarised below.
System or Part

Daily Maintenance Recommendations

Check for safe operations

Chain brake

Clean

Check for safe operation

Replace chain catcher if damaged

Bar

Turn for even wear

Unclog lubrication hole

Lubricate sprocket tip if necessary

Bar and chain

Confirm adequate oil flow

Chain

Check for cracks, other signs of wear

Replace if necessary

Sharpen; re-tension if necessary

Replace drive sprocket if worn

Fuel system

Confirm that no fuel is leaking

Fastenings

Confirm that no screws or nuts have loosened

Cooling system

Clean air intake (all)

Check cooling system (if has catalytic converter)
The owner should clean oil, dirt, and debris from the exterior of the chainsaw daily. A chainsaw user should inspect the chain daily for safety but can expect the chain to last through many sharpenings..
Several parts may require replacement at the weekly check including the starter rope, the spark arrestor mesh in the muffler, and the air filter.
System or Part

Weekly Maintenance Recommendation

If no catalytic converter, check this

Starter

Check starter cord, return spring, and starter

Vibration dampening

Confirm all is working

Bar

Check for burrs

File off

Muffler

Check for residue, debris on spark arrestor mesh

Clean off or replace

Carburetor

Clean compartment

Air filter

Clean or replace air filter
Once a month, additional steps confirm the safety of all operational systems. The fuel filter and hose, as well as clutch parts, may require replacement at this monthly check.
System or Part

Monthly Maintenance Recommendation

Check all connections and cables

Lubrication system

Empty the oil tank and clean interior

Refill

Fuel system

Empty the petrol tank and clean interior

Refill

Check fuel filter and hose, replace if necessary

Carburetor

Clean outside

Starter

Clean spark plug and check electrode gap

Clutch

Check all parts for wear

Have replaced professionally if necessary

Chain

Check brake band, replace when less than 0.6 mm at any point
How to Buy Husqvarna Chainsaw Parts on eBay
The eBay market is an excellent resource for Husqvarna chainsaw parts. A quick check of daily Deals on Tools will show whether any chain sharpening kits have popped up. Next, use the Search box on any page to locate specific parts such as "Husqvarna chainsaw chains" or "Husqvarna starter rope". You may Sort by price and postage to compare total costs. If more than one part is needed, check whether the Seller has other items on offer. Top Rated Sellers, who have established track records of quality service, are especially likely to have large inventories. Purchasing multiple parts from one Seller can save postage and handling, making it even easier to buy essential Husqvarna chainsaw parts on eBay.