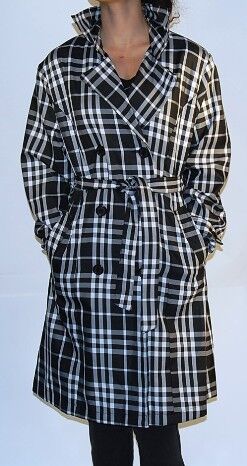 Burberry is a high-end, designer brand of clothing. Though the fashion house makes tops, pants, bags, and accessories, its most well-known claim to fame is its classic trench coat. A Burberry coat is a timeless, stylish piece of clothing that stays trendy year after year.
For women investing in a Burberry coat, purchasing a coat on eBay or at a boutique is the best way to go. Burberry coats are a fashion investment that is not always budget friendly, but lasts for years and remains fashion forward. Choose a coat by style, colour, or material for a classic Burberry look that always looks polished.
Select a Coat Style
There are three distinct styles of Burberry coats. Each style has its own look, and its own silhouette. Different styles have various embellishments, closures, and lengths. Purchase the right Burberry coat according to personal taste and existing clothing to complement the overall wardrobe. Price is also a factor, and the prices range according to the coat materials and the design of the coat.
Brit
The Burberry company invented the trench coat, and it does not get more classic than the Brit style of coats. The Brit style is the classic trench coat, which offers the iconic look of the traditional style of trench coats. Though the coat itself looks casual, it pairs well with all types of garments, which is perfect for consumers that can only afford one coat for casual and formal wear. Lined for extra warmth, the Brit also offers a back vent. The coat is made of polyester so it is easy to care for, and secures with a belt around the waist.
For consumers who like the way the traditional trench coat looks, the Brit is the best option. Budget-friendly buyers note that the Brit style of coats is less expensive than the other two Burberry lines, which is a factor worth considering. Buyers who cannot afford to have their coats dry-cleaned appreciate the easy care of the Brit trench coat.
London
The London line of trench coats takes luxury to a new level. The design of the London coat is more modern with a single-breasted design. Made from cashmere, wool, nylon, cotton, or a blend, the London coat also comes in double-breasted styles. Some styles feature embellishments like button down shoulder flaps, a belt with a buckle, and large front pockets. Consumers considering a more fashion-forward style trench coat that is a bit more decadent opt for the London design.
Water-resistant material makes the London perfect in any weather, and the coat is ideal for year-round wear. Traditional styles combine with modern, fresh designs like animal print and cropped styles to bring consumers a new take on the trench coat. This coat offers buyers a more trendy take on the trench coat, as well as all-weather material for rainy day wear for consumers who wish to use their trench as a raincoat for double duty.
Prorsum
The Prorsum Burberry coats are the most costly type of Burberry coats. The decadent coats are made of leather, mink, calfskin, or gabardine to bring consumers the most elegant and luxurious outerwear. The styles offer many options including patent leather coats, python coats, and shiny sateen coats.
Stylish Prorsum coats for women are double-breasted with a slim silhouette. Consider purchasing a Prorsum coat if price is not a factor and sophistication is the aim. If consumers enjoy the feel of luxury materials and a more streamlined fit, the Prorsum is the option that celebrities tend to favour.
Choose a Coat Colour
Though Burberry has become famous through the years for the iconic Burberry plaid that lines the trench coats, there are many shades to consider when purchasing a Burberry coat for women. Choose a Burberry coat that complements the wardrobe, daily style, and is made of a practical material that the wearer enjoys. Burberry coats come in a wide range of colours, from basic khaki trench coats to bright violet quilted jackets, and every shade in between including plaid, heather grey, forest green, and burgundy.
Pick a Coat Material
Burberry coats run the gamut in terms of their materials. From less expensive cotton and polyester blends to more costly animal hair coats, there are plenty of options when it comes to choosing a material. Opt for the material that best suits the defined budget and wearer's specific needs as well as the weather condition for the jacket.
Leather
Leather coats are durable. Burberry leather is supple, mid-weight, and has a soft lining. The leather comes from lambskin and is 100 per cent genuine leather. There are leather trench coats as well as coats with leather accents, such as an animal print Prorsum coat with a leather collar. Choose a leather coat for heavy-duty wear that resists water and complements all types of clothing.
Polyester and Blends
Made of polyester and poly cotton blends, the classic Burberry trench coat is comfortable, lightweight, and machine washable for easy care. They include the classic plaid Burberry lining in the inside of the coat as well as the sleeves. If consumers are searching for a soft, comfortable coat that is perfect for year-round wear, polyester is easy to care for and lightweight to wear.
Animal Skins
Some of the high-end Prorsum coats are made of various animal skins such as calfskin, with touches of fur around the collar. Alpaca fur creates some of the wool coats, and mink is common to Burberry coats. Consumers interested in a coat made of animal skin or with a touch of soft fur opt for the high-end Prorsum line of coats.
Wool and Cashmere
Wool and cashmere add softness and luxury to designer Burberry coats, and both materials are decadent and cosy. Coats made of these materials are dry-clean only and require special care. Buyers looking for an elegant coat that is not necessarily machine washable enjoy the sheer softness of cashmere and the warm feel of wool, making a wool or cashmere blend perfect for these consumers.
Choose a Coat Size
Ensuring a proper fit is the best way to make sure consumers purchase the right size. Use a tape measure to determine the bust, hips, and waist measurement before settling on a Burberry coat. Since the coats are expensive, it is best to make sure the coat fits before buying it.
| | | | |
| --- | --- | --- | --- |
| Numerical Size | Bust | Hips | Waist |
| 6 | 84 cm | 94 cm | 66 cm |
| 8 | 88 cm | 98 cm | 70 cm |
| 10 | 92 cm | 102 cm | 74 cm |
| 12 | 96 cm | 106 cm | 78 cm |
| 14 | 100 cm | 110 cm | 82 cm |
For consumers who enjoy a loose fitting coat, it is possible to go up a size, but for a more streamlined fit, the perfect size is worth investing in. Some coats are available from U.S. sellers, which are one size down from Australian sizes.
How to Buy a Burberry Coat on eBay
Get a great deal for a low price on a designerBurberry coat when you shop for a coat oneBay. Find an authorised merchant who is a Top-rated seller, and find out if the seller has other Burberry items you can purchase for a special bundled shipping rate. If you want your coat right away, check local sellers and ask the seller for a personalised pickup by clicking the " Ask a Question" button on the seller's page.
Burberry coats are stylish, trendy, and always in fashion. They last for the long haul, and their elegant silhouettes are perfect additions to all wardrobes. Though Burberry coats are costly, the coats are investments, also called statement items, which are useful year-round and for years to come.