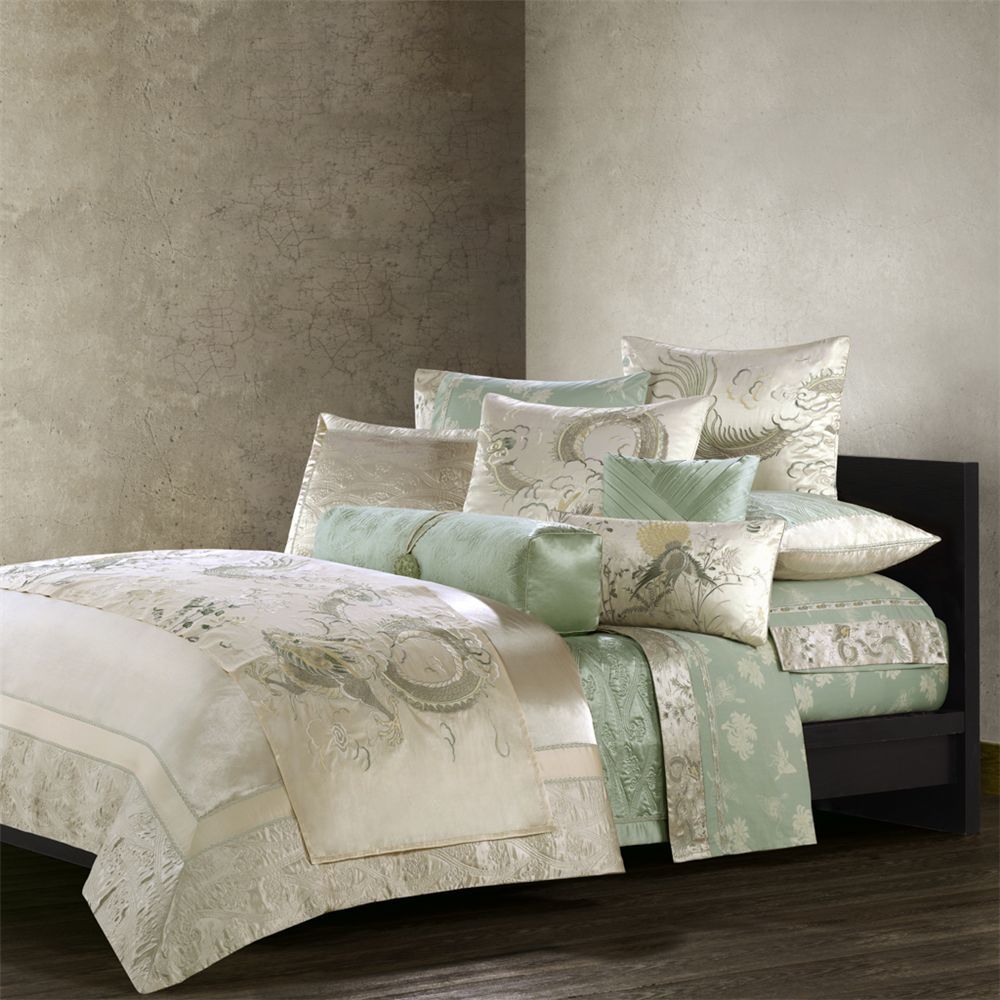 Use a silk quilt cover instead of purchasing an entire silk quilt to obtain the luxury of silk without the exorbitant cost. A quilt cover, also called a duvet cover, encases and protects the existing quilt. Real silk is often quite expensive, but there are other options for purchasing a silk quilt cover that do not involve breaking the budget.
Silk quilt covers are washable, and create a sleek and comfortable feel for any size bed. Consumers find affordable silk quilt covers on eBay and in retail stores. Choose a silk quilt cover based on colour, size, and material.
Choose a Quilt Cover Size and Fabric Style
A silk quilt cover offers a whole new look for any quilt. It changes the entire look and feel of a bedroom. Consumers select the proper quilt cover by choosing the right size, and picking from a variety of silk blends and fabrics to find the right silk quilt cover for the available price range. Larger quilt covers are more costly than smaller sizes, so consumers purchase the right size for the best price. A queen-sized quilt cover works for a full and a queen bed in most cases.
Buying Real Silk
Quilt covers made of real silk are decadent and soft, but are also high priced, so for buyers on a budget, they are not the most affordable option. However, savvy consumers find good deals on real silk from some brands, and sometimes smaller sized quilt covers are more affordable than larger sized ones, such as a full-sized one instead of a king-sized one. Caring for a real silk quilt cover is higher maintenance than other types of silk and blends, so consumers need to check the care of the quilt cover before purchasing to ensure it is easy to care for and machine washable, which some silk covers are not.
Buying Faux Silk
Artificial silk mimics the look of silk as well as the feel, but it is less expensive and easier to care for. A faux silk quilt cover is made of cotton or polyester, and sometimes made of a blend of polyester and satin material to impart the same sheen as silk. Artificial silk is machine washable and available in many colours and patterns, such as solid jewelled tones like crimson and lavender, or floral patterns. This is a more affordable option for buyers on a budget.
Buying Silk Blend
Silk blend quilt covers incorporate silk as well as other materials for a less expensive but still beautiful and luxurious experience. Blended with polyester, cotton, or linen to ensure a high-quality quilt cover that is machine washable, a silk blend cover looks and feels like real silk. It is a less costly option than real silk, but it is hard to detect the difference.
Purchase a Silk Quilt Cover Set
Consumers save money by purchasing an entire silk quilt cover set as opposed to purchasing pillow covers and a quilt cover separately. A quilt cover set looks polished and put together, and typically comes with matching pillow shams, the quilt cover itself, and sometimes toss pillows for decoration. Purchasing the set ensures the consumers get items which match and complement each other, and buyers on budget get everything they need in one purchase instead of multiple transactions.
Select a Silk Quilt Cover Brand
There are several high-quality brands that offer silk quilt covers and other bedding at affordable prices. Consumers should compare each brand to see which brands offer the best prices on the patterns they desire as well as the sizes they need for their particular bedding budget.
Logan & Mason
Logan & Mason offers elegant silk quilt covers for an affordable price. The covers are made of faux silk with polyester and cotton, and come in many designs and colours, including appliqued designs, solid colours, stripes, florals, and animal prints. Sets include a pair of pillowcases, quilt cover, toss pillows in some cases, and consumers also purchase complementary accessories such as rugs and large cushions if they desire.
Mikako
Mikako silk quilt covers use faux silk to create luxury without the high price tag. Mikako quilt covers range from twin size to king size sets, and include pillowcases and a silk quilt cover made from cotton and polyester to mimic the feel of real silk. Mikako bedding is machine washable and easy to care for. Complementary accessories are available from this line, such as throw pillows.
Kylie Minogue
Made of faux silk, Kylie Minogue quilt covers come in decadent colours and patterns such as black and silver, leopard print with cream, and ruffles with matching pillowcases. Kylie Minogue bedding is affordable for a lower budget, but looks like it costs much more, and the easy-to-care-for faux silk makes machine washing simple.
Purchase an Affordable Silk Quilt Cover
Consumers on a tight budget purchase a used silk quilt cover for an affordable cost. This is the least expensive way to procure a real silk quilt cover if that is what consumers desire. Another option for consumers who want a new silk quilt cover is to purchase a faux silk or silk blend quilt cover to lower the price without sacrificing the soft feel and expensive look of actual silk.
How to Buy a Silk Quilt Cover on eBay
Get a great deal on a real or faux silk quilt cover when you shop for bedding oneBay. Key in your search terms, such as " silk quilt cover", and filter your search according to material, price range, or size of the silk quilt cover. Ask the seller if he or she is offering any complementary products such as toss pillows or rugs for a bundled shipment by clicking the "Ask a Question" button on the seller's page.
Luxury does not have to cost a lot of cash, but buyers purchasing a silk quilt cover are paying less for the look of silk than consumers purchasing a silk duvet. The quilt cover also works to protect the quilt inside. Real and faux silk look rich and expensive, and upgrade the look and feel of a bedroom.