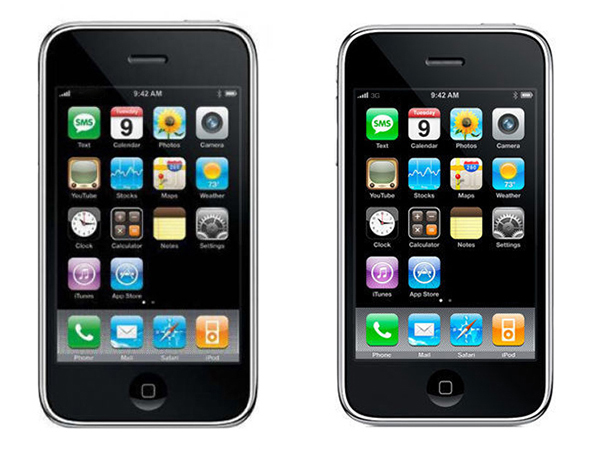 The Apple iPhone is one of the most popular smartphones on the planet. Since its introduction, more than 100 million iPhones have been sold worldwide. More than just a phone, the Apple iPhone is also a camera/video camera, media player, Internet client, and portable video game console. All of this is put together using Apple's innovative and high-quality designs. It should be no surprise that the iPhone is one of the top phones in the world, and a much sought-after device.
With the release of new models, used iPhones are readily available in the secondary marketplace. Used iPhones are often cheaper and therefore easier to obtain. When it comes to buying used iPhones, shoppers should know more than just the color of iPhone they want. Before committing to a purchase, shoppers should look at the iPhone model, features, and condition. There are many great deals to be had on used iPhones and, with a little research, a shopper can find the iPhone they want on eBay.









iPhone Models
The first iPhone was announced on January 9, 2007, and after much anticipation was released on June 29, 2007. The first generation iPhone sold more than 6.1 million units, and to date more than 100 million iPhones have been sold worldwide. Each generation of iPhone has different capabilities to choose from, depending on a user's needs and budget. Each generation also introduced new features to improve upon older models. The table below shows the different models of iPhones as well as their capacities and key features. With this information, shoppers should be able to identify the differences between the models and determine which model best suits their needs.

Model

US Release Date

Capacity (GB)

Key Features

June 29, 2007

4, 8, or 16

iPhoneOS 3.1.3

128 MB eDRAM

2.0 MP camera

July 11, 2008

8 or 16

iOS 4.2.1

128 MB eDRAM

2.0 MP camera

Push email

Turn-by-turn navigation

June 19, 2009

8, 16, or 32

iOS 5.1.1

256 MB eDRAM

3.0 MP camera

Voice control

iPhone 4
GSM (black): June 24, 2010

CDMA (black): February 10, 2011

White: April 28, 2011
8, 16, or 32
iOS 5.1.1
512 MB eDRAM
Front camera and rear 5.0 MP camera
Retina Display

October 14, 2011

16, 32, or 64

iOS 5.1.1

512 MB DDR2 RAM

Front camera and 8.0 MP rear camera

Siri

September 12, 2012

16, 32, or 64

iOS 6.0

1 GB RAM

Front camera and 8.0 MP rear camera

AirDrop and Camera Filters

September 10, 2013

16, 32, or 64

iOS 7.0

1 GB LPDDR3 RAM

Front camera and 8.0 MP rear camera

AirDrop and Camera Filters

September 10, 2013

16, 32, or 64

iOS 7.0

1 GB LPDDR3 RAM

Front camera and 8.0 MP rear camera

AirDrop and Camera Filters

September 9, 2014

16, 64 or 128

iOS 8.0

1 GB LPDDR3 RAM

Front camera and 8.0 MP rear camera

Lightning port

September 9, 2014

16, 64 or 128

iOS 8.0

1 GB LPDDR3 RAM

Front camera and 8.0 MP rear camera

Lightning port

September 9, 2015

16, 64 or 128

iOS 9.0.1

2 GB LPDDR3 RAM

Front camera and 12.0 MP rear camera

September 9, 2015

16, 64 or 128

iOS 9.0.1

2 GB LPDDR3 RAM

Front camera and 12.0 MP rear camera

As seen in the table above, iPhones have greatly increased their storage capacities since their initial release. When shoppers are looking at phones, they should be sure to take that capacity into account when looking at the price tag. A lower price could indicate a smaller storage capacity, which could be a problem for a buyer who have a large music library.
The operating system on the iPhone is also a feature that was updated over the years since the release of the first iPhone. Older versions of the iPhone may be more affordable, but shoppers should note that the operating systems for first and second generation iPhones are no longer supported by Apple, and were not updated with the most recent iOS releases.

Things to Consider With Used iPhones
When it comes to buying used iPhones, there are more things to consider than just the colors and different features. Shoppers will want to look for phones that are still in good condition and are fully operational. While it is easy to spot any physical damage to the exterior phone, there are several invisible issues that a used iPhone could have. Shoppers should exercise caution before buying an iPhone that has a really low price tag, and remember that if it's too good to be true, then it probably is. Some things that shoppers should consider when looking for a used iPhone are the battery life, condition of the phone, and whether or not they must sign a service agreement.
Battery Life
As the designs for iPhones have changed and improved over the years, so have the designs for batteries. While all iPhones use a Lithium Ion battery, newer versions of the batter have the ability to hold a charge longer than older ones. Additionally, the more the battery is discharged and recharged, the weaker it becomes.
In general, iPhones are known for having short battery lives, but a used phone with a used battery will have an even shorter life than a newer one. If the phone is well cared for and has been gently used, then it should have a relatively decent battery life. Unlike other smartphones, iPhone batteries cannot easily be replaced by the user when they are dead. To replace an iPhone battery, the phone will have to be shipped back to Apple. When looking at a used iPhone to purchase, shoppers should ask the seller about the condition of the battery, or even request to have the battery replaced prior to shipping.
Condition
Brand new iPhones come out of the box looking shiny and new. Unless the seller of a used iPhone never used the phone, then it is likely to show some signs of wear and tear. Scratches to the body will not affect the usability of the phone, but they will affect the phone's appearance. Phones with significant exterior damage may have been dropped which could affect their operation. On the flipside, used iPhones that have exterior damage will likely be priced lower than those with minimal wear and tear. The two types of damage that could greatly affect the operation of an iPhone are screen damage and water damage. Shoppers will need to look closely at used iPhones before committing to buy an iPhone with this type of damage.
Screen
iPhones all have a 3.5-inch touchscreen that is used to navigate and use the apps and media. If the iPhone was used with a protective case, such as an OtterBox, or with a screen protector, then it is likely that the screen is in great condition. A few scratches here and there would be considered normal wear and tear, and will not greatly impact on functionality of the phone. If the phone has been dropped, then it may have a cracked screen. In some instances, the phone will still be functional, but it will be hard to use and may be unattractive.
Depending on the type of iPhone and the amount of damage, buyers can have the screens replaced at an Apple store in as little as 15 minutes. Those who have the knowledge, skills, and tools to replace the screens can purchase iPhone screen replacement kits and complete the repair themselves. While this is a cost effective option, users should note that doing so can void the warranty, if the phone is still covered under a manufacturer's warranty.
Water Damage
Aside from being dropped on the ground, iPhones can suffer significant damage when they are dropped in water. People might accidentally leave the iPhone in a pocket when doing laundry, or the iPhone might fall out of a pocket into the toilet. Either way, iPhones and water don't mix. There are several techniques that can dry out an iPhone and save it even if it has suffered moisture damage. While these phones may look and function normally, there could be interior damage that could shorten the life of the phone or affect its usability later on.
Shoppers that have an opportunity to look at the used iPhone in person, should take a peek inside the jack for earphones. If shoppers are buying the phone online and don't get to see it in person, then they should ask the seller what color can be seen inside the earphone jack. If the color inside the jack is pink, then that means that it has had some water damage. Shoppers should ask the seller what kind of water damage the phone has suffered before considering the phone as an option for purchase.
Contract
New iPhones, and even used iPhones in good condition, retail for several hundred dollars. If shoppers come across iPhones that are significantly less, and they have no signs of significant damage, then the seller may be offering the discount to buyers who sign a service agreement. Shoppers who already have a contract with a carrier or who wish to buy a phone without a contract should confirm with the seller that no contract for service is required upon purchase of the phone at that price.
Carrier
Earlier models of the iPhone were released for AT&T only. Like many other cell phones and smartphones, different iPhones are designed and programmed to work with a certain carrier only. When shopping for a used iPhone, shoppers should look for iPhones that work with the carrier that they currently have contracts with or wish to have service with. iPhones designed for one carrier, such as AT & T, Sprint, or Verizon, will only work for those carriers. Shoppers can also buy Unlocked iPhones which can work on any network.
Electronic Serial Number (ESN)
If no service agreement is required and the price of the iPhone is still low, shoppers should be sure to check that it has a good Electronic Serial Number or ESN. Sellers should notify shoppers from the start if an iPhone has a bad ESN. If the iPhone has been reported lost or stolen, then the cell phone carrier will deactivate the phone, place it on a blacklist, and future users will not be able to activate it again.

Protecting an iPhone
Once the iPhone has been purchased, users can buy several other products to help protect the iPhone from the damage that can be sustained from normal use. iPhone cases are designed to protect the exterior from scratches, chips, or cracks. Apple makes several iPhone cases, but there are also several third party manufacturers, like OtterBox, Incase, and Casemate, that make protective cases as well.
Screen Protectors
In addition to cases, iPhone screen protectors can be purchased and applied to the touch screen to prevent the screen from being scratched during use or from carrying the phone around. These are thin, clear, plastic strips that adhere to the surface of the screen. When applied properly, they are not noticeable and will not affect the functionality of the iPhone's sensitive touch screen.

Finding Apps, Music, and Other Media
The appeal of the iPhone is access to thousands of apps for communication, productivity, and entertainment. All versions of the iPhone have access to the App Store as well as iTunes. Content can be conveniently downloaded directly from the iPhone, or users can download the content to their computers and transfer the files to the iPhone via an iPhone USB cable. Many of the apps available in the App Store can be downloaded free of charge. Music tracks and movies normally cost a small fee. In order to purchase apps, music, and other media from iTunes and the App Store, users need to have a payment method linked to their accounts. Additionally, iTunes gift cards are available to give as gifts or to be used by buyers instead of a credit or debit card.

Buying a Used iPhone on eBay
You can browse the huge selection of used iPhones on eBay or you can search for iPhones directly using keywords to identify the desired features. To get started, go to the Cell Phones and Accessories section of eBay. From here, select the Cell Phones and Smartphones category and choose Apple as the brand. You can use the options on the left side of the page, like carrier and features, to narrow down the selections even more.
Finding a Reputable Seller
In addition to finding an iPhone that has all of the features you're looking for and is in good shape, you should also look for a reputable seller. eBay's feedback system allows buyers to rate the sellers based on their shopping experiences. eBay uses this feedback to identify sellers who have consistently received good reviews from buyers. You can narrow down the results to only show listings from these eBay Top - Rated Sellers.

Conclusion
The iPhone is one of the most popular smartphones on the market. Many people can't afford new iPhones because of the high price tag that goes along with them. Purchasing a used iPhone is an affordable way to obtain one of these smartphones without breaking the bank or committing to a two year service contract. With more than 100 million iPhone sold in the world since its release, there are millions of used iPhones available for sale by previous owners. Finding a great deal on a used iPhone means learning about the different models of iPhones as well as being able to identify key features and spot problems and imperfections. Whichever model or size shoppers are looking for, they'll find what they need on eBay.