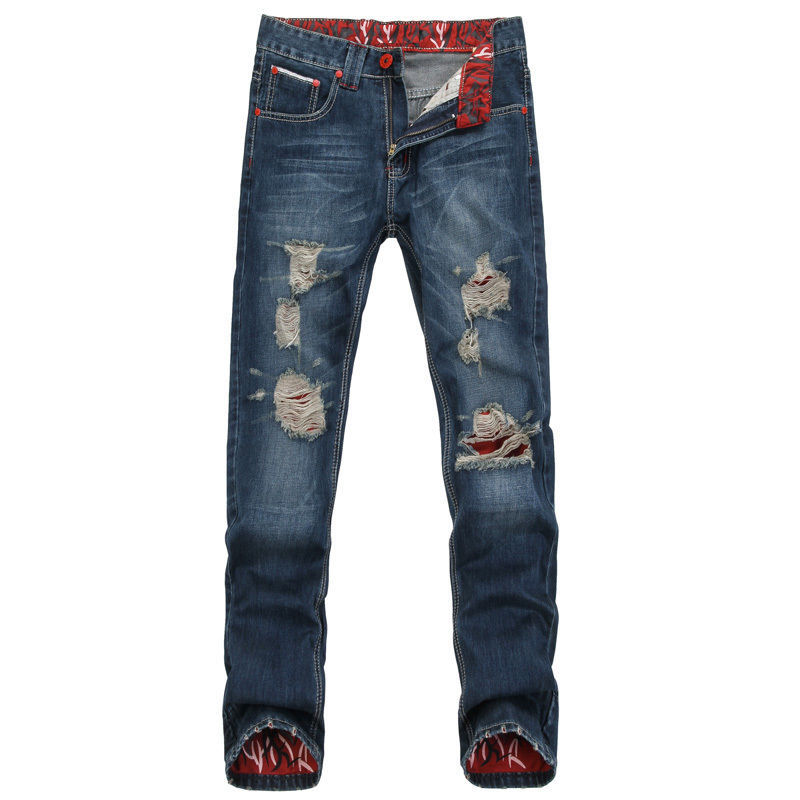 Anyone with old denim can choose to recycle it rather than throw it away, and luckily, there are a number of ways to do so. There are many reasons to recycle denim including that keeping it out of landfills benefits the environment. While many people choose to sell useddenim jeans, skirts, and jackets on sites like eBay, others choose to donate to charity, or simply recycle with a local city program. The owners can decide what to do with their denim based on its condition, value, and age. A few tips on how to recycle and reuse old denim can help owners decide which option works best for them.
Sell Old Denim
Selling old denim is a cost-effective way to ensure that it stays out of the trash. Sellable denim clothing is typically in new or like-new condition with very few or no holes or worn patches, although jeans can vary in condition and still sell, especially if buyers are looking fordeals on jeans. Buyers can value their individual pieces and then list them for sale on eBay, where interested buyers can purchase them for reuse. While not everyone has the time to resell their used denim, it has a number of benefits including that the denim is recycled and that the owner gets something for it.
Reuse Old Denim
Many people prefer to reuse their old denim rather than recycling it through someone else. There are numerous project ideas available online for turning denim clothes into craft projects. It is important to consider that most denim crafts require a sewing machine or heavy-duty sewing needle as well as thick thread. This is because denim is quite thick and difficult to sew with standard needles. People can find plenty of free patterns available online but also books and specific projects for sale.
Donate Old Denim
Donating denim is a great way to ensure that it is used a second time. There are plenty of local collections for old denim clothing including jeans, denim shirts, and jackets. Some denim donations are only once a year while others run year round, but people can contact the local council to ask about city-hosted events, or look around for local drop-offs and charities that accept denim. Because specific recycling opportunities vary by location, it is important for anyone who wants to recycle to look into it.
Recycle Old Denim
Finally, there are a number of ways to actually recycle denim. For example, NACRO and Allround Recycling both collect denim as well as other clothing for the purpose of recycling it. Some city recycling banks accept clothing, although this does vary from city to city. Typically, the best way to recycle through the appropriate venues is for the owners to make calls and ask where and how to recycle denim in their area.
Tips for Recycling Denim
Recycling denim is mostly very easy, but sometimes it does require research. Because many denim drives, such as the Red Cross Denim Drive, are only available once a year, many people can also consider purchasingbins or storage containers for their waste denim. In addition, there are a number of environmentally friendly solutions for anyone who wants to make the recycling process easier and more eco-friendly.
Check Local Drop-Offs
Denim recycling is available in different areas. The best way for someone to check for local recycling opportunities is to call the local council or recycling banks to ask. Most city officials, or recycling officials, can point the caller in the right direction.
Sort Denim According to Condition
It is almost always a good idea to sort denim according to the condition of the clothing when thinking about recycling or reusing it for craft projects. A person can sort according to what is sellable and what is recyclable, or according to different types of denim. Most charities only accept good quality denim clothing and jeans, so usually anything with very visible damage is typically only good for actual recycling or reusing.
How to Buy Recycling Products on eBay
eBay is a great place to find a number of products to help with recycling, but is also good for selling unwanted denim. With thousands of sellers and buyers available to purchase and sell anything from old jeans to storage bins, the site is a great place to recycle. eBay users can sign up to list their old denim clothing for sale, or use the search button located on any page to find the items they are interested in buying. Sellers on the site also list a number of environmental solutions for anyone who wants to recycle as well. Recycling denim is a great way to help the environment and, with so many different ways to recycle, it is easy to do so.