The Most Popular China Pattern In The World
(Part one of a five part series)
This Guide will provide a seller or buyer with enough information to determine that the Old Country Roses china pattern or piece in question is genuine, correctly described and from approximately when it was manufactured.
This range of English bone china tableware from Royal Albert is renowned the world over, with more than 100 million pieces produced and sold. The Harold Holdcroft inspired Old Country Roses (OCR) was launched in 1962. Originally planned to be called Treasure Garden, Harold Holdcroft MSIA FRSA NRD, Royal Albert's Art Director, based his design on the 1921 pattern King's Ransom.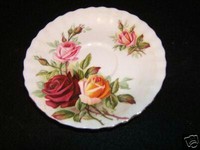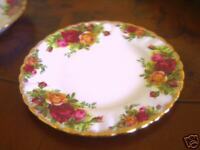 King's Ransom Old Country Roses
The design was a result of years of work by Harold Holdcroft who said; We decided to incorporate all the ingredients we knew would be acceptable, richness of colour, softness of colour, good quality and a good value look. All these qualities are incorporated in the pattern. It has lush deep red roses, warmth from the tea roses, delicacy from the bluish pink and an overall softening off of the pattern by using a shade of soft warm green. The rich gold stipple trim gives the sprays continuity and the china good value for money.
Enhanced by the elegant traditional Royal Albert Montrose shape and the attractive scalloped edges finished in 22k gold, from the twist and curl of the teacup handles to the fluted trim on the teapot lid....the attention to detail has contributed to a superb original design.
BACKSTAMPS
Where size allowed, all English produced backstamps consisted of :
Floral Spray.... 3 roses - red, yellow and pink against a green leaf background
Pattern Name.... Old Country Roses in red
Trade Name..... ROYAL ALBERT or ROYAL ALBERT (r)
Type of China... BONE CHINA
Country of Manufacture... ENGLAND or MADE IN ENGLAND
Copyright... (c) ROYAL ALBERT LTD 1962 or..... (c) 1962 ROYAL ALBERT LTD
as shown below
This is the original 1962 -1973
1973 - 1993 (c) ROYAL
1973-1993 (c) 1962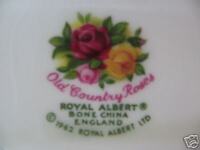 1993 - 2002 ROYAL ALBERT (R)
1993 - 2002 ROYAL ALBERT (R) MADE IN ENGLAND
After checking literally thousands of listings, these five backtamps seem to be the only English manufactured range. The first four were used for tableware and the fifth for specialty and gift items. There is an additional backstamp which mentions "ENGLAND" but also says "MADE UNDER LICENCE" and it is strongly suspected that it would be in Asia, not another company in England.
Maybe in the future, a more standard description of these backstamps could be for example:
Original, C/Royal, C/1962, Albert/R and Albert/R/M
or possibly
Original - Post Merger - Post Registration
My personal opinion is that the original 1962 -1973 backstamp pieces should be considered the most valuable as compared to the others. Harold Holdcroft was still working at Royal Albert at this time until he retired in late 1972. My logical reason is that his attention to detail would have ensured a high quality standard and co-operation with the production team. My sentimental reason is that this was the period when this extraordinary ceramic designer was still actively working with the company. ( this paragraph added May 19, 2010. )
My latest thoughts as of July 12, 2010 - are that the backstamps could be divided into five groups -
Group 1 - 1962-1972 Original
Group 2 - 1973-1993 Bottom Line : Copyright Royal Albert Ltd 1962
Group 3 - 1973 -1993 Bottom Line: Copyright 1962 Royal Albert Ltd
Group 4 - 1993 - 2002 Top Line : Royal AlbertCopyright Registered Bottom Line: Copyright 1962 Royal Albert Ltd
Group 5 - 1993 - 2002 Made in England
I think this best explains the four production periods and shows that the only difference from the original period was to either the top or bottom line and then the specialties had "Made in England" instead of just England. All pieces were made by the same production process and look the same unless you turn them over and look at the backstamp underneath.
FACTORY SECONDS
Whenever a product was too good to discard but not good enough to meet the factory's first quality standard, the backstamp was scratched or marked and then either given to staff or sold in staff or retail stores at a discounted price, usually 50% or even more.
The method of marking the underside to indicate a second was varied. It would have depended on what stage the flaw was discovered. The backstamp transfer could be partially cut or pinholed. Common flaws of seconds were; mis-alignment of graphic transfer, size variation, glazing or gilding flaw, a minor impurity or firing pitting, colour variation etc. Please note that gilders often put a test mark on the back/bottom....it does not indicate a flaw, it was simply used to test the gilding or sometimes to identify the production team.
Do not believe a claim that a second quality is as good as a first quality, the seller is just admitting that they cannot see the flaw. The item became a second for a specific reason. It may have been minor but it was enough for the manufacturer not to risk their reputation. You would be surprised just how many seconds were manufactured of this pattern.
Don't be afraid to ask questions such as...
Can you explain in more detail why you have described this item as mint condition and what is your return policy if we do not agree with your claim?
Is this an actual photo of the item and it's backstamp?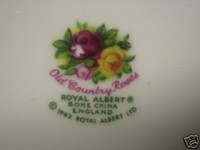 This second has had the red rose altered to indicate it is a second
For additional photos, see part 5.
ASIAN OCR:
Production in Asia started as early as 1998 and by December 20, 2002. most of Royal Albert's production including Old Country Roses, was transferred to Indonesia, and some to China. Indonesian backstamps are mainly detectable by the absence of the word ENGLAND. Apart from that, they look the same as the English one to the untrained or unwary eye.
I will leave it to others to judge whether this is deceptive. Simply removing the word ENGLAND and not putting INDONESIA on the backstamp is either clever or tricky, depending which way you look at it. Replacing the line BONE CHINA with MADE IN CHINA is a similar strategy. I don't want to offend anyone and I certainly will want future access to the company's archives and pattern/production notes to produce a detailed book in the future. ( this paragraph added May 19, 2010 )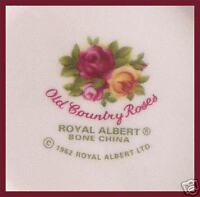 This is Indonesian
This is Chinese
For additional photos see part 4.
The four most common mistakes people make when buying Old Country Roses;
Buying Indonesian or Chinese OCR and thinking it is English
Buying 1962 backstamps in the belief that it is the year of manufacture
Buying factory seconds thinking they are first quality
Not checking descriptions for accurate condition of product
SUMMARY
If you want to get what you paid for, look closely at the photos, the backstamp and the item description. From that and the above information, you will be able to determine where and approximately when it was manufactured, if it is first or second quality and the actual condition of the item.
I have posted four more guides on backstamps that contain more photos:
Part 2/5 1973-1993 More Old Country Roses English Backstamps
Part 3/5 1993-2002 More Old Country Roses English Backstamps
Part 4/5 1998+ More Old Country Roses Asian Backstamps
Part 5/5 More Old Country Roses Factory Seconds Backstamps
Good luck and pay attention to what you are buying or selling!