Hi everyone,
I have decided to write this guide as I am aware that there are many fake G-Star Raw jeans and products being sold online especially on Ebay. I hope the information in this guide will help you be more careful with your purchases and know what to look for when shopping for G-Star products online.
First of all, I want to say that I own over 15 pairs of G-Star jeans (and still counting!) and tons of tops, jackets and accessories from G-Star Raw. I also have been fortunate to have worked in one of the retail stores for about 2 years now so I do know a bit about what the jeans should look like or feel like. Please feel free to add more information or correct me or even ask any questions and I hope you will find this guide helpful.
Lets begin with a mini history lesson...
1. G-Star Raw is a Dutch brand and was founded in 1989. It was first known as Gap-Star but because of the confusion with the brand Gap, they changed it to G-Star. Their headquarters is based in Amsterdam.
2. In 1996, G-Star released the Raw Denim concept as well as the all famous 96 Elwood jeans inspired by a motorcyclist. Now this style is known as the 5620 Heritage Embro Tapered and very recently, G-Star introduced the Arc pants that are coming into style.
3. The first G-Star Raw flagship store opened in Europe and the first store to open in Australia was at Melbourne Central in 2003.
To sell G-Star Raw products, you have to be licensed and open a mono-brand flagship store or sell the products in a multi-brand store (e.g. Glue) or at a department store (e.g. Myers) or an online store (e.g. ASOS). Check out retail.g-star.com and learn more about G-Star retailers if you are in doubt about the authenticity of the website you are buying from. I'm aware that they are still compiling a list of official online stockists. Their official retail partners and stores are all on their official website: www.g-star.com. The flagship stores in Australia are all operated by Denim Enterprises.
How to spot fakes for G-Star Raw products on Ebay:
1. Look at the sales copy, the language, the type of listing and communicate with the seller.
If the auction or Buy It Now listing has items brand new with tags, it is most likely fake. Most genuine products will usually be listed as used, occasionally brand new with or without tags when the seller has bought the wrong size or have a significant reason to sell them - don't be afraid to ask!
Communicate with the seller and if they're 'screaming' it's authentic or seem to have something to hide, don't bid! Do they have return policy? Also, check if the seller has an outside website selling the same stuff or other name brand items and assess from there if they are legit or fake. Remember, many sellers themselves may not even realize that the items they're selling are fake! Even if they have 100% positive feedback and have sold tons of G-Star items before on Ebay, they may not necessarily be authentic.
Sellers with the same items listed with multiple sizes and using stock photo, either Buy It Now or auction are 90% fake - there's no way you can grab hold of that many real G-Star stock from Amsterdam and sell them on Ebay. Remember, you have to have a license to become a stockist. Unless of course, the seller is stocking them from China which means they are not authentic.
At any one time, there's usually 2, the most 3 colors for a particular style for the current season (Go to a real G-Star store and check it out!). If the seller is offering 6 different colors of the same thing, again they are fake. Do some research online and browse the styles - an official stockist should have the same items as the official G-Star online store or flagship store. Take note of the names of the styles too, e.g. Aero Garber Jacket. Depending on the country, it will wary slightly from season to season. I was in the flagship store in Singapore last year and they were selling 65% of the same styles but in different colors compared to the stores in Australia. Even the denim styles will vary from country to country. Every item that doesn't sell after 1 or 2 seasons or after a huge seasonal sale will be sent back to Amsterdam - fact!
2. Notice the quality of the photos.
Are they photos of the actual item or stock photos? If they are stock photos, selling same styles but in different sizes, they are fake. Contact the seller and ask for more photos of the actual item. Particularly ask for the inner labels, tags, G-Star logo, stiches and overall picture quality.
3. Labels
The labels must look like a booklet. The location of the label is ALWAYS on the front left for jeans, cargoes, shorts, pants and ALWAYS on the left side near the hem of tops, jackets, hoodies and dresses. On the front, it should have the style and code (sometimes this can be on the 2nd side), the size, the G-Star logo and addresses of G-Star HQ, G-Star Raw Denim SL and G-Star Australia or other contact information. No random addresses in China or Asia. The 2nd page is usually where the item is made and care instructions for the clothing. The remaining of the booklet should be the make of the clothing in multiple languages (usually up to 20 languages).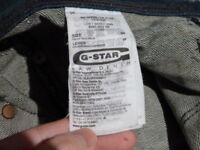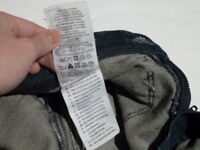 Most of G-Star products ARE made in China but that doesn't mean the quality is bad or it's not a high-end fashion label. It's where the assembling of the clothing is done. G-Star will always source the best quality cotton from around the world and are very environmentally aware when it comes to production. I have had G-Star jeans and tops made in Vietnam, China, India, Bangladesh, Tunisia, Morocco and Italy just to name a few.
4. Tags
All G-Star tags will have the style name, article no., color, size, fabric and the bar code at the bottom ALWAYS in that order. No random stickers of sizes anywhere else, all the information should be on the tag. There are many different types of tags depending on the collection - e.g. Correct Line, PT Army, Raw Essentials, Organic, Logo Carrier etc. These will come in different shapes and colors. For jeans, they are color coded e.g. Grey for Slims, Yellow for Tapered and so on. This was only done a few years ago so you will find many jeans in the market with the older tag (all grey).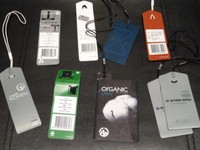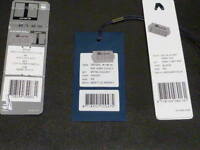 5. Stitching
The most obvious of course would be the detail in the stitching. If it is crooked, poor quality, inconsistent and not finished properly, it is fake. I must say the stitching alone is not a clear indication that the item is fake as I do have a few authentic, bought in store items from G-Star that doesn't have top quality stitching on them unfortunately.
6. Anatomy of jeans
Authentic jeans usually have a leather patch at the back, not something made of plastic or PVC. Men's jeans DO NOT have a zip fly except for a couple of Arc jeans and for women's. The rivets and buttons tend to have GS 3301 or GSRD or GS on them and are usually rippled, not flat and smooth. On the coin pocket, it is common to have a logo or some extra branding on it.
7. And lastly, the price...
If it's too good to be true, it most likely fake. In Australia, the prices range from AUD190 to the most expensive I've seen - AUD890 for Raw Essentials denim. Handcrafted I believe are around AUD460. Most of the jeans are around the AUD240 mark. Of course for 2nd hand jeans or other items, they will be much cheaper but be aware of marked down brand new 'G-Star' items. Don't get me wrong, I love a good bargain but I sure don't want to spend my hard earnings on bad quality jeans worth hardly $20 that don't last and make me look cheap. I know genuine G-Stars to last for years and years but of course like everything, if you trash them or wear them out heaps, they won't last forever. I am also aware that G-Stars are cheaper in the EU or US but I myself have never been to a flagship store there to compare prices.
In conclusion,
If you bought stuff online and suspect it to be fake, bring it to the store and ask. If the item is 2nd-hand, of course don't expect the item to feel or look brand new or be the same as when you bought them from the shop. You should really demand a full refund from your seller if you are unhappy. ASSESS and keep checking, watch for the detail. If you are happy with your purchase (be it real or fake) then fantastic! But I sure don't want to spend $90 on a jacket and find it's not genuine and be CHEATED. Below are some websites that are known to sell fake products (stated by the official G-Star Raw facebook page):
https://g-star-raw.com
https://g-staroutlet.com/products
Hope this helped and feel free to drop any comments or questions. Thanks for reading and have a great day!
Cheers,
Carina