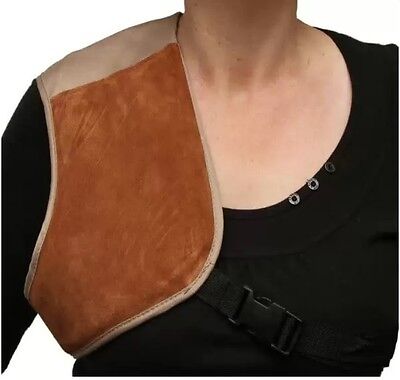 Some people claim that they enjoy recoil when they shoot. Yet, what they don't realize is that the recoil can affect their aim negatively. This is why it is important that you have adequate support in place for your shoulder to bear the pressure of the shot when you fire it. The best way to do this is to use a shoulder recoil pad.
As the name clearly shows, the pad has to be worn on your shoulder. The part of your shotgun or rifle that rests on your shoulder will now be on the pad. Needless to say, this prevents any gashes on the skin and cushions the impact of the recoil. Moreover, it could help you take a better shot. Let's go over some ways how this works:
The sharp knock you usually feel because of the recoil is transformed into a gentle push. This ensures that your shoulder remains stable, something extremely important for perfect aim.
You can buy a shoulder recoil pad that covers a larger area of your shoulder. This way, the impact of the recoil is spread all over the shoulder instead of being concentrated in one place. This way you don't feel pain or soreness and can take more shots than usual, that too with perfect aim.
You don't have to spend hours and hours at the range trying to get your aim right. This minor tweak is enough to make a positive difference.
These are some of the ways in which installing a shoulder recoil pad improves your aim. To benefit from these, it is imperative that you buy a high quality shoulder recoil pad today.
CLICK HERE to get your Shoulder Recoil Pad Now
https://stores.ebay.com.au/crosshairsinternational/_i.html?_nkw=recoil&submit=Search&_sid=1094279779